All bookstore owners think they live amongst readers. How can we not? People come to our stores to buy books. But a new article from Quartz magazine, using census data and NEA statistics, breaks down which states are populated by readers, and which are not. I was saddened to see that the criterion for being a reader is someone who has read at least one book in the past year for pleasure. One book! I can't imagine having read only one book last year. So, where does your state land on this list?
Several friends sent me this article yesterday. I wondered why I'd gotten the same article links from so many people until I read it, then it all became clear to me. Vermont is at the top of the list. 63% of Vermonters read more than one book for pleasure in the last year. This does not surprise me. Perhaps it's our winters that make folks read, or a vestige of some New England ethos, but I was heartened to see my little state at the top of the list.
The larger question is why are so few adults reading for pleasure? Are there time constraints? Are socioeconomic issues at play? The article doesn't address that, but it got me wondering about access to books and what people do to relax. I find reading to be totally relaxing. There is a loveliness to an afternoon spent reading that I would hope all adults can enjoy. Sinking into a story and getting to know the characters, some of whom stay with you forever, is a true pleasure and a gift.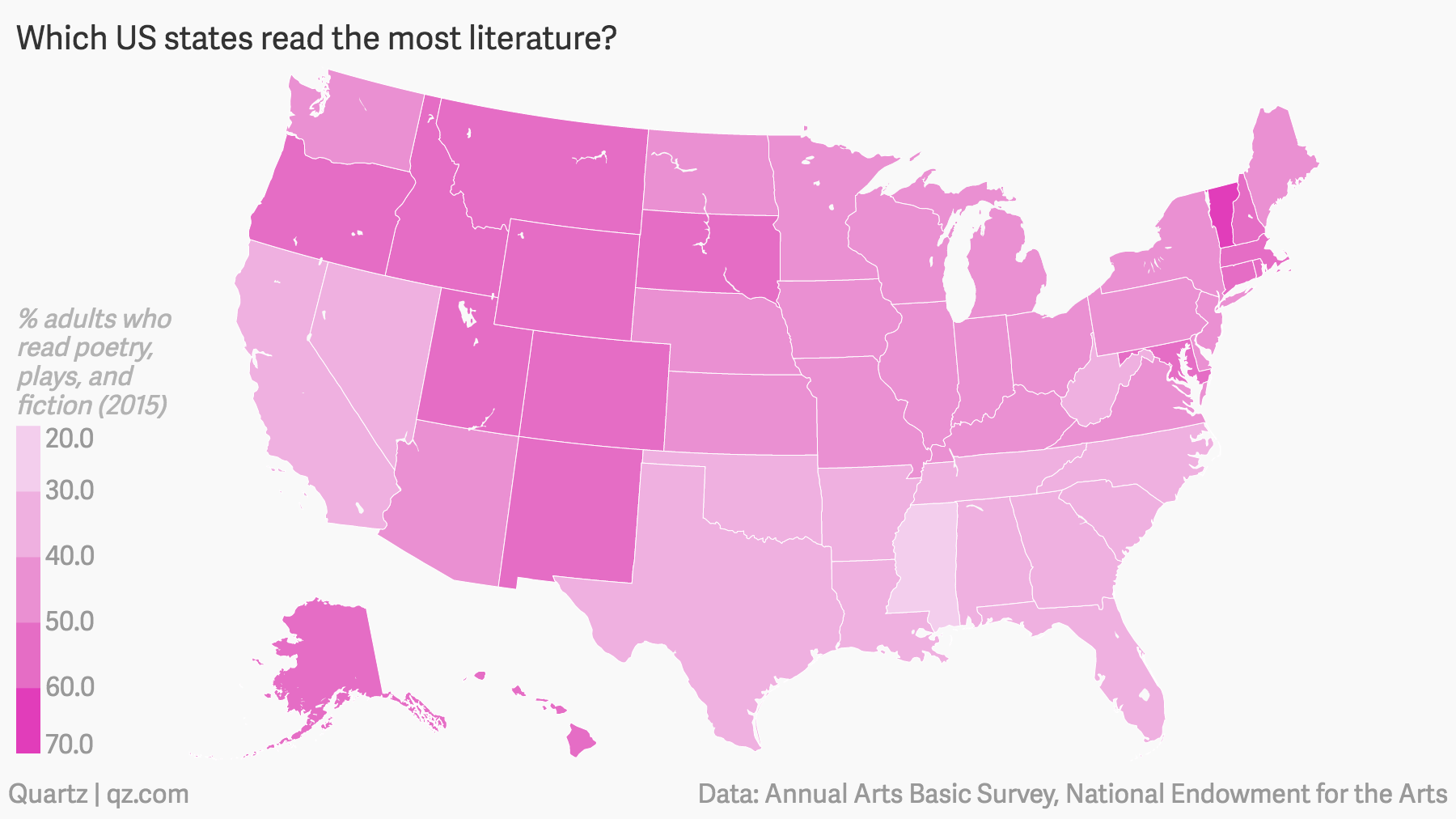 I understand that not everyone can afford new books, but libraries are wonderful places. As a kid I preferred books from the library because they were worn in already by other readers. I felt like I was part of a community that read a particular book. I wondered who had read the book before me. And I would check the return date stamps to see how long it had been since someone had taken out the book I was reading.
This article is making me want to read more books. I know adult lives are busy with work, family and many other things. Seeing adults reading for pleasure reminds kids that reading is an important of life. I want to start a small competition among bookstore owners to see if they can not only get their customers to read more, but get new customers to read more and to use the library. Let's see if we can't shift the leisure time activities away from digital things, yard work, and other obligations, to books. I realize the fourth quarter is probably not the ideal time to start this, but wouldn't it be lovely if we could have a national contest starting in 2017 that encouraged all adults to read more? And if being competitive about reading gets more people to read, honestly, I'm all for it.
So, readers, I need your help to make this happen. Please post your suggestions for how to increase the number of adults reading for pleasure in your state.