On a recent sunny Sunday three Massachusetts booksellers piled into a car and drove the 75 miles to help Annie Philbrick unpack stock for her new store, Savoy Books, in Westerly, R.I. All along the winding road, book and management talk bobbed to the surface again and again, never interrupted for long by stunning views of little harbors, long stone walls, and varied mansions. "Have you read …?" "Didn't you love …?" "What do you think about that new one by the guy who wrote …?" "Have you ever had to fire anybody? How did you do it?" "Is a café really worth the extra stress?" Jan Hall, recently retired from Partners Village Store in Westport, Mass.; Vicky Titcomb, manager of Titcomb's Bookshop in Sandwich, Mass.; and Carol Chittenden, former owner of Eight Cousins Books, Falmouth, Mass., were on the road again.

Westerly is aptly situated so far west in Rhode Island that half the town is actually across the line in Connecticut. What a charming town! Rising above the shore, the streets wind up the hill to stately manors. In the middle are shops and restaurants, a gracefully dignified post office, and a fine old train station. The Savoy Book Shop and Café are across the street, in a building that was once a fine hotel. It now houses street level retail shops, with elegant condominium apartments in the upper floors. Thanks to a very beneficent patron of the town, the space is restored to its former glory and possibly beyond, with polished wooden interior details, wrought iron grand staircase, and a pressed tin ceiling. The lower entrance connects generous parking and the children's department.
Boxes and boxes of brand new books were stacked up, and Annie had a check-in system ready.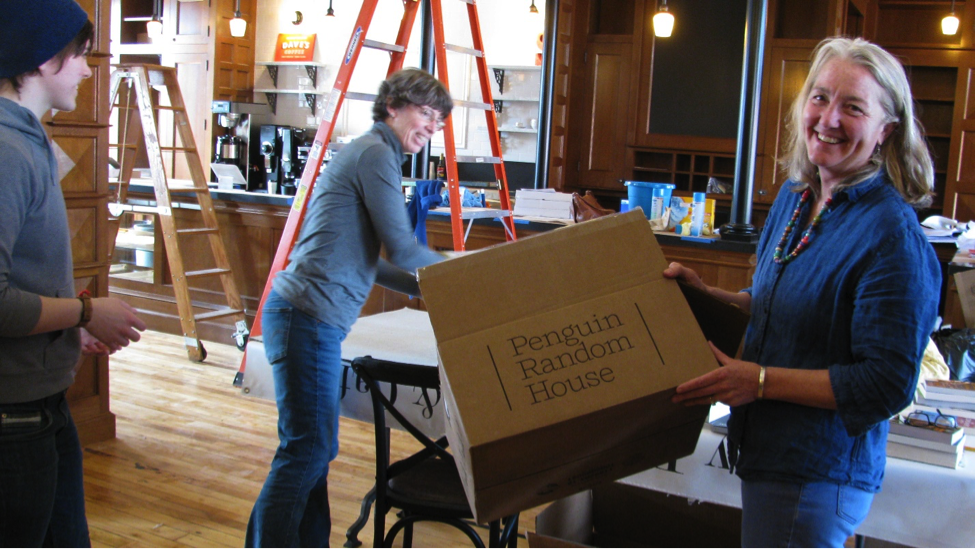 Vicky sat down with the list, Carol unpacked 23 boxes, and Jan sorted and shelved the books. It was hard not to stop and comment on old literary friends, new cover designs, favorite authors. Across the room Kelsey April, who will manage the shop, was giving new employees an initial orientation.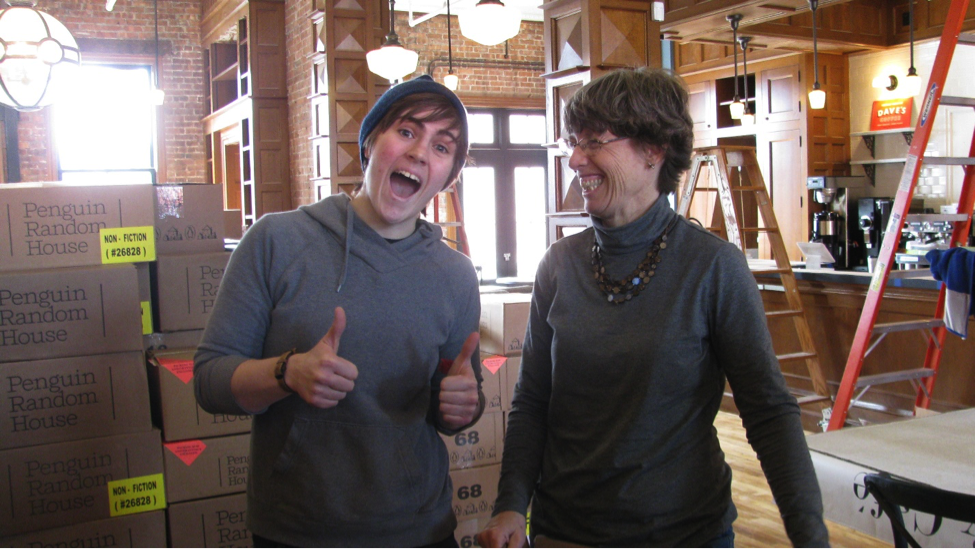 Annie kept things moving on all fronts, as workmen hustled this way and that with drills, cables, and ladders. The April 16 Grand Opening seemed so near and yet so far away.
One of the greatest pleasures of the industry whether as an editor, a publisher, a writer, an illustrator, or a bookseller, is that fundamental human amusement, Problem Solving, and the book business provides amply at any scale. Shared problem solving generates enormously creative networks like the regional bookselling associations or the original incarnation of the Association of Booksellers for Children. Solo problem solving sometimes produces strokes of brilliance, as in the poems of Emily Dickinson, et al. Corporate structure tends to stifle both, though it can bulk up general productivity, such as completing a big project like distribution of an embargoed hot title, or filing class action lawsuits. Keeping the balance among the shared, the solo, and the corporate approaches is important to the health of the industry, and the trade press is important to monitor that balance.