I love being surprised by customers. A couple in their sixties wandered into the bookstore last weekend and spent quite a bit of time in the mystery section. The male half of the couple eventually approached the counter in search of a new author to try. He'd had to take one off his 'list of twenty,' he said, because that author's books had declined over the past several, and this gentleman was finally giving up on him.
"Your list of 20?" I was intrigued. If there's anything I like, it's hearing how different minds process information, or organize themselves.

"I read quickly," my customer explained, "so I find if I have a list of 20 authors I want to read, that usually keeps me in books for the year."
He explained that he makes himself read a 'serious' title every fifth book or so — "like Manchester's book on Churchill," or something highly literary — not only to make sure he read more than escape fiction, but also because if he doesn't salt his 'list of 20' with extra titles, he runs out of books before the year is out.
He turned his phone around so I could see his list, which he created in an app called Paperless. The list looked something like this: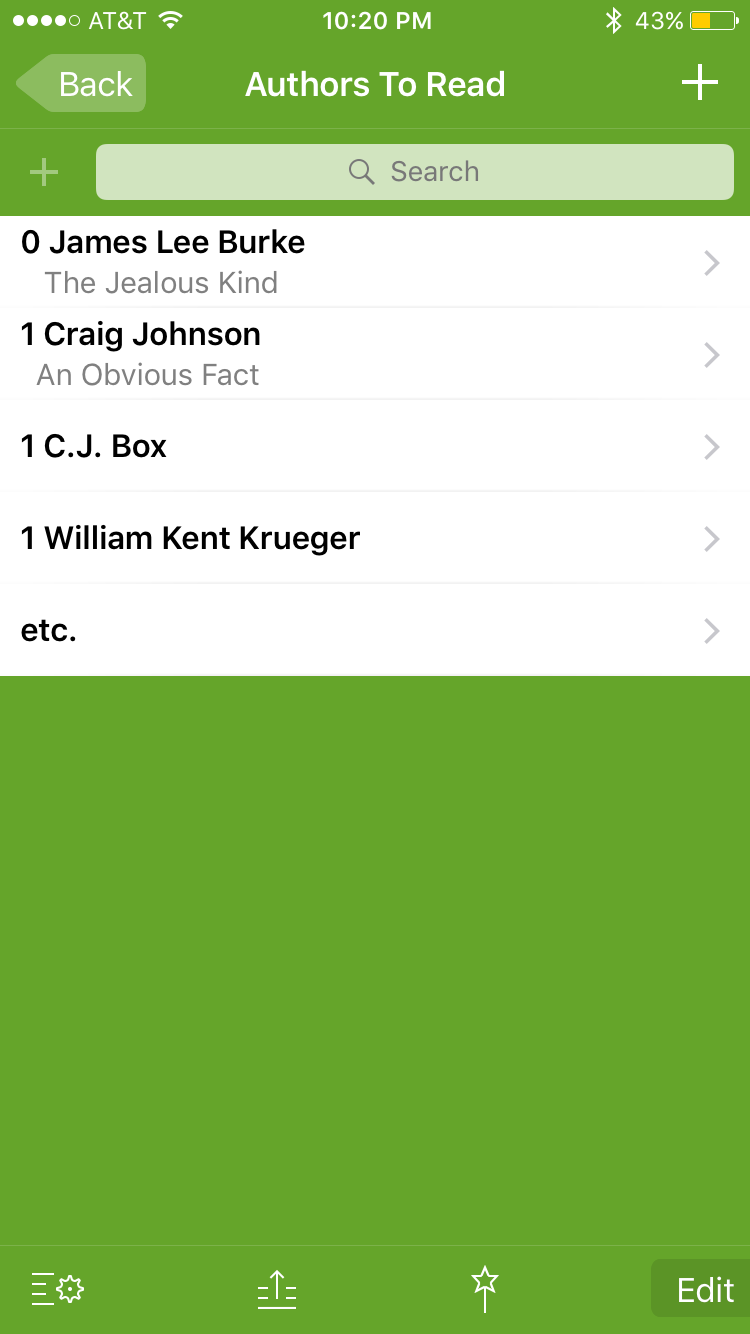 Except that his page was fully populated with his 20 authors. (The one above is a bare-bones example I created to give you the general idea.) The numbers in front of the authors' names are a code to make sorting the list easy.
"0" means the author is untried,
"1" means he's read the author and considers him/her top-notch, and
"2" means he considers the author second-tier, though still good.
Here's where the list-keeping gets really cool, at least to fellow-OCD-lovin'-list-keeping fools like me. Tap on each author's name to find a sub-list of all of the books by that author. And yes, there's another code: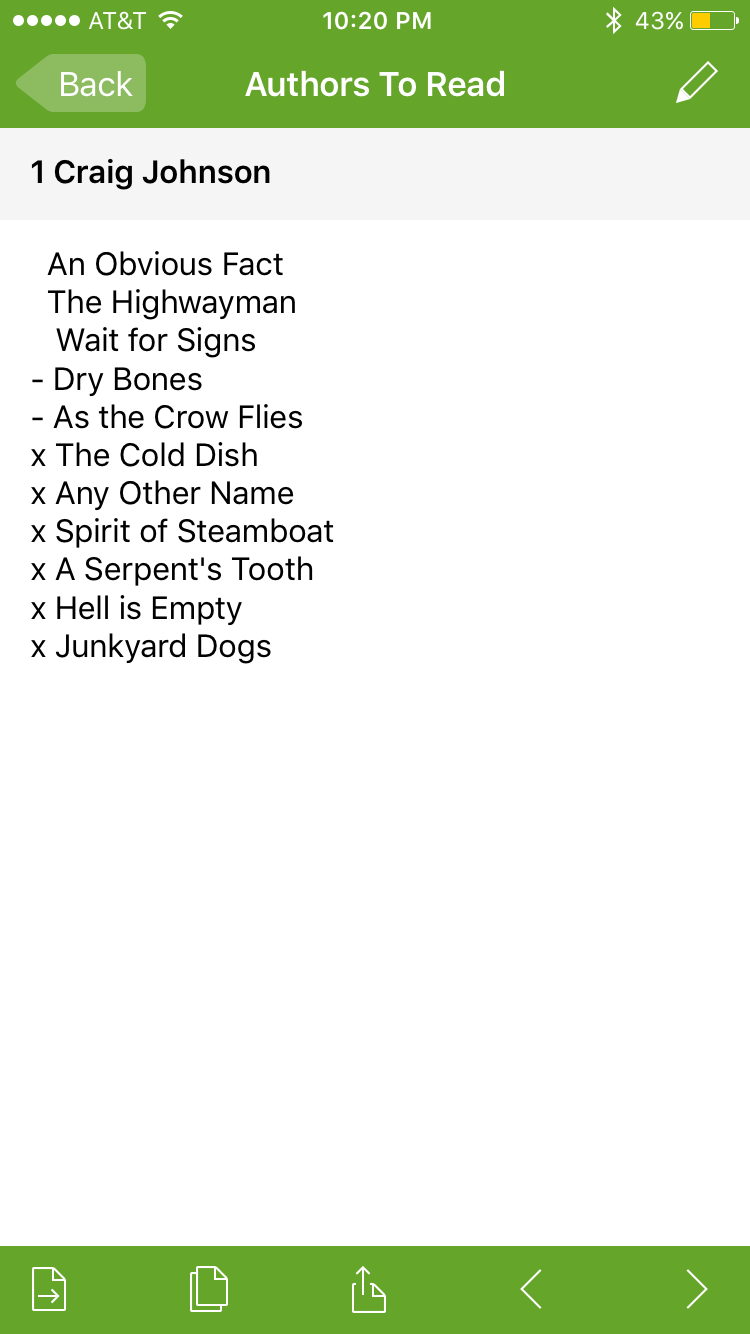 An "x" in front of the title means he's read it.
A "-" means he's bought the book but hasn't read it yet.
If there's nothing in front of the title, he doesn't have the book yet and hasn't read it.
We spent a while talking about the Longmire series on Netflix, and he said he gets hooked on mystery series there, as well. "My wife has Acorn," he said, "and she loves that, but we have different tastes. She likes the kinds of mysteries where people sit in a room watching the paint dry on the wall while they solve the mystery. Mine have things blowing up and people chasing each other around. High octane."
His wife smiled, not at all perturbed by the (fairly hilarious, if slightly unfair) characterization of cozies. The three of us talked about books for a while, they found a couple of new authors to try, and then they ambled back out into the chilly sunshine.
It was a delightful conversation. And I got a new app out of the exchange, and possibly a new book tracking system, to boot.