The oddest thing happened last month. I went off into the Vernal Glade to interview Spring regarding her picks for the season. When I got there the Glade was empty of all except an oak tree. It was very unlike her to miss an appointment and I have decided to walk back over today and see if I can find out what happened!
Kenny: Hello there. Hello. Spring. Is anyone here?
Oak Tree: Hi there, Kenny. And don't ask. I lost a bet to Summer.

Kenny:  Oh my!
Spring: Sorry not to have answered you last month. It took me some time to teach myself to speak by vibrating my leaves.
Kenny: Impressive. Umm, so have you been able to keep up with your reading? Can we still do the interview?


Spring: Oh absolutely. The woodland creatures have been bringing the season's offering to me. They also flipped the pages for me until I mastered the art of turning them by generating wind through moving my leaves.
Kenny: Hmm, well I hope you are not still a tree when Autumn arrives.
Spring: Oh no. It's only until summer. Sigh. All right then, shall we start with kids' books?
Kenny: Definitely.
Spring: Before getting to Spring proper I have to mention a book that came out on March 1st, Philip Stead's Ideas Are All Around. They are, you know, and this delightful book proves it. It is not only a book made for sharing, it also promotes sharing and interaction in the most creative way possible. Most picture books which reach for Meta come up well short, but Ideas Are All Around succeeds wildly due to its direct, personal, warm but wry tone. As I stood here, stuck in the Vernal Glade as a tree, this treasure of a book brought me solace and opened fresh vistas of personal narrative.  
Kenny: Remarkable. And what of the books that fell within your proper season?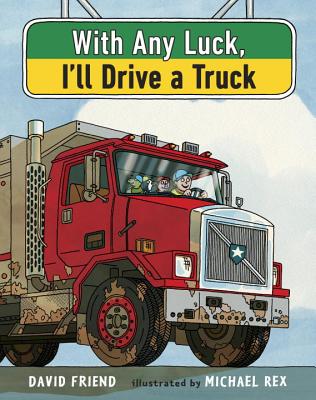 Spring: Well, I'll stay away from some no brainers like Half Lost, The Crimson Skew and Elephant and Piggie's last entry, The Thank You Book. One thing I've been wanting here in the Glade is some cheering, and Julius Zebra, Rumble with the Romans by Gary Northfield brought that in profusion. Hilarious. Just the thing for 8 to 10 year olds. My picture book pick is Storm by Akiko Miyakoshi. So atmospheric, and I was really able to relate to watching and waiting as a storm came in. I also loved With Any Luck I'll Drive a Truck by David Friend and illustrated by Michael Rex. So clever and so much fun. For a novel, maybe being stuck here in the Glade is getting to me, but I really loved Wolf Hollow by Lauren Wolk. A truly rich story.
Kenny: Great. And your Adult picks?
Spring: The conclusion to The Passage Trilogy, City of Mirrors, really delivers. Call me shallow, but I did love the middle volume, The Twelve, but there is no question that with City of Mirrors Ethan Cronin returns to the magisterial storytelling that marked The Passage. Zero's backstory is worth the price of admission all by itself. My non-fiction pick is Rise of the Rocket Girls, a fascinating story and very well told.
Kenny: Thanks so much, Spring! Hey, I must say you are doing well for yourself. Will you miss being a tree?
Spring: Hmm. I may look back at it fondly, but, and I never thought I would say this, but I will be glad to see Summer this year, drat her.