I returned from a week's vacation late Saturday night. I woke up Sunday morning in my own bed but found myself straining to hear the ever-present ocean I had grown so accustomed to during the week. There is always an adjustment upon returning home, especially from a beach vacation. The biggest one I discovered is not being able to literally lounge all day and just read. There is something so lovely about surrendering to the pull of a lazy day in the sun and a good book.
I met my friend, Helen, on Cat Island in the Bahamas. This was the place I had gone last year on vacation. There is little to do on this island, and particularly nothing to do at the resort, Pigeon Cay. There is no swim-up bar, no activities, no gym, and sketchy Internet that only works at the bar, and it is bliss. The two-mile long beach is largely devoid of people and there is a real sense that you are alone in paradise. Helen set the reading pace. She was good for one book a day, sometimes two. I was actually stunned at how many books she consumed in a week. I found myself drifting while reading or just getting caught up in the view and clouds. But I did read two excellent books while I was down there.
At my store, I don't often read bestsellers because they don't need to be hand sold.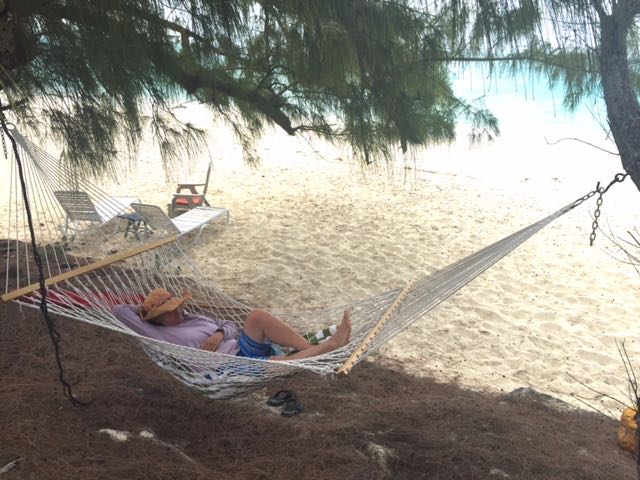 Because of this unwritten rule, I have not yet read All the Light We Cannot See.  Helen had brought down Anthony Doerr's first book, About Grace, and said it was very good. Yes, I had packed a bunch of books, and sadly left a mystery galley on the flight down that I was halfway through. So, I was happy to switch gears after Helen's glowing recommendation. The writing was lovely, the main character started off sympathetic, but I found myself angered by his actions and wanted to spur him along. I was riveted.
I also found the best spot to read perhaps in the world. There are two beachside hammocks, each with a self-pulling rope. The rope is there so that you can gently rock yourself with just the slightest wrist movement. This one-handed swaying allows for easy reading. And to that close to the ocean while reading and lounging is just about as close to nirvana as I'm likely to get. The second book I read was a galley called All the Ugly and Wonderful Things by Bryn Greenwood. This is a gritty book that is reminiscent of Dorothy Allison's Bastard Out of Carolina, which is one of my favorite books. The book doesn't come out until August and I need to remember not to recommend it until then; this is always a sign that I love a book.
So, on my first day back at work, I will adjust to the new rhythm of not reading and lounging all day. But in my heart I will be swaying in that hammock a little while longer.