Sometimes when publishers want to re-energize a book or (more often) a series from the past, they do a cover redesign. Often this is warranted — nothing scares away young readers faster than dated or ugly covers. Remember how the Quentin Blake covers re-energized and united all of the Roald Dahl books? Even though I still mourn the loss of William Pène du Bois' art for The Magic Finger and Nancy Ekholm Burkert's James and the Giant Peach, there's no denying the effect those new covers had on book sales. And they breathed new life into the timeless Edward Eager titles for young readers, as well.*

There are a number of books I have a hard time handing to kids, because their covers unfortunately lack child appeal. E. Nesbit's
The Enchanted Castle
, a book I adored as a fourth-grader and read numerous times, once had a marvelous cover, but here's the paperback I've been forced to try to get kids to look at for 20 years (not kidding; it came out in 1995).
Burnt orange is not a color kids gravitate toward, to put it kindly, and while the Harry Potter series might have given distant castle images a nudge up the popularity chart, this cover does absolutely nothing to telegraph the lively humor, magic, imagination, and adventure in this story. You should see the distaste in kids' eyes when we try to hand them this book – they don't even want to consider it. For the love of all things magical, PLEASE update this cover!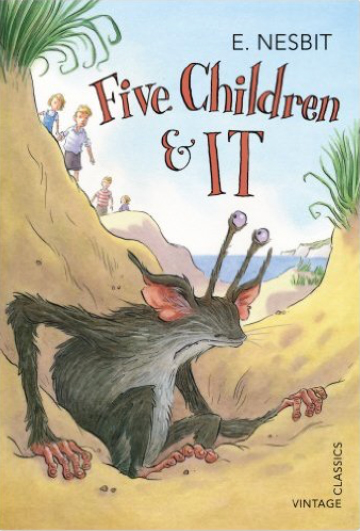 In fact, all of the Nesbits deserve new covers. The best Nesbit cover in recent years for grabbing kids' interest is a Random House U.K. cover that somehow ended up in American distributor warehouses, but it doesn't look as though this version is readily available anymore.
I also wouldn't mind seeing new covers on Elizabeth Enright's
Gone-Away Lake
and its sequel,
Return to Gone-Away.
Those books are so fabulous, and their covers are okay but not huge kid-grabbers.
And wouldn't it be wonderful if the paperback covers of Gerald Morris's King Arthur retellings matched the sparkling wit and depth of the stories themselves? We sold tons of this hardcover version of
The Squire's Tale:
but have a much harder time with the paperback:
The hardcover did a better job of conveying the book's great good humor than the newer paperback version, which suddenly made this very funny, wonderfully rich, earthy story seem solemn, ethereal, and remote.
One telling litmus test of a cover is, Will families want to give this book as a birthday gift to another child? We just could not get people to buy the paperback version of
A Squire's Tale
as a gift. And often, we sold the paperback to families for their own reading ONLY after — seeing their hesitation — we showed them the hardcover and explained that it was the same book.
I actually like many of the other covers in the redesigned Gerald Morris series, even though I think they tend to turn away readers who would be drawn in by a more joyful artistic interpretation. The art is often lovely, but the darkness (especially on the first few covers) makes these a tough handsell to kids who aren't yet acquainted with the series.
Another cover I would LOVE to see re-done is
Understood Betsy
by Dorothy Canfield Fisher. This is one of our tried-and-true staples — at least during the years where the cover art is good. Here's what's available now. Which of these copies would YOU pick up if you were a contemporary child?
Right. Neither. However, Henry Holt brought out a sweet hardcover some years back that sold nicely for us and would be delightful in paperback. Hint, hint, Macmillan.
The flip side of my plea for a redesign of some books is a plea not to mess with the good ones. *In the middle of my writing this post, we had a sales meeting and learned that the cover of Eager's
Half Magic
has been revised. This is a case of fixing what wasn't broke. Take a look at these and tell me what you think:
Original cover: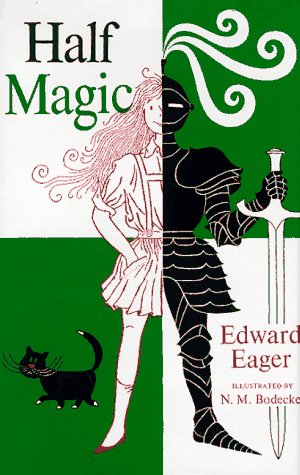 I loved this one and kids did, too. (Please excuse the slightly cut-off right side; this was the truest image I could find online.)
Then came the 1999 redesign with Quentin Blake art:
Also a winner of a jacket, and perhaps even more so than the original. I never had a single child hesitate to grab this book — or any in the series. SUCH an easy handsell. The covers are fun, clean, suit the stories, and appeal to children.
And now, the 2016 reboot:

To me, this looks more scary than funny. A misstep, I think; this may not be a world I suspect all kids will want to enter, the way they do with Quentin Blake and N.M. Bodecker's interpretations.
It turns out that all seven of the Eager jackets have been redesigned, and they all have this tomato-based color palette, many with a nod to Hieronymus Bosch chaos. The armor up there looks like worms. Why, oh why?? Let's hope I am wrong and girls and boys just scoop up these books like crazy. I am mourning the Quentin Blake covers, though, I have to say. (Apologies to the artist of these new covers. You're clearly a terrific artist. I just wish I liked the style better for this series.)
At least there's plenty of action on the Eager covers. Often, reboots engender curiously static art.
Which brings me to an overall frustration with redesigned classics, especially those in the public domain. They don't seem to be treated by publishing art departments like other books, with an eye to customer appeal. It's as though the very term "classic" consigns it to a special realm where it's okay to create boring covers. Books aren't classics because only teachers make you read them. Classics are books that have stood the test of time and continue to astonish, enrich, delight, and enlighten readers across decades. They deserve inviting, fresh covers. If a new cover doesn't make kids want to pick up a book, what's the point of even doing a re-design?
Sometimes, those dollars might be much more effectively spent doing some clever marketing around the books they want to remind families and schools about, or creating displays to feature a series. Imagine a Summer Magic June display featuring all seven Quentin Blake Edward Eager titles.
Booksellers, teachers, parents, and librarians — which books you love are crying out for new covers? What great titles are kids missing out on because they don't like the jacket art?