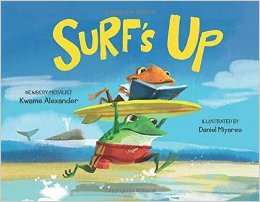 One thing I wonder each buying season is whether or not every book buyer has signed a binding, subliminal contract to buy in every book about books and reading. Quality only has bearing on quantity here. The book might be good, like Kwame Alexander's Surf's Up, the book might be gratuitous fluff, like Richard Rhino's Read Aloud Rumble¹, but the only thing at stake is the quantity. We are compelled as buyers by an unseen, intractable force to bring in at least one.
Conversations like these happen no less than twice a sales call.

Rep: I have to call your attention to The Hour of the Book.
Buyer: Well, I know that The Tortoise Wars sold back in the day, but her last three books have all been bombs. I didn't move a single Lettuce Diaries.
Rep: I know. That was a disappointment for everyone, but The Hour of the Book focuses on the power of books to restore hope and happiness after profound loss.
Buyer: (Intends to say: 'whatever' actually says…) All right, I'll represent it.
(Later on in the buy)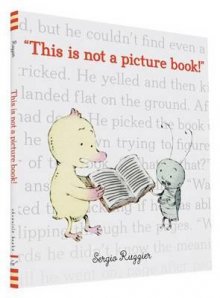 Rep: I'm surprised you didn't pick up Ms. Lively's Lugubrious Library.¹ Did you mean to skip that?
Buyer: Well, that's a terrible title and the rhyming couplets opened a gaping void under my feet.
Rep: I hear you, but the story is all about how shared reading draws children out of isolation and into new friendships and a passion for learning.
Buyer: Right, but the art is so computer-generated that I found it almost impossible to read the text. Actually, I wish it had been impossible because I can't seem to expunge lines like,
Each page is a footstep, each story a gurney,
That wheels you along a fabulous journey
Rep: It has a great message, Kenny, about the power of books and reading. Library accounts are sure to want it.
Buyer: (Intends to say 'No, no, No, I never want to see or think about this book again.' Actually says…) Okay, I'll bring in two.
I can't find any copies of a signed contract in my office enforcing this universal law of buying. This has led me to wonder if its iron compulsion, a debilitating force which makes the strain of fatalism found in Oedipus the King look slack in comparison, was negotiated on our behalf by the ABA, or if it is the result of a potent spell by a Bibliomancer employed by the major publishing houses in a joint marketing effort that the Justice Department somehow overlooked.
Whatever its origin all I can say is that this law of buying, with its momentary suspension of free will, is… is… a wonderful celebration of reading and books.
¹Okay, that is not really a book… yet.