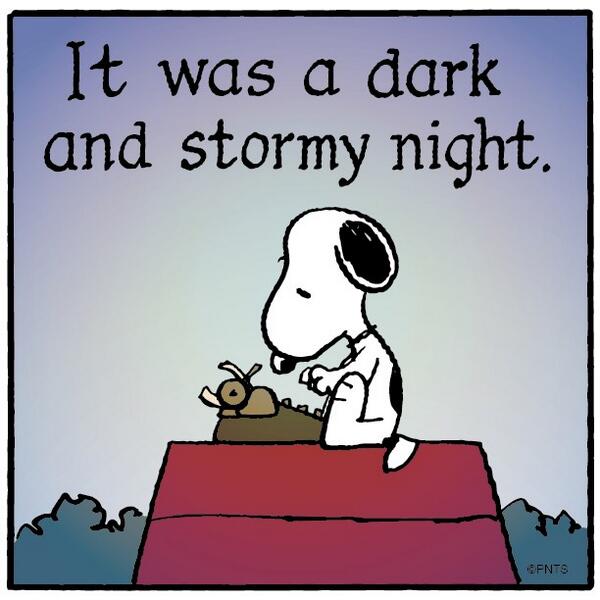 UPDATE: CONTEST EXTENDED UNTIL MONDAY, JANUARY 25! Great entries, everyone! Keep 'em coming. And I will reveal that the Grand Prize is… the new Kate DiCamillo ARC!!!
By the time you read this post, the ALA Youth Media Awards will have been announced. (In fact, why are you reading this at all? You should be out celebrating the winners, buying books that slipped under your radar, and ranting on Twitter about favorites that weren't recognized. Still, we are so glad you're here.)
At the time of the *writing* of this post, however, Monday's winners are wrapped in a gauzy haze of dream and mystery. So allow us to present these awards instead: The fabulous Bulwer-Lytton award for the world's worst sentence.

I have followed the Bulwer-Lyttons since college. The award was created in 1982 by the English department at San Jose State University and named in honor of a Victorian novelist, Edward Buller-Lytton, who originated the opening line that has been immortalized as a go-to cliche in comics and parodies: "It was a dark and stormy night." (I can't even read those words without picturing Snoopy typing on his doghouse.)
The charge isn't actually to write the world's worst sentence. It is, in the language of the award's website, "a whimsical literary competition that challenges entrants to compose the opening sentence to the worst of all possible novels." It's an irresistible call to arms.
The 2015 winners were announced in the fall, but they are worth celebrating anew on Awards Monday. I won't plunder too much from the Bulwer-Lytton website, "where 'WWW' means 'Wretched Writers Welcome,' " except to bring you a few choice tidbits that will surely lure you there.
First, the sentence that started it all: Bulwer-Lytton's own opener to an 1830 novel:
It was a dark and stormy night; the rain fell in torrents — except at occasional intervals, when it was checked by a violent gust of wind which swept up the streets (for it is in London that our scene lies), rattling along the housetops, and fiercely agitating the scanty flame of the lamps that struggled against the darkness." — Edward George Bulwer-Lytton, Paul Clifford (1830)
The 2015 Grand Prize Winner:
"Seeing how the victim's body, or what remained of it, was wedged between the grill of the Peterbilt 389 and the bumper of the 2008 Cadillac Escalade EXT, officer 'Dirk' Dirksen wondered why reporters always used the phrase 'sandwiched' to describe such a scene since there was nothing appetizing about it, but still, he thought, they might have a point because some of this would probably end up on the front of his shirt." — Joel Phillips, West Trenton, N.J.
The 2015 Children's Literature Winner:
"The doctors all agreed the inside of Charlie's intestinal tract looked like some dark, dank subway system in a decaying inner city, blackened polyps hanging from every corner like tiny ticking terrorist time bombs, waiting to burst forth in cancerous activity; however, to Timmy the Tapeworm this was home." — E. David Moulton, Summerville, S.C.
One of the 2015 Fantasy Dishonorable Mentions:
"My name is Vangir," the stout dwarf announced, "son of Valdir, son of Tolfdir, son of Torsion, heir to the dwarf kingdom of Darag-Vur, King of the Under-Folk, ring-giver, dragon-slayer, M.D., DDS." — Austin Stollhaus, Louisville, KY
2015 Winner, Romance
"Claire had more daddy issues than Boy's Life magazine published in the late 1970s, but she was a perfect match for Donald, whose personality was vaguely sticky, like the outside of a squeezable honey container or anything handled by a three-year-old." — James Pokines, Boston, Mass.
2015 Winner, Science Fiction
"The gravitational pull up here on Mars is much less than it is back at home base, of course, so your tongue sticks to the roof of our mouth and everyone sounds like Eleanor Roosevelt." — John Holmes, St. Petersburg, Fla.
Oh, ShelfTalker readers, I know you have some wonderfully terrible opening lines somewhere inside you. Bring them out!
Winners will be rewarded with ARCs and rare prizes to be determined frantically upon deadline. All entries must be posted in the comments section of this post by Sunday, January 17. Winners will be announced on Monday, January 18.
Categories include worst opening sentences for:
Picture Books
Early Readers
Middle Grade
Young Adult
First Book in New Series
Fantasy/Science Fiction
Adventure
Horror
Neither Here Nor There
Mishmash of Genres
***
Share the contest with friends! You, too, can be a winner!