When Dav Pilkey came to the bookstore in October, he gave over $1,000 in Flying Pig gift cards to kids who correctly answered Captain Underpants trivia questions. The cards ranged from $25 to $250 and there were seven questions asked. One young man, Carter, won the $200 gift certificate and he was ecstatic. Beaming, he leaped up to get the gift card, not knowing how much it was for. When he opened it and saw it was for $200 his smile was extraordinarily bright and almost made me tear up at his genuine joy. 
This young man, Carter, has been in the bookstore just about every weekend since early October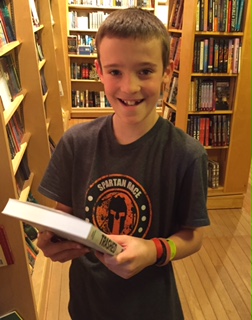 when he won the gift card. He had never shopped with us before. This is the real beauty of what Dav Pilkey wanted to do: bring a reader into an independent bookstore. Carter hasn't just come into the bookstore, he's fallen in love with it. He almost always comes on Saturdays, and now he knows the store layout so well, he practically runs to the section he's in the mood for. This weekend it was fantasy, last weekend realistic middle grade. This young man is so polite, friendly and has such a love of books that he is delightful to be around. He is constantly smiling and he hugs books, too. One of the things that I really appreciate about this kid is he's sharing his gift certificate. When I asked him and his dad if I could write about him, he beamed and said, "Yes. I love it here!" I checked with his father who was good-naturedly smiling at his book-loving son.
For every two books he gets himself (this kid is a fast reader) he gets one for either his sister or a friend. He's using his own money in essence, to share the love of reading. This is what bookstores do: create a place where a burgeoning love of books can be nourished.
We all adore this kid and I'm already a little sad for what will happen when the gift card runs out. But I'm hoping that he'll get a lot for the holidays. I cannot thank Dav Pilkey enough for helping Carter discover our bookstore, and thereby allowing us to get to know Carter.