We are very lucky to be hosting Dav Pilkey next week who is touring for the 12th Captain Underpants book: Captain Underpants and the Sensational Saga of Sir-Stinks-A-Lot  He'll be going to two schools and doing a store event. Often publishers will send along some promo items that can be copied and distributed for the events. This is always hugely helpful. These kinds of things help create a richer event that the kids and these promo things are great fun. On Wednesday one of my co-workers texted the following message: "You won't believe the swag you got for Captain Underpants event!!" I arrived at work the next morning expecting a box of pencils or tattoos. What I found instead was staggering.I need to say that Scholastic is really pulling out all the stops for this tour. The store event will have an inflatable Captain Underpants–not a small, cool balloon, but an actual person (with their own liability insurance) who wears the inflatable costume. It's not every event that comes with someone provided by the publisher to wear a costume who's insured. This will literally stop traffic the day of the event and make the kids giggle, and that's always a good thing.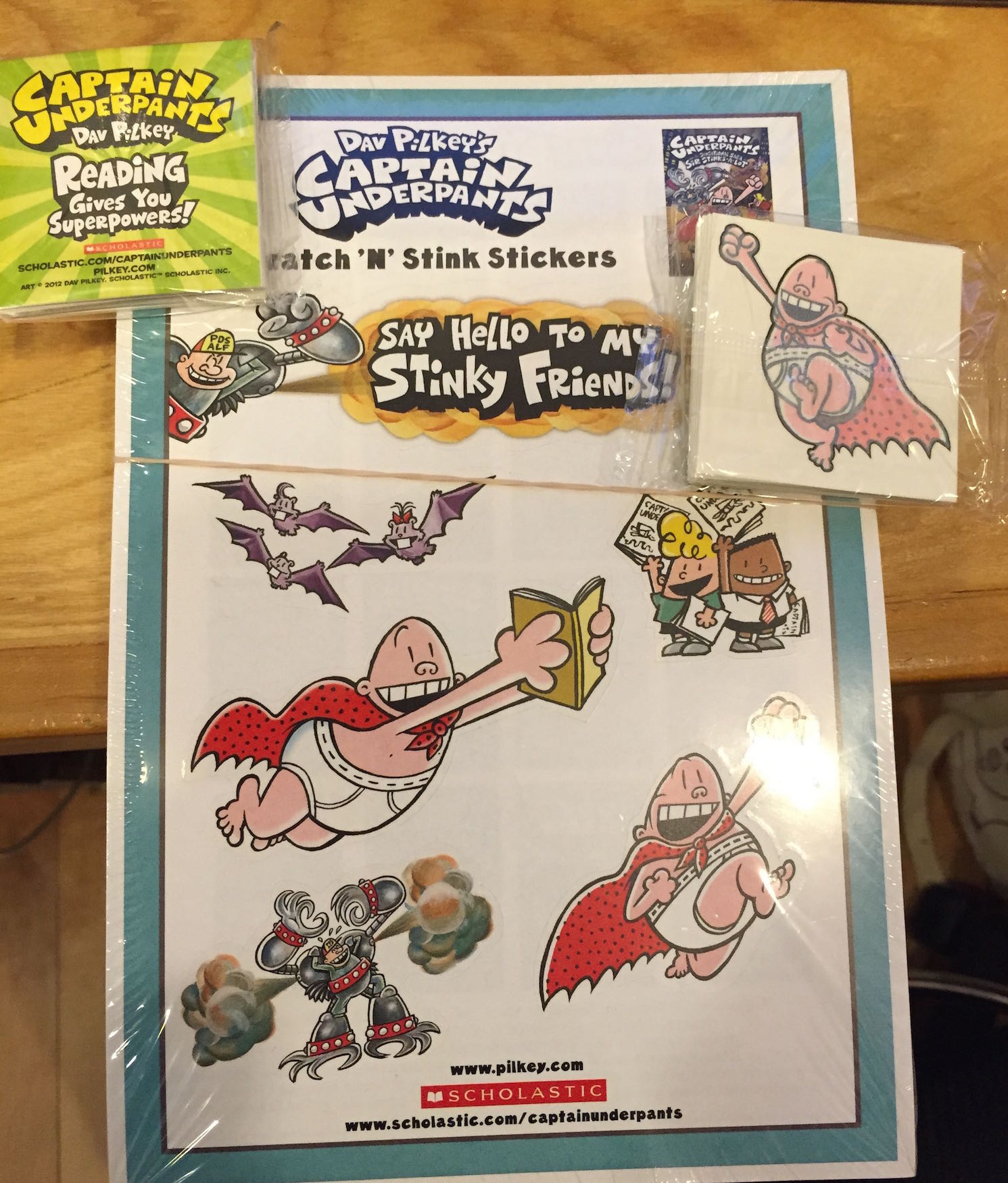 When I got to work, Darrilyn was working and she was smiling as I found the six boxes for the event. There were four boxes of capes. Yes, capes! Eight hundred capes were provided. That's enough capes for all the school events and our event. Every kid will get one and there's no additional expense for the schools. It's amazing to me that I have this many capes to just give away. Kids will be crusaders for being super readers. What a great way for kids to remember a totally fun event. And it's been lovely that staffers have been wearing their capes during their shifts.
The next box had tattoos and scratch-and-sniff stickers. Again, enough for all the kids. These things are not inexpensive to produce and it's just wonderful to have these for the kids at all the events. There were also five pairs of men's 3X underpants that none of us felt comfortable modeling. Okay, that's not true. Laura did model them. I took a picture and she then expressly asked that I not post it. I am honoring her request, even though it pains to do it because the look on her face wearing these very large underpants over her clothes was priceless. No one is quite sure what to do with these but they are funny to have around.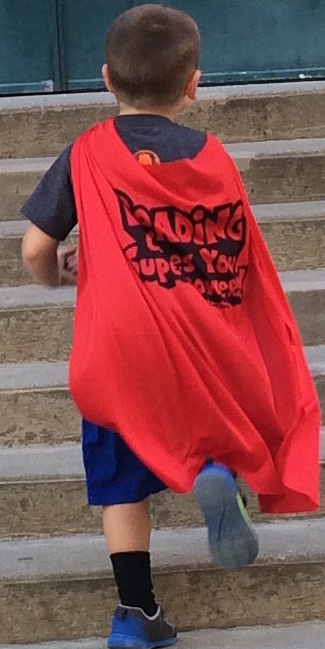 I gave a friend a cape for her five-year-old son which we both thought he would enjoy. And in case the publisher needed to know how awesome the capes are, my friend texted me a picture of her son wearing the cape to school, for the second day in a row. This little guy has not really taken the cape off since he got it. To my mind, this is a very, very successful promotional item.
And really, could a five-year-old look more adorable bounding up the school steps in this cape?