One of my favorite summer pastimes as a kid was to pedal around the lake at my Indiana grandparents' place reading a book. I'd drag this wonderful, scuffed old orange-and-white (actually, once-white) pedal boat down to the water and set off with my book in my hand and a plastic glass of iced tea or lemonade in the handy cup holder. Then I'd pedal myself along the shoreline to the next little connecting lake, around its perimeter, back out to Irish Lake, and then down Grassy Creek. It was idyllic.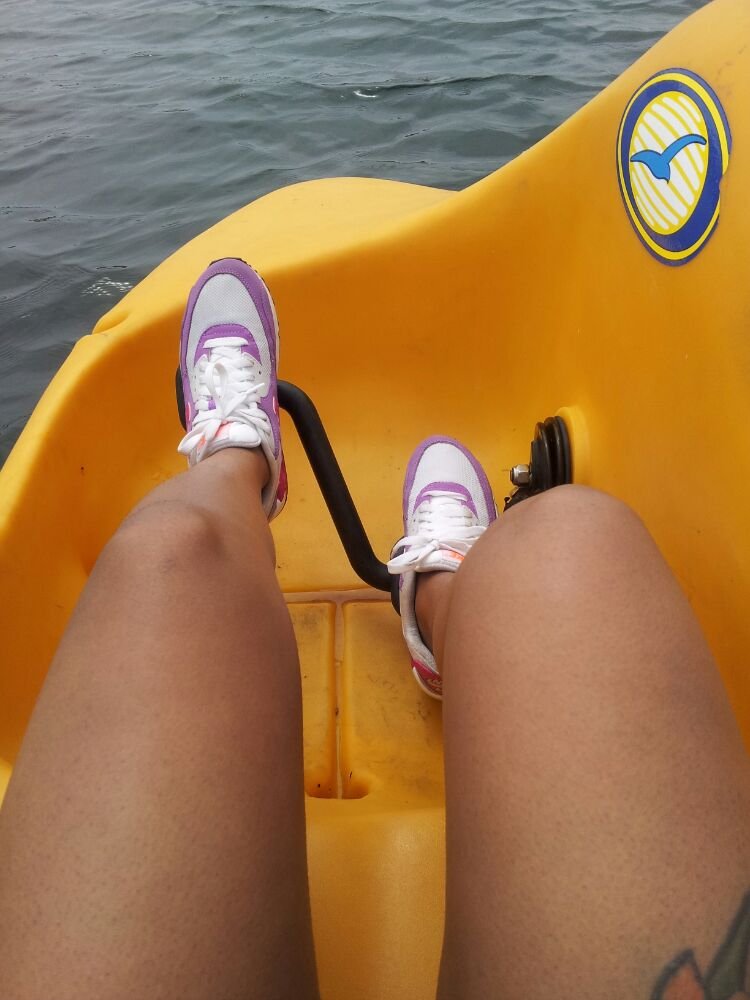 Sure, I was a little lopsided without a right-side passenger, but I loved being so close to the water, with the sun on my face and a breeze in my hair and the promise of double adventure: in real life (who knew what turtles, fish, lilies, and potential cute boys in fishing boats might appear on my journey) and in my book. It was also a great way to get at least some exercise while reading. Truth be told, it was much better than reading in a hammock.
Flash forward 35 years…
…to the days at the Flying Pig where we had an upstairs space we called The Flying Pig Loft. We only used it for events, which is why we eventually let the lease lapse. The room couldn't justify itself, financially speaking. But it was a big, beautiful, open room with lots of light, windows, and wood floors, and I spent many hours trying to think of uses for it that might earn a little toward the rent. My favorite was an idea that never came to be: an afterschool exercise program for kids who loved to read.
Vermont is an extremely sporty state, and my heart goes out to the kids who DON'T want to spend every afternoon playing field hockey and soccer or run cross-country, the kids who would rather be reading, but know they should do something active to be healthy. I imagined writing a grant for stationary bikes. Kids could come up to the Loft after school and read their books, companionably, 
while they rode. This would be especially handy in winter, when riding real bikes outside wasn't even a possibility. Reading while riding would be THE afterschool sport for bookworms.)
So you can imagine my delight when a story hit my Facebook feed the other day and I discovered that someone has actually created this program! It's now been replicated in 30 states and is called, of course,
Read and Ride
.
The website has
information
about how schools can start Read and Ride programs themselves.
Congratulations to Scott Ertl, the program's founder. You can
read more about him here
.
I'm sorry I had to suffer through 4th-grade calisthenics in P.E. and am glad that many kids today have the option to enjoy a readers' dream version of gym! 
I also think reading on a Fitball would be fun, if it didn't create motion sickness.
Avid readers, got any other fun ways to stay in shape while reading?