I was in D.C. last week visiting a friend and I stumbled on Kramerbooks & Afterwords Cafe. There is nothing I enjoy more than traveling and finding a great independent bookstore. I happened to come to the store around 10 in the morning, usually a quiet time for most bookstores. Instead, I found a bustling store with a nearly full cafe serving breakfast to what looked like regulars who were reading, eating and enjoying a bookish start to their day.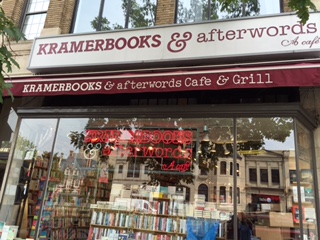 The store seems small, but is actually chockful of great books. The displays are engaging and the inventory is carefully curated with a mix of new and backlist that had me picking up many books to look at that were new to me. I'm always intrigued by general stores with a small kids' section. Kramerbooks has a small kids' area, but wow is it packed with the best of the best. No media tie-ins, just great books for children of all ages. There were several kids browsing the morning I was there and all were happy and finding good things to read.
As I was preparing to leave, the UPS truck was making a delivery. I overheard the driver say, "I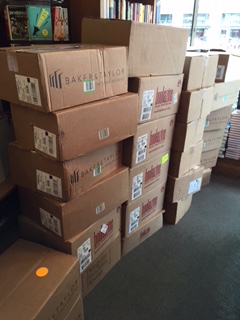 have 40 for you today." Forty boxes! On a Thursday. Wow. That would make my head swim. As I looked around the small store, I wondered just where those boxes were going to go. And in classic indie bookstore fashion, they were neatly tucked around the front corner of the store by the window. Meg and a colleague started receiving the Baker & Taylor shipment first. Meg and I discussed our mutual dislike of the Baker & Taylor boxes and how hard they are to open and then break down. These two had it down. They were receiving books quickly and efficiently right there in the middle of the store. This gave me a new appreciation for my store's back area setup where we can receive without taking over the floor of the store.
This bookstore not only has a cafe, but a bar. Books and a bar seem to be a genius pairing given the long literary history of drinking. The only issue I have with this would be the hours. The cafe is open at 7am and the bar stays open until 1am or 4am depending on the day. Those are crazy hours. But in a city as large as D.C. there is the population to support it. Both the bar and the cafe seem to be doing great business without the bookstore, and the combination of everything makes this store a win-win for all your book, food, and drink needs.
As I left, I couldn't help but breathe a sigh of relief that the remaining 38 boxes were not mine to deal with, and I kept on my journey to the National Zoo to see the pandas. But the bookseller in me couldn't help but linger just a minute or two longer to see what books they had gotten in.