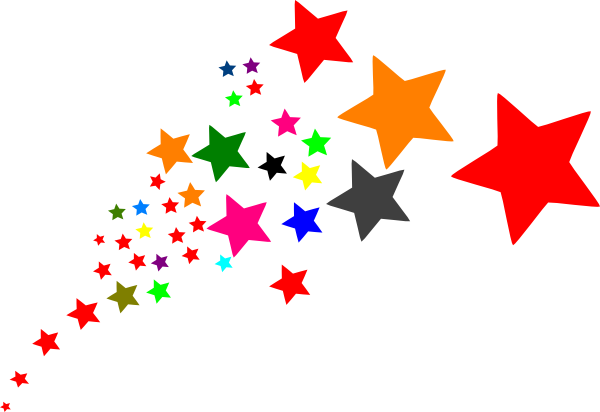 Drum roll, please — it's time for the the mid-year roundup of starred reviews given to books for children and teens!
The Stars So Far is a project in which I foolishly decide to gather all of the year's starred reviews for children's and YA books from Booklist, The Bulletin of the Center for Children's Books, Horn Book, Kirkus, Publishers Weekly, and School Library Journal. Some of the reviews are harder to track down than you'd think, so publishers, please alert me to omissions at ebluemle at publishers weekly.com.
Before writing to tell me I'm missing a star, please note that starred reviews are counted only when they have been officially printed and released by the review magazines. If you know that a book will be given a star next week or next month, please don't send an email. I will add those stars as they are published by the review magazines. Thank you!
This is a detail-laden process, and as careful as I try to be, there will be bobbles here and there. If you want the cleanest, most comprehensive version of this list, check back here several days after the original post, when I'll have been able to make any fixes.
And now for the stars:
SIX STARS
Challenger Deep. Neal Shusterman, illus. by Brendan Shusterman. HarperTeen, $17.99. ISBN 9780061134111 BCCB, BL, HB, K, PW, SLJ
Tightrope Walkers, The. David Almond. Candlewick, $17.99. ISBN 9780763673109 BCCB, BL, HB, K, PW, SLJ
X: A Novel. Ilyasah Shabazz with Kekla Magoon. Candlewick, $16.99. ISBN 9780763669676 BCCB, BL, HB, K, PW, SLJ
FIVE STARS
Alex Crow, The. Andrew Smith. Dutton, $18.99. ISBN 9780525426530 BCCB, BL, HB, K, PW
Cuckoo Song. Frances Hardinge. Abrams/Amulet, $17.95. ISBN: 9781419714801  BCCB, BL, K, PW, SLJ
Earmuffs for Everyone! How Chester Greenwood Became Known as the Inventor of Earmuffs. Meghan McCarthy. S&S/Wiseman, $17.99. ISBN 9781481406376  BCCB, BL, K, PW, SLJ
Lost in NYC: A Subway Adventure (A Toon Graphic). Nadja Spiegelman, illus. by Sergio Garcia Sanchez. Toon Graphics, $16.95. ISBN 9781935179818 BCCB, BL, K, PW, SLJ
Roller Girl. Victoria Jamieson. Dial, pb $12.99. ISBN 9780803740167 BCCB, HB, K, PW, SLJ
Supertruck. Stephen Savage. Roaring Brook/Porter, $12.99. ISBN 9781596438217 BL, HB, K, PW, SLJ
Walls Around Us, The. Nova Ren Suma. Algonquin, $17.95. ISBN 9781616203726 BCCB, BL, HB, K, SLJ
FOUR STARS
8: An Animal Alphabet. Elisha Cooper. Scholastic/Orchard, $17.99. ISBN 9780545470834 BL, K, PW, SLJ
All the Bright Places. Jennifer Niven. Knopf, $17.99. ISBN 9780385755887 BCCB, K, PW, SLJ
Boats for Papa. Jessixa Bagley. Roaring Brook/Porter, $17.99. ISBN 9781626720398 BL, K, PW, SLJ
Boys Who Challenged Hitler, The: Knud Pedersen and the Churchill Club. Philip Hoose. Farrar, Straus & Giroux, $19.99. ISBN 9780374300227 BL, K, PW, SLJ
Curious World of Calpurnia Tate, The. Jacqueline Kelly. Holt, $16.99. ISBN 9780805097443 BL, K, PW, SLJ
Dead I Know, The. Scot Gardner. Houghton Mifflin Harcourt, $17.99. ISBN 9780544232747 BCCB, K, PW, SLJ
Death of the Hat, The: A Brief History of Poetry in 50 Objects. Paul B. Janeczko, illus. by Chris Raschka. Candlewick, $17.99. ISBN 9780763669638 BL, K, PW, SLJ
Echo. Pam Muñoz Ryan. Scholastic Press, $19.99. ISBN 9780439874021 BCCB, K, PW, SLJ
Fatal Fever: Tracking Down Typhoid Mary. Gail Jarrow. Boyds Mills/Calkins Creek, $16.95. ISBN 9781620915974 BL, K, PW, SLJ
Fine Dessert, A: Four Centuries, Four Families, One Delicious Treat. Emily Jenkins, illus. by Sophie Blackall. Random House/Schwartz & Wade, $17.99. ISBN: 9780375868320 BCCB, BL, K, SLJ
Firefly Hollow. Alison McGhee; illus. by Christopher Denise. S&S/Atheneum, $16.99. ISBN 9781442423367 BL, K, PW, SLJ
Gone Crazy in Alabama. Rita Williams-Garcia. HarperCollins/Amistad, $16.99. ISBN 9780062215871 BL, K, PW, SLJ
Goodbye Stranger. Rebecca Stead. Random House/Lamb, $16.99. ISBN 9780385743174 BL, K,  PW, SLJ
Hold Me Closer: The Tiny Cooper Story. David Levithan. Dutton, $17.99. ISBN 9780525428848 BCCB, BL, PW, SLJ
Last Leaves Falling, The. Sarah Benwell. Simon & Schuster, $17.99. ISBN 9781481430654 BL, HB, PW, SLJ
Lost in the Sun. Lisa Graff. Philomel, $16.99. ISBN 9780399164064 BL, K, PW, SLJ
March: Book 2. John Lewis and Andrew Aydin, illus. by Nate Powell. Top Shelf, $19.95. ISBN: 9781603094009 BL, HB, K, SLJ
More Happy Than Not. Adam Silvera. Soho Teen, $18.99. ISBN 9781616955601 BL, K, PW, SLJ
Night World, The. Mordicai Gerstein. Little, Brown, $18 ISBN 9780316188227 BL, K,  PW, SLJ
Princess and the Pony, The. Kate Beaton. Scholastic/Levine, $17.99. ISBN 9780545637084 BL, K, PW, SLJ
Razorhurst. Justine Larbalestier. Soho Teen, $18.99. ISBN 9781616955441 BCCB, K, PW, SLJ
Shadow Scale. Rachel Hartman. Random House, $18.99. ISBN 9780375866579 BL, K, PW, SLJ
Shadowshaper. Daniel Jose Older. Scholastic/Levine, $17.99. ISBN 9780545591614 BL, K, PW, SLJ
Sidewalk Flowers. JonArno Lawson, illus. by Sydney Smith.  House of Anansi/Groundwood, $16.95. ISBN 9781554984312 BL, K, PW, SLJ
Tommy: The Gun That Changed America. Karen Blumenthal. Roaring Brook, $19.99. ISBN 9781626720848 BL, K, PW, SLJ
Truth Commission, The. Susan Juby. Viking, $18.99. ISBN 9780451468772 HB, K, PW, SLJ
Waiting. Kevin Henkes. HarperCollins/Greenwillow, $17.99. ISBN 9780062368430 BL, K, PW, SLJ
Wolfie the Bunny. Ame Dyckman, illus. by Zachariah OHora. Little, Brown, $17. ISBN 9780316226141 BL, HB, PW, SLJ
THREE STARS
All the Rage. Courtney Summers. St. Martin's Griffin, $18.99. ISBN 9781250021915 K, PW, SLJ
Ambush of Tigers, An: A Wild Gathering of Collective Nouns. Betsy R. Rosenthal, illus. by Jago. Millbrook, $19.99. ISBN 9781467714648 K, PW, SLJ
Ask Me. Bernard Waber, illus. by Suzy Lee. Houghton Mifflin Harcourt, $16.99. ISBN 9780547733944 K, PW, SLJ
Audacity. Melanie Crowder. Philomel, $17.99. ISBN 9780399168994 BCCB, K, SLJ
Bear Ate Your Sandwich, The. Julia Sarcone-Roach. Knopf, $16.99. ISBN 9780375858604 BCCB, HB, SLJ
Beastkeeper. Cat Hellisen. Holt, $16.99. ISBN 9780805099805 BCCB, K, PW
Beastly Verse. JooHee Yoon. Enchanted Lion, $18.95. ISBN 9781592701667 BL,  PW, SLJ
Black Dove, White Raven. Elizabeth Wein. Disney-Hyperion, $17.99. ISBN 9781423183105 BL, PW, SLJ
Blackbird Fly. Erin Entrada Kelly. HarperCollins/Greenwillow, $16.99. ISBN 9780062238610 K, PW, SLJ
Bone Gap. Laura Ruby. HarperCollins/Balzer + Bray, $17.99. ISBN 9780062317605 BL, K, PW
Boys Don't Knit. T.S. Easton. Feiwel and Friends, $16.99. ISBN 9781250053312 BCCB, BL, K
Bunker Diary, The. Kevin Brooks. Carolrhoda/Lab, $17.99. ISBN 9781467754200 BL, K,  SLJ
By Mouse and Frog. Deborah Freedman. Viking, $16.99. ISBN 9780670784905 BCCB, K, PW
Case for Loving, The: The Fight for Interracial Marriage. Selina Alko, illus. by Sean Qualls and Selina Alko. Scholastic/Levine, $16.99. ISBN 9780545478533 BL, K, PW
Chasing Freedom: The Life Journeys of Harriet Tubman and Susan B. Anthony, Inspired by Historical Facts. Nikki Grimes, illus. by Michele Wood. Scholastic/Orchard, $18.99. ISBN: 9780439793384 BL, K, SLJ
Circus Mirandus. Cassie Beasley. Dial, $17.99. ISBN 9780525428435 K, PW, SLJ
Conviction. Kelly Loy Gilbert. Disney/Hyperion, $17.99. ISBN 9781423197386 BL, K, SLJ
Counting Crows. Kathi Appelt, illus. by Rob Dunlavey. S&S/Atheneum, $17.99. ISBN 9781442423275 BL, K, PW
Detective Gordon: The First Case. Ulf Nilsson. Gecko Press USA, $16.99. ISBN 9781927271490 BL, HB, K
Dime. E.R. Frank. S&S/Atheneum, $17.99. ISBN 9781481431606 BL, PW, SLJ
Elvis: The Story of the Rock and Roll King. Bonnie Christensen. Holt/Ottaviano, $17.99. ISBN 9780805094473 BL, PW, SLJ
Enchanted Air: Two Cultures, Two Wings: A Memoir. Margarita Engle, illus. by Edel Rodriguez. S&S/Atheneum, $17.99. ISBN 9781481435222 BL, K, SLJ
FDR and the American Crisis. Albert Marrin. Knopf, $24.99. ISBN 9780385753593 BL, K, SLJ
Fell of Dark. Patrick Downes. Philomel, $17.99. ISBN 9780399172908 BL, K, PW
Game of Love and Death, The. Martha Brockenbrough. Scholastic/Levine, $17.99. ISBN 9780545668347 BL, K, PW
Ghosts of Heaven, The. Marcus Sedgwick. Roaring Brook, $17.99. ISBN 9781626721258 BL, K, SLJ
Gordon Parks: How the Photographer Captured Black and White America. Carole Boston Weatherford, illus. by Jamey Christoph. Albert Whitman, $16.99. ISBN 9780807530177 K, PW, SLJ
Grasshopper and the Ants, The. Jerry Pinkney.  Little, Brown, $18. ISBN 9780316400817 K, PW, SLJ
Great War, The: Stories Inspired by Items from the First World War. David Almond, John Boyne, Tracy Chevalier et al., illus. by Jim Kay. Candlewick, $19.99. ISBN 9780763675547 BL, K, PW
Harriet the Invincible (Hamster Princess). Ursula Vernon. Dial, $12.99. ISBN 9780803739833 K, PW, SLJ
Hold Tight, Don't Let Go. Laura Rose Wagner. Abrams/Amulet, $17.95. ISBN 9781419712043 K, PW, SLJ
Honor Girl: A Graphic Memoir. Maggie Thrash. Candlewick, $19.99. ISBN 9780763673826 K, PW,  SLJ
I Am Princess X. Cherie Priest, illus. by Kali Ciesemier. Scholastic/Levine, $18.99. ISBN 9780545620857 BL, PW, SLJ
It's Only Stanley. Jon Agee. Dial, $17.99. ISBN 9780803739079 BL, HB, PW
Kissing in America. Margo Rabb. Harper, $17.99. ISBN 9780062322371 BL, K, PW
Last Stop on Market Street. Matt de la Peña; illus. by Christian Robinson. Putnam, $16.99. ISBN 9780399257742 HB, K, PW
Listen, Slowly. Thanhhà Lai. Harper, $16.99. ISBN 9780062229182 BL, PW, SLJ
Little Red Riding Hood. The Brothers Grimm. Minedition (IPG, dist.), $29.99. ISBN 9789888240791 K, PW, SLJ
Lumberjanes Vol. 1: Beware the Kitten Holy. Noelle Stevenson and Grace Ellis, illus. by Brooke Allen and Shannon Watters. Boom! Studios, $14.99. ISBN 9781608866878 BL, PW, SLJ
Maine Coon's Haiku, The. Michael J. Rosen, illus. by Lee White. Candlewick, $17.99. ISBN 9780763664923 K, PW, SLJ
Meet the Dullards. Sara Pennypacker, illus. by Daniel Salmieri. HarperCollins/Balzer+Bray, $17.99. ISBN 9780062198563 BCCB, HB, SLJ
Mesmerized: How Ben Franklin Solved a Mystery that Baffled All of France. Mara Rockliff, illus. by Iacopo Bruno. Candlewick, $17.99. ISBN 9780763663513 BL, PW,   SLJ
Moon Is Going to Addy's House, The. Ida Pearle. Dial, $17.99. ISBN 9780803740549 K, PW, SLJ
Mosquitoland. David Arnold. Viking, $17.99. ISBN 9780451470775 BL, K, PW
My Bike. Byron Barton. HarperCollins/Greenwillow, $16.99. ISBN 9780062336996 BL, HB, K
New Small Person, The. Lauren Child. Candlewick, $17.99. ISBN 9780763678104 BCCB, BL, K
Nimona. Noelle Stevenson. HarperTeen, hc $17.99. ISBN 9780062278234; pb $12.99. ISBN 9780062278227 K, PW, SLJ
Nooks and Crannies. Jessica Lawson. Simon & Schuster, $16.99. ISBN 9781481419215 BL, PW, SLJ
P. Zonka Lays an Egg. Julie Paschkis. Peachtree, $16.95. ISBN 9781561458196 K,  PW, SLJ
Raindrops Roll. April Pulley Sayre. S&S/Beach Lane, $17.99.  ISBN 9781481420648 K, PW, SLJ
Return to Augie Hobble. Lane Smith. Roaring Brook, $16.99. ISBN 9781626720541 BL, K, PW
Rude Cakes. Rowboat Watkins. Chronicle, $16.99. ISBN 9781452138510 BL, PW, SLJ
Simon vs. the Homo Sapiens Agenda. Becky Albertalli. HarperCollins/Balzer + Bray, $17.99. ISBN 9780062348678 BCCB, K, PW
Smick! Doreen Cronin, illus. by Juana Medina. Viking, $16.99. 9780670785780 BCCB, BL, SLJ
Stella by Starlight. Sharon M. Draper. S&S/Atheneum, $16.99. ISBN 9781442494978 K, PW, SLJ
Stonewall: Breaking Out in the Fight for Gay Rights. Ann Bausum. Viking, $16.99. ISBN 9780670016792 K, PW, SLJ
Thickety, The: The Whispering Trees. J.A. White, illus. by Andrea Offermann. HarperCollins/Tegen, $16.99. ISBN 9780062257291 BCCB, BL, PW
Turning 15 on the Road to Freedom: My Story of the 1965 Selma Voting Rights March; as told to Elspeth Leacock and Susan Buckley. Lynda Blackmon Lowery, illus. by PJ Loughran and with photographs. Dial, $19.99. ISBN 9780803741232  BCCB, BL, K
Wait. Antoinette Portis. Roaring Brook/Porter, $16.99. ISBN 9781596439214 K, PW, SLJ
Wangari Maathai: The Woman Who Planted a Million Trees. Franck Praevot, illus. by Aurelia Fronty. Charlesbridge, $17.95. ISBN: 9781580896269 K, PW, SLJ
War That Saved My Life, The. Kimberly Brubaker Bradley. Dial, $16.99. ISBN 9780803740815 HB, K,  PW
TWO STARS
13 Days of Midnight. Leo Hunt. Candlewick, $13 ISBN 9780763678654 PW, SLJ
28 Days: Moments in Black History That Changed the World. Charles R. Smith, Jr.; illus. by Shane W. Evans. Roaring Brook, $18.99. ISBN 9781596438200 BL, K
About a Girl (Metamorphoses Trilogy 03). Sarah McCarry. St. Martin's Griffin, $21.99. ISBN 9781250068620 K, SLJ
Ally-saurus & the First Day of School. Richard Torrey. Sterling, $14.95. ISBN 9781454911791 K, PW
Amazing Age of John Roy Lynch, The. Chris Barton, illus. by Don Tate. Eerdmans, $17 ISBN 9780802853790 BL, PW
Ares: Bringer of War (Olympians #7). George O'Connor. First Second, hc $16.99 ISBN 9781626720145; pb $9.99 ISBN 9781626720138 K, SLJ
Awesome, The. Eva Darrows. Ravenstone, pb $9.99. ISBN 9781781083246 K, PW
Ballet Cat: The Totally Secret Secret. Bob Shea. Disney-Hyperion, $9.99. ISBN 9781484713785 PW, SLJ
Bayou Magic. Jewell Parker Carhodes. Little, Brown, $17. ISBN 9780316224840 BL,  SLJ
Bird & Diz. Gary Golio, illus. by Ed Young. Candlewick, $19.99. ISBN 9780763666606 PW, SLJ
Boy Who Harnessed the Wind, The: Young Readers Edition. William Kamkwamba and Bryan Mealer, illus. by Anna Hymas. Dial, $16.99. ISBN 9780803740808 K, SLJ
Breaking Sky. Cor McCarthy. Sourcebooks Fire, $16.99. ISBN 9781492601418 BCCB,  SLJ
Catch You Later, Traitor. Avi. Algonquin, $16.95. ISBN 9781616203597 PW,  SLJ
Chicken Followed Me Home, A: Questions and Answers About a Familiar Fowl. Robin Page. S&S/Beach Lane, $17.99. ISBN 9781481410281 PW,  SLJ
Crimson Bound. Rosamund Hodge. HarperCollins/Balzer+Bray, $17.99. ISBN 9780062224767 BCCB, SLJ
Curious Critters: Marine. David FitzSimmons. Wild Iris (IPG, dist.), $16.95. ISBN 9781936607723 PW, SLJ
Deep Sea. Annika Thor, trans. from the Swedish by Linda Schenck. Delacorte, $17.99. ISBN: 9780385743853 K, PW
Delicate Monsters. Stephanie Kuehn. St. Martin's Griffin, $19.99. ISBN 9781250063847 BL, PW
Doldrums, The. Nicholas Gannon. HarperCollins/Greenwillow, $17.99. ISBN 9780062320940 K,  PW
Dory and the Real True Friend. Abby Hanlon. Dial, $14.99. ISBN 9780525428664 PW, SLJ
Draw What You See: The Life and Art of Benny Andrews. Kathleen Benson, illus. by Benny Andrews.  Clarion, $16.99. ISBN: 9780544104877 K, SLJ
Drowned City: Hurricane Katrina and New Orleans. Don Brown. Houghton Mifflin Harcourt, $18.99. ISBN 9780544157774 K, PW
Drum Dream Girl: How One Girl's Courage Changed Music. Margarita Engle. Houghton Mifflin Harcourt, $16.99. ISBN 9780544102293 K, SLJ
Eden West. Pete Hautman. Candlewick, $17.99. ISBN 9780763674182 BL, SLJ
Enormous Smallness: A Story of e.e. cummings. Matthew Burgess; illus. by Kris Di Giacomo. Enchanted Lion, $17.95. ISBN 9781592701711  BL, K
Everybody Sleeps (But Not Fred). Josh Schneider. Clarion, $16.99. ISBN 9780544339248 K, PW
Finding Serendipity. Angelica Banks. Holt, $16.99. ISBN 9781627791540 BL, PW
Finding Someplace. Denise Lewis Patrick, illus. by Lynn Patrick. Holt, $16.99. ISBN 9780805047165 K, SLJ
Finding Spring. Carin Berger. Greenwillow, $17.99. ISBN 9780062250193 K, PW
First Snow. Peter McCarty. HarperCollins/Balzer + Bray, $16.99. ISBN 9780062189967 PW, SLJ
Fish in a Tree. Lynda Mullaly Hunt. Penguin/Paulsen, $16.99. ISBN 9780399162596 BL ,SLJ
Foulsham (The Iremonger Trilogy: Book 2). Edward Carey. Overlook, $16.99. ISBN 9781468309546 K, SLJ
Founding Fathers, The! Those Horse-Ridin', Fiddle-Playin', Book-Readin', Gun-Totin' Gentlemen Who Started America. Jonah Winter, illus. by Barry Blitt. S&S/Atheneum, $17.99. ISBN 9781442442740 K, PW
George. Alex Gino. Scholastic Press, $16.99. ISBN 9780545812542 K, PW
Gingerbread for Liberty! How a German Baker Helped Win the American Revolution. Mara Rockliff, illus. by Vincent X. Kirsch. Houghton Mifflin Harcourt, $17.99. ISBN 9780544130012 PW, SLJ
Girl at Midnight, The. Melissa Grey. Delacorte, $17.99. ISBN 9780385744652 BL, K
Gooseberry Park and the Master Plan. Cynthia Rylant, illus. by Arthur Howard. S&S/Beach Lane, $16.99. ISBN 9781481404495 PW, SLJ
Great Good Summer, The. Liz Garton Scanlon. S&S/Beach Lane, $16.99. ISBN 9781481411479 PW, SLJ
Grounded: The Adventures of Rapunzel. Megan Morrison. Scholastic/Levine, $17.99. ISBN 9780545638265 BCCB, K
Half a Man. Michael Morpurgo. Candlewick, $16.99. ISBN: 9780763677473 K, SLJ
Half Wild. Sally Green. Viking, $18.99.  ISBN 9780670017133 BL, PW
High Tide for Horseshoe Crabs. Lisa Kahn Schnell, illus. by Alan Marks. Charlesbridge, $16.95. ISBN 9781580896047 K, SLJ
Hippos Are Huge! Jonathan London, illus. by Matthew Trueman. Candlewick, $16.99. ISBN 9780763665920 BCCB, SLJ
Home. Carson Ellis. Candlewick, $16.99. ISBN 9780763665296 BL, PW
Hoot Owl, Master of Disguise. Sean Taylor, illus. by Jean Jullien. Candlewick, $15.99. ISBN 9780763675783 K, PW
I Yam a Donkey! Cece Bell. Clarion, $16.99. ISBN 9780544087200 HB, PW
I'm Trying to Love Spiders. Bethany Barton. Viking, $16.99. ISBN 9780670016938 K,  PW
Ice Cream Summer. Peter Sís. Scholastic Press, $17.99. ISBN 9780545731614 K, SLJ
Icebreaker (Hidden Trilogy). Lian Tanner. Feiwel and Friends, $16.99. ISBN 9781250052162 K, SLJ
Imaginary, The. A.F. Harrold, illus. by Emily Gravett.  Bloomsbury, $16.99. ISBN 9780802738110 K, SLJ
In a Village by the Sea. Muon Van, illus. by April Chu. Creston, $16.95. ISBN 9781939547156 K, PW
In. Nikki McClure. Abrams Appleseed, $16.95. ISBN 9781419714863 PW, SLJ
Infandous. Elana K. Arnold. Carolrhoda/Lab, $18.99. ISBN 9781467738491 BL, K
Interstellar Cinderella. Deborah Underwood, illus. by Meg Hunt. Chronicle, $16.99. ISBN 9781452125329 BL, PW
Leo: A Ghost Story. Mac Barnett, illus. by Christian Robinson. Chronicle, $16.99. ISBN 9781452131566 K, PW
Lillian's Right to Vote: A Celebration of the Voting Rights Act of 1965. Jonah Winter, illus. by Shane W. Evans. Random House/Schwartz & Wade, $17.99. ISBN 9780385390286 K, SLJ
Lucky Strike. Bobbie Pyron. Scholastic/Levine, $16.99. ISBN 9780545592178 K, SLJ
Lunch Witch, The. Deb Lucke. Papercutz (Macmillan, dist.), $14.99. trade paper ISBN 9781629911625 PW, SLJ
Macbeth. William Shakespeare, adapted and illus. by Gareth Hinds. Candlewick, hc $21.99. ISBN 9780763669430; pb $12.99. ISBN 9780763678029 BCCB, BL
Mama Seeton's Whistle. Jerry Spinelli, illus. by LeUyen Pham. Little, Brown, $17 ISBN 9780316122177 BL, PW
Moonpenny Island. Tricia Springstubb, illus. by Gilbert Ford. HarperCollins/Balzer + Bray, $16.99. ISBN 9780062112934 K, PW
Most Amazing Creature in the Sea, The. Brenda Z. Guiberson, illus. by Gennady Spirin. Holt, $17.99. ISBN 9780805099614 PW, SLJ
Murder Is Bad Manners. Robin Stevens. Simon & Schuster, $16.99. ISBN 9781481422123 K, PW
My Pen. Christopher Myers. DisneyHyperion, $16.99. ISBN 9781423103714 K, PW
Night Animals. Gianna Marino. Viking, $16.99. ISBN 9780451469540 BL, K
Octopus Scientists, The: Exploring the Mind of a Mollusk. Sy Montgomery; illus. by Keith Ellenbogen. Houghton Mifflin Harcourt, $18.99. ISBN 9780544232709  BL, K
One Family. George Shannon, illus. by Blanca Gomez. Farrar, Straus, & Giroux, $17.99. ISBN 9780374300036 K, SLJ
One Thing Stolen. Beth Kephardt. Chronicle, $17.99. ISBN 9781452128313 BL, SLJ
Out of Darkness. Ashley Hope Pérez. Carolrhoda, $18.99. ISBN 9781467742023 K, SLJ
Over the Hills and Far Away: A Treasury of Nursery Rhymes. Collected by Elizabeth Hammill. Candlewick, $21.99.  ISBN 9780763677299 K, PW
Penderwicks in Spring, The. Jeanne Birdsall. Knopf, $16.99. ISBN 9780375870774 BL, PW
Poem in Your Pocket, A (Mr. Tiffin's Classroom). Margaret McNamara; illus. by G. Brian Karas. Random House/Schwartz & Wade, $16.99. ISBN 9780307979476 K, SLJ
Pool. JiHyeon Lee. Chronicle, $16.99. ISBN 9781452142944 PW, SLJ
Popcorn Astronauts, The: And Other Biteable Rhymes. Deborah Ruddell, illus. by Joan Rankin. S&S/McElderry, $17.99. ISBN 9781442465558 K, PW
Porcupine of Truth, The. Bill Konigsberg. Scholastic/Levine, $17.99. ISBN 9780545648936 BL, SLJ
Potato King, The. Christoph Niemann. Owlkids (PGW, dist.), $17.95. ISBN 9781771471398 K, PW
Question of Miracles, The. Elana K. Arnold. Houghton Mifflin Harcourt, $16.99. ISBN 9780544334649 BL, PW
Rain Wizard, The: The Amazing Mysterious, True Life of Charles Mallory Hatfield. Larry Dane Brimner. Boyds Mills/Calkins Creek, $16.95. ISBN 9781590789902 BL, SLJ
Red Butterfly. A.L. Sonnichsen, illus. by Amy June Bates. Simon & Schuster, $16.99. ISBN 9781481411097 K, PW
Sacred Lies of Minnow Bly, The. Stephanie Oakes. Dial, $17.99. ISBN 9780803740709 BL, PW
School for Brides, A: A Story of Maidens, Mystery, and Matrimony. Patrice Kindl. Viking, $17.99. ISBN 9780670786084 K, SLJ
School for Sidekicks. Kelly McCullough. Feiwel and Friends, $16.99. ISBN 9781250039262 K, PW
See You Next Year. Andrew Larsen, illus. by Todd Stewart. Owlkids, $16.95. ISBN 9781926973999 BL, K
Seeds of Freedom: The Peaceful Integration of Huntsville, Alabama. Hester Bass; illus. by E. B. Lewis. Candlewick, $16.99. ISBN 9780763669195 BL, PW
Should You Be a River: A Poem About Love. Ed Young. Little, Brown, $18 ISBN 9780316230896 BL, PW
Skunk, The. Mac Barnett, illus. by Patrick McDonnell. Roaring Brook, $17.99. ISBN 9781596439665 PW, SLJ
Small Wonders: Jean-Henri Fabre and His World of Insects. Matthew Clark Smith; illus. by Giuliano Ferri. Amazon/Two Lions, $17.99. ISBN 9781477826324 K, PW
Smek for President! Adam Rex. Disney-Hyperion, $16.99. ISBN 9781484709511 K, SLJ
Spots in a Box. Helen Ward. Candlewick/Templar, $16.99. ISBN 9780763675974 PW, SLJ
Such a Little Mouse. Alice Schertle, illus. by Stephanie Yue. Scholastic/Orchard, $16.99. ISBN 9780545649292 K, PW
SuperMutant Magic Academy. Jillian Tamaki. Drawn & Quarterly, pb. $22.95. ISBN 9781770461987 BL, SLJ
Sweep Up the Sun. Helen Frost, photos by Rick Lieder. Candlewick, $15.99. ISBN 9780763669041 K, PW
Tea Party in the Woods, The. Akiko Miyakoshi. Kids Can, $16.95. ISBN 9781771381079 K, PW
Terrible Typhoid Mary: A True Story of the Deadliest Cook in America. Susan Campbell Bartoletti. Houghton Mifflin Harcourt, $17.99. ISBN 9780544313675 BL, SLJ
Thing About Jellyfish, The. Ali Benjamin. Little, Brown, $17 ISBN 9780316380867 K, PW
This Side of Home. Renee Watson. Bloomsbury, $17.99. ISBN  9781599906683 BCCB, BL
This Strange Wilderness: The Life and Art of John James Audubon. Nancy Plain. University of Nebraska, pb. $19.95. ISBN 9780803248847 BL, K
Toys Meet Snow: Being the Wintertime Adventures of a Curious Stuffed Buffalo, a Sensitive Plush Stingray, and a Book-Loving Rubber Ball. Emily Jenkins, illus. by Paul O. Zelinsky. Random House/Schwartz & Wade/Random, $17.99. ISBN 9780385373302 K, SLJ
Tragic Age, The. Stephen Metcalfe. St. Martin's, $18.99. ISBN 9781250054418 BCCB, K
Trap, The. Steven Arnston. Houghton Mifflin Harcourt, $16.99. ISBN 9780547824086 K, PW
Trapped! A Whale's Rescue. Robert Burleigh, illus. by Wendell Minor. Charlesbridge, $17.95. ISBN 9781580895583 BL, SLJ
Tricky Vic: The Impossibly True Story of the Man Who Sold the Eiffel Tower. Greg Pizzoli. Viking, $17.99. ISBN 9780670016525 BCCB, K
Trombone Shorty. Troy Andrews, illus. by Bryan Collier. Abrams, $17.99. ISBN 9781419714658 K, PW
Under a Painted Sky. Stacey Lee. Putnam, $16.99. ISBN 9780399168031 K, PW
Unlikely Hero of Room 13B, The. Teresa Toten. Delacorte, $17.99. ISBN 9780553507867 K, SLJ
Untamed: The Wild Life of Jane Goodall. Anita Silvey. National Geographic, $18.99. ISBN 9781426315183 PW, SLJ
Unusual Chickens for the Exceptional Poultry Farmer. Kelly Jones, illus. by Katie Kath. Knopf, $16.99. ISBN 9780385755528 K, SLJ
Use Your Words, Sophie! Rosemary Wells. Viking, $16.99.  ISBN 978067001663 K, PW
Water Is Water: A Book about the Water Cycle. Miranda Paul, illus. by Jason Chin. Roaring Brook/Porter, $17.99. ISBN 9781596439849 PW, SLJ
Way Home Looks Now, The. Wendy Wan-Long Shang. Scholastic Press, $16.99. ISBN 9780545609562 K, PW
We All Looked Up. Tommy Wallach. Simon & Schuster, $17.99. ISBN 9781481418775 K, PW
Welcome to the Neighborwood. Shawn Sheehy. Candlewick, $29.99. ISBN 9780763665944 BL, PW
When Otis Courted Mama. Kathi Appelt, illus. by Jill McElmurry. Houghton Mifflin Harcourt, $16.99. ISBN: 9780152166885 K, SLJ
Where is Pim? Lena Landström; illus. by Olof Landström; trans. from the Swedish by Julia Marshall. Gecko Press USA, $16.99. ISBN 9781927271735 HB, K
Where's Walrus? And Penguin? Stephen Savage. Scholastic Press, $16.99. ISBN 9780545402958 K, SLJ
Wherever You Go. Pat Zietlow Miller, illus. by Eliza Wheeler. Little, Brown, $17 ISBN 9780316400022 K, PW
Whisper, The (The Riverman Trilogy: Bk. 2). Aaron Starmer. Farrar, Straus and Giroux, $16.99. ISBN 9780374363116 K, SLJ
Wonderful Things You Will Be, The: A Growing-Up Poem. Emily Winfield Martin. Random House, $17.99. ISBN 9780385376716 K, PW
Wonderful Year, A. Nick Bruel. Roaring Brook/Porter, $17.99. ISBN 9781596436114 K, PW
Wrath and the Dawn, The. Renee Ahdieh. Putnam, $17.99. ISBN 9780399171611 BL, SLJ
Yard Sale. Eve Bunting. Candlewick, $15.99. ISBN 9780763665425 K, SLJ
ONE STAR
3, 2, 1, Go! (I Like to Read Books). Emily Arnold McCully. Holiday House, hc $14.95. ISBN 9780823432882; pb. $6.99. 9780823433148 K
Abe Lincoln: His Wit and Wisdom from A-Z. Alan Schroeder. Holiday House, $17.95. ISBN: 9780823424207 K
Accident Season, The. Moïra Fowley-Doyle. Penguin/Dawson, $17.99. ISBN 9780525429487 K
Accidental Afterlife of Thomas Marsden, The. Emma Trevayne. Simon & Schuster, $16.99. ISBN 9781442498822 SLJ
Adrift. Paul Griffin. Scholastic Press, $17.99. ISBN 9780545709392 PW
Adventures with Waffles. Maria Parr, illus. by Kate Forrester, trans. by Guy Puzey. Candlewick, $15.99. ISBN 9780763672812 BL
Alphabet School. Stephen Johnson. S&S/Wiseman, $17.99. ISBN 9781416925217 K
Another Day. David Levithan. Knopf, $17.99. ISBN 9780385756204 BL
Another Kind of Hurricane. Tamara Ellis Smith. Random House/Schwartz & Wade, $16.99. ISBN 9780553511932 K
Archivist Wasp. Nicole Kornher-Stace. Big Mouth House, $14 ISBN 9781618730978 K
Arctic Code, The. Matthew J. Kirby. HarperCollins/Balzer+Bray, $16.99. ISBN 9780062224873 BL
Art Installations (But Is It Art?). Alix Wood. Gareth Stevens, lib. $26.60 ISBN 9781482422740; pb. $10.50 9781482422733 BL
Astrologer's Daughter, The. Rebecca Lim. Text, pb $11.95. ISBN 9781922182005 K
Baba Yaga's Assistant. Marika McCoola, illus. by Emily Carroll. Candlewick, $16.99. ISBN 9780763669614 K
Baby Swap, The. Jan Ormerod, illus. by Andrew Joyner. S&S/Little Simon, $16.99. ISBN 9781481419147  PW
Bad Pirate. Kari-Lynn Winters, illus. by Dean Griffiths. Pajama Press, $19.95. ISBN 9781927485712 K
Bamboo Sword, The. Margi Preus. Abrams/Amulet, $16.95. ISBN 9781419708077 K
Bear and Duck. Katy Hudson. HarperCollins, $17.99. ISBN 9780062320513 K
Beast Keeper (Beasts of Olympus 01). Lucy Coats, illus. by Brett Bean. Grosset & Dunlap, pb $5.99. ISBN 9780448461939 PW
Beastly Babies. Ellen Jackson, illus. by Brendan Wenzel. S&S/Beach Lane, $17.99. ISBN 9781442408340 BL
Beastly Bones (Jackaby 02). William Ritter. Algonquin, $17.95. ISBN 9781616203542 K
Beetle Busters: A Rogue Insect and the People Who Track It. Loree Griffin Burns. Houghton Mifflin Harcourt, $18.99. ISBN: 9780547792675 SLJ
Ben Draws Trouble. Matt Davies. Roaring Brook/Porter, $17.99. ISBN: 9781596437951 SLJ
Bernice Gets Carried Away. Hannah E. Harrison. Dial, $16.99. ISBN 9780803739161 PW
Big Top Burning: The True Story of an Arsonist, a Missing Girl, and the Greatest Show on Earth. Laura A. Woollett. Chicago Review (IPG, dist.), $18.95. ISBN 9781613731147 BL
Bigfoot Is Missing! J. Patrick Lewis and Kenn Nesbitt, illus. by MinaLima. Chronicle, $17.99. ISBN 9781452118956 PW
Billy's Booger. William Joyce. S&S/Atheneum, $17.99. ISBN 9781442473515 PW
Binny in Secret. Hilary McKay, illus. by Micah Player. S&S/McElderry, $16.99. ISBN 9781442482784 K
Black Cat, White Cat. Silvia Borando. Candlewick, $14 ISBN 9780763681067 K
Blown Away. Rob Biddulph. HarperCollins, $17.99. ISBN 9780062367242 K
Blue Whale, The. Jenni Desmond. Enchanted Lion (Consortium, dist.), $17.95. ISBN 9781592701650 PW
Bob and Flo. Rebecca Ashdown. Houghton Mifflin Harcourt, $16.99. ISBN 9780544444300 K
Book of Dares for Lost Friends, The. Jane Kelley. Feiwel and Friends, $16.99. ISBN 9781250050878 K
Book of Storms, The. Ruth Hatfield; illus. by Greg Call. Holt, $16.99. ISBN 9780805099980 K
Book Scavenger. Jennifer Chambliss Bertman, illus. by Sarah Watts. Holt/Ottaviano, $16.99. ISBN 9781627791151 PW
Books Under Fire: A Hit List of Banned and Challenged Children's Books. Pat R. Scales. ALA, pb. $44 ISBN 9780838911099 BL
Boom Snot Twitty This Way That Way. Doreen Cronin; illus. by Renata Liwska. Viking, $16.99. ISBN 9780670785773 K
Boy & the Book, The. David Michael Slater, illus. by Bob Kolar. Charlesbridge, $16.95. ISBN 9781580895620 K
Boy in the Black Suit, The. Jason Reynolds. S&S/Atheneum, $17.99. ISBN 9781442459502 BCCB
Boy Who Fell Off the Mayflower, The, or John Howland's Good Fortune. P.J. Lynch. Candlewick, $17.99. ISBN 9780763665845 PW
Boy Who Lost Fairyland, The (Fairyland 04). Catherynne M. Valente, illus. by Ana Juan. Feiwel and Friends, $16.99. ISBN 9781250023490 K
Boys in the Boat, The: The True Story of an American Team's Epic Journey to Win Gold at the 1936 Olympics. Daniel James Brown. Viking, $17.99. ISBN 9780451475923 BL
Bright Lights, Dark Nights. Stephen Emond. Roaring Brook, $17.99. ISBN 9781626722064 K
Brilliant Light of Amber Sunrise, The. Matthew Crow. Simon Pulse, $17.99. ISBN 9781481418737 BCCB
Bulldozer's Big Day. Candace Fleming; illus. by Eric Rohmann. S&S/Atheneum, $17.99. ISBN  9781481400978 K
Burning Nation (Divided We Fall 02). Trent Reedy. Scholastic/Levine, $17.99. ISBN 9780545548731 PW
Bus Ride, The. Marianne Dubuc and Yvette Ghione, illus. by Marianne Dubuc. Kids Can, $15.95. ISBN 9781771382090 K
Button Hill. Michael Bradford. Orca, pb. $9.95. ISBN 9781459807556 K
By Trolley Past Thimbledon Bridge. Ashley Bryan; illus. by Marvin Bileck. Alazar Press, $17.95. ISBN 9780979300042 K
Capital Days: Michael Shiner's Journal and the Growth of Our Nation's Capital. Tonya Bolden. Abrams, $21.95. ISBN 9781419707339 SLJ
Captain Coconut and the Case of the Missing Bananas. Anushka Ravishankar, illus. by Priya Sundram. Tara (PGW, dist.), $16.95. ISBN 9789383145225 PW
Case of the Missing Carrot Cake, The (A Wilcox and Griswold Mystery). Robin Newman, illus. by Deborah Zemke. Creston, $15.95. ISBN 9781939547170  K
Castle Hangnail. Ursula Vernon. Dial, $16.99. ISBN 9780803741294 K
Cat & Bunny. Mary Lundquist. HarperCollins/Balzer + Bray, $17.99. ISBN 9780062287809 PW
Certain Poor Shepherds: A Christmas Tale. Elizabeth Marshall Thomas, illus. by Jonathan Bartlett. Candlewick, $15.99. ISBN 9780763670627 K
Chasing Secrets. Gennifer Choldenko. Random House/Lamb, $16.99. ISBN 9780385742535 BL
Chocolate: Sweet Science & Dark Secrets of the World's Most Favorite Treat. Kay Frydenborg. Houghton Mifflin Harcourt, $18.99. ISBN 9780544175662 SLJ
Chosen Prince, The. Diane Stanley. Harper, $16.99. ISBN 9780062248978 SLJ
Cleopatra in Space: The Thief and the Sword. Mike Maihack. Scholastic/Graphix, hc $22.99 ISBN 9780545528443; pb $12.99 ISBN 9780545528450 SLJ
Cold Legacy, A (Madman's Daughter). Megan Shepherd. HarperCollins/Balzer+Bray, $17.99. ISBN 9780062128089 SLJ
Confessions of an Imaginary Friend: A Memoir by Jacques Papier. Michelle Cuevas. Dial, $16.99. ISBN 9780525427551 PW
Cottage in the Woods, The. Katherine Coville. Knopf, $16.99. ISBN: 9780385755733 SLJ 01/01/15 1
Court of Fives. Kate Elliott. Little, Brown, $18 ISBN 9780316364195 BL
Court of Thorns and Roses, A. Sarah J. Maas. Bloomsbury, $18.99. ISBN 9781619634442 BL
Cowboy, The. (I Like to Read Books). Hildegard Muller. Holiday House, hc $14.95. ISBN 9780823432028; pb. $6.99. ISBN 9780823433162 K
Crown Affair, The: From the Files of a HardBoiled Detective. Jeanie Franz Ransom, illus. by Stephen Axelsen. Charlesbridge, $16.95. ISBN 978158089552 PW
Crybaby. Karen Beaumont, illus. by Eugene Yelchin. Holt, $17.99. ISBN 9780805089745 K
Dad's First Day. Mike Wohnoutka. Bloomsbury, $16.99. ISBN 9781619634732 K
Daisy Saves the Day. Shirley Hughes. Candlewick, $16.99. ISBN 9780763673239 K
Darkest Part of the Forest, The. Holly Black. Little, Brown, $18. ISBN 9780316213073 BCCB
Daylight Starlight Wildlife. Wendell Minor. Penguin/Paulsen, $17.99. ISBN 9780399246623 SLJ
Dead Girls of Hysteria Hall, The. Katie Alexander. Scholastic/Point, $18.99. ISBN 9780545639996 K
Dear Hank Williams. Kimberly Willis Holt. Holt/Ottaviano, $16.99. ISBN 9780805080223 SLJ
Dear Mr. Washington. Lynn Cullen, illus. by Nancy Carpenter. Dial, $16.99. ISBN 9780803730380 K
Debunk It! How to Stay Sane in a World of Misinformation. John Grant. Zest, pb $12.99. ISBN 9781936976683 SLJ
Detective's Assistant, The. Kate Hannigan. Little, Brown, $17 ISBN 9780316403511 BL
Devoted. Jennifer Mathieu. Roaring Brook, $16.99. ISBN 9781596439115 BL
Día de los Muertos. Roseanne Greenfield Thong, illus. by Carlos Ballesteros. Albert Whitman, $16.99. ISBN 9780807515662 K
Diary of a Mad Brownie. Bruce Coville, illus. by Paul Kidby. Random House, $16.99. ISBN 9780385392471 BL
Dinoblock. Christopher Franceschelli, illus. by Peskimo. Abrams Appleseed, $16.95. ISBN 9781419716744 PW
Dinosaur vs. Mommy. Bob Shea. Disney-Hyperion, $16.99. ISBN 9781423160861 PW
Distance Between Lost and Found, The. Kathryn Holmes. HarperTeen, $17.99. ISBN 9780062317261 BL
Door in the Moon, The (Obsidian Mirror). Catherine Fisher. Dial, $17.99. ISBN: 9780803739710 K
Double Trouble for Anna Hibiscus! Atinuke. Kane/Miller, $14.99. ISBN 9781610673679 K
Dragon's Guide to the Care and Feeding of Humans, A. Laurence Yep and Joanne Ryder, illus. by Mary GrandPre. Crown, $15.99. ISBN 9780385392280 BL
Dumplin'. Julie Murphy. HarperCollins/Balzer + Bray, $17.99. ISBN 9780062327185 PW
Dungeoneers, The. John David Anderson. HarperCollins/Walden Pond, $16.99. ISBN 9780062338143 PW
Edison's Alley. Neal Shusterman and Eric Elfman. Disney Hyperion, $16.99. ISBN  9781423148067 BCCB
Edmond: The Moonlit Party. Astrid Desbordes. Enchanted Lion, $17.95. ISBN 9781592701742 SLJ
Education of Ivy Blake, The. Ellen Airgood. Penguin/Paulsen, $16.99. ISBN 9780399162787 SLJ
Ember in the Ashes, An. Sabaa Tahir. Razorbill, $19.95.  ISBN 9781595148032 PW
Emmanuel's Dream: The True Story of Emmanuel Ofosu Yeboah. Laurie Thompson, illus. by Sean Qualls. Random House/Schwartz & Wade, $17.99. ISBN 9780449817445 SLJ
Emmy & Oliver. Robin Benway. HarperTeen, $17.99. ISBN 9780062330598 PW
Endangered. Lamar Giles. HarperTeen/HarperCollins, $17.99. ISBN 9780062297563 BCCB
Every Last Promise. Kristin Halbrook. HarperTeen, pb $9.99. ISBN 9780062121288 K
Everyone Loves Bacon. Kelly DiPucchio, illus. by Eric Wight. Farrar, Straus and Giroux, $17.99. ISBN 9780374300524 K
Extraordinary People. Michael Heart, illus. by Aaron Scamihorn. Chronicle, $16.99. ISBN 9781452127095 BL
Fable Comics. Ed. by Chris Duffy. First Second, $19.99. ISBN 9781626721074 K
Fallout (Lois Lane). Gwenda Bond. Switch Press, $16.95. ISBN 9781630790059 K
Fearsome Creatures of the Lumberwoods: 20 Chilling Tales from the Wilderness. Hal Johnson, illus. by Tom Mead. Workman, $14.95. ISBN 9780761184614 K
Fetch. Jorey Hurley. S&S/Wiseman, $17.99. ISBN 9781442489691 PW
Fig. Sarah Elizabeth Schantz. S&S/McElderry, $17.99. ISBN 9781481423588 PW
Finding Audrey. Sophie Kinsella. Delacorte, $18.99. ISBN 9780553536515 K
Finding the Worm. Mark Goldblatt. Random House, $16.99. ISBN 9780385391085 K
Fire Birds: Valuing Natural Wildfires and Burned Forests. Sneed B. Collard, III. Bucking Horse, $17. ISBN 9780984446070 SLJ
First Flight Around the World: The Adventures of the American Fliers Who Won the Race. Time Grove. Abrams, $21.95. ISBN 9781419714825 BCCB
First Grade Dropout. Audrey Vernick, illus. by Matthew Cordell. Clarion, $16.99. ISBN 9780544129856 PW
First There Was Forever. Juliana Romano. Dial, $17.99. ISBN 9780803741683 PW
Firstborn. Tor Seidler. S&S/Atheneum, $16.99. ISBN 9781481410175 PW
Float. Mordicai Gerstein. Little, Brown, $18 ISBN 9780316188227 SLJ
Float. Daniel Miyares. Simon & Schuster, $17.99. ISBN 9781481415248 HB
Flutter & Hum: Animal Poems/Aleteo y Zumbido: Poemas de Animales. Julie Paschkis. Holt, $17.99. ISBN 9781627791038 PW
Flying Cars: The True Story. Andrew Glass. Clarion, $17.99. ISBN 9780618984824 K
Fog Diver, The. Joel Ross. HarperCollins, $16.99. ISBN 9780062352934 K
Forever for a Year. B.T. Gottfred. Holt, $17.99. ISBN 9781627791915 PW
Forget-Me-Not Summer, The. Leila Howland, illus. by Ji-Hyuk Kim. Harper, $16.99. ISBN 9780062318695 BL
Fort. Cynthia DeFelice. Farrar, Straus and Giroux, $16.99. ISBN 9780374324278 K
Friends for Life. Andrew Norriss. Scholastic/Fickling, $17.99. ISBN 9780545851862 PW
Fuel Under Fire: Petroleum and Its Perils. Margaret J. Goldstein. Twenty-First Century Books, $34.65 ISBN 9781467738316 K
Full Cicada Moon. Marilyn Hilton. Dial, $17.99. ISBN  9780525428756 K
Funny Bones: Posada and His Day of the Dead Calaveras. Duncan Tonatiuh. Abrams, $18.95. ISBN 9781419716478 K
Fuzzy Mud. Louis Sachar. Delacorte, $16.99. ISBN 9780385743785 BL
Go to Sleep, Groundhog! Judy Cox, illus. by Paul Meisel. Holiday House, pb $7.99. ISBN 9780823418749 SLJ
Good Morning to Me! Lita Judge. S&S/Atheneum, $17.99. ISBN 9781481403696 PW
Good Night, Knight. (I Like to Read Books) Betsy Lewin. Holiday House, hc $14.95. ISBN 9780823432066; pb $6.99. ISBN 9780823433155 K
Goodnight Songs: A Celebration of the Seasons. Margaret Wise Brown, illus. by twelve award-winning picture book artists. Sterling, $17.95. ISBN 9781454904472 K
Growing Up Pedro. Matt Tavares. Candlewick, $16.99. ISBN 9780763668242 SLJ
Handful of Stars, A. Cynthia Lord. Scholastic Press, $16.99. ISBN 9780545700276 PW
Happy in Our Skin. Fran Manushkin, illus. by Lauren Tobia. Candlewick, $15.99. ISBN 9780763670023 PW
Heart of Betrayal, The. Mary E. Pearson. Holt, $18.99. ISBN 9780805099249 BL
Hellhole. Gina Damico. Houghton Mifflin Harcourt, $17.99. ISBN 9780544307100 K
Hey, Seymour! Walter Wick. Scholastic, $18.99. ISBN 9780545502160 K
Honest Truth, The. Dan Gemeinhart. Scholastic Press, $16.99. ISBN 9780545665735 PW
House That Jane Built, The: A Story About Jane Addams. Tanya Lee Stone, illus. by Kathryn Brown. Holt/Ottaviano, $17.99. ISBN 9780805090499 PW
How Jelly Roll Morton Invented Jazz. Jonah Winter, illus. by Keith Mallett. Roaring Brook, $17.99. ISBN 9781596439634 BL
How to Babysit a Leopard: And Other True Stories from Our Travels Across Six Continents. Betsy Lewin and Ted Lewin. Roaring Brook/Porter, $22.99. ISBN 9781596436169 SLJ
How to Draw a Dragon. Douglas Floria. S&S/Beach Lane, $17.99. ISBN 9781442473997 BL
How to Swallow a Pig: Step-by-Step Advice from the Animal Kingdom. Steve Jenkins and Robin Page, illus. by Steve Jenkins. Houghton Mifflin Harcourt, $17.99. ISBN 9780544313651 SLJ
Hungry Coyote. Cheryl Blackford, illus. by Laurie Caple. Minnesota Historical Society Press, $16.95. ISBN 9780873519649 K
I (Don't) Like Snakes. Nicola Davies, illus. by Luciano Lozano. Candlewick, $15.99. ISBN 9780763678319 K
I Am the Wolf… and Here I Come! Bénédicte Guettier, trans. from the French by Penelope Todd. Gecko Press USA (Lerner, dist.), $14.95. ISBN 9781877579424 PW
I Crawl Through It. A.S. King. Little, Brown, $18. ISBN 9780316334099 PW
I Don't Like Koala. Sean Ferrell, illus. by Charles Santoso. S&S/Atheneum, $17.99. ISBN 9781481400688 BL
I Don't Want to Be a Frog. Dev Petty, illus. by Mike Boldt. Doubleday, $16.99. ISBN 9780385378666 PW
I Used to Be Afraid. Laura Vaccaro Seeger. Roaring Brook/Porter, $17.99. ISBN 9781596436312 PW
I Was Here. Gayle Forman. Viking, $18.99. ISBN 9780451471475 BCCB
I Will Always Write Back: How One Letter Changed Two Lives. Caitlin Alifirenka and Martin Ganda with Liz Welch. Little Brown, $18 ISBN 9780316241311 PW
I Will Never Get a Star on Mrs. Benson's Blackboard. Jennifer K. Mann. Candlewick, $16.99. ISBN 9780763665142 PW
I, Fly: The Buzz About Flies and How Awesome They Are. Bridget Heos; illus. by Jennifer Plecas. Holt, $17.99. ISBN 9780805094695 BCCB
I'll Meet You There. Heather Demetrios. Holt, $17.99. ISBN 9780805097955 BL
I'm New Here. Anne Sibley O'Brien. Charlesbridge, $16.95. ISBN 9781580896122  K
If You Find This. Matthew Baker. Little, Brown, $17. ISBN 9780316240086 BL
If You Plant a Seed. Kadir Nelson. HarperCollins/Balzer + Bray, $18.99. ISBN 9780062298898 PW
Illusionarium. Heather Dixon. HarperCollins/Greenwillow, $17.99. ISBN 9780062001054 PW
In the New World: A Family in Two Centuries. Gerda Raidt and Christa Holtei; illus. by Gerda Raidt. Trans. by Susi Woofter. Charlesbridge, $17.95. ISBN 9781580896306 BL
Ink and Ashes. Valynne E. Maetani. Tu Books, $19.95. ISBN 9781620142110 K
Into the Dangerous World. Julie Chibbaro, illus. by Jean-Marc Superville Sovak. Viking, $17.99. ISBN 9780803739109 PW
Ira's Shakespeare Dream. Glenda Armand, illus. by Floyd Cooper. Lee & Low, $18.95. ISBN 9781620141557 SLJ
Jackrabbit McCabe and the Electric Telegraph. Lucy Margaret Rozier, illus. by Leo Espinosa. Random House/Schwartz & Wade, $17.99. ISBN 9780385378437 PW
Jane Foster's 123. Jane Foster. Bonnier/Little Bee (S&S, dist.), $5.99. ISBN 9781499800739 PW
Jewish Dog, The. Asher Kravitz, illus. by Michal Kessler. Penlight Publications, $19.95. ISBN 9780983868538 K
Jump Back, Paul: The Life and Poems of Paul Laurence Dunbar. Sally Derby, illus. by Sean Qualls. Candlewick, $16.99. ISBN 9780763660703 BL
Just for Today. Pope John XXIII, illus. by Bimba Landmann, trans. by Laura Watkinson. Eerdmans, $16. ISBN 9780802854612 BL
Kidney Hypothetical, The: Or How to Ruin Your Life in Seven Days. Lisa Yee. Scholastic/Levine, $17.99. ISBN 9780545230940 K
King and the Sea, The: 21 Extremely Short Stories. Heinz Janisch, illus. by Wolf Erlbruch. Gecko Press USA, $16.99. ISBN 9781877579943 K
Last in a Long Line of Rebels. Lisa Lewis Tyre. Penguin/Paulsen, $16.99. ISBN 9780399168383 PW
Last Time We Say Goodbye, The. Cynthia Hand. HarperTeen, $17.99. ISBN 9780062318473 BL
League of Beastly Dreadfuls, The. Holly Grant. Random House, $16.99. ISBN 9780385370073 K
Legends: The Best Players, Games, and Teams in Baseball. Howard Bryant. Philomel, $16.99. ISBN 9780399169038 K
Letter for the King, The. Tonke Dragt, trans. from the Dutch by Laura Watkinson. Scholastic/Fickling, $18.99. ISBN 9780545820226 PW
Liars, Inc. Paula Stokes. HarperTeen, $17.99. ISBN 9780062323286 K
Lies I Told. Michelle Zink. HarperTeen, $17.99. ISBN 9780062327123 K
Like a River: A Civil War Novel. Kathy Cannon Wiechman. Boyds Mills/Calkins Creek, $17.95. ISBN 9781629792095
Like It Never Happened. Emily Adrian. Dial, $17.99. ISBN 9780525428237 K
Little Gardener, The. Emily Hughes. Nobrow/Flying Eye (Consortium, dist.), $17.95. ISBN 9781909263437 PW
Little in Love, A. Susan Fletcher. Scholastic/Chicken House, $17.99. ISBN 9780545829601 SLJ
Little Kunoichi, the Ninka Girl. Sanae Ishida. Little Bigfoot, $16.99. ISBN 9781570619540 K
Little Mouse Santi, The. David Eugene Ray, illus. by Santiago Germano. Bienville Ray, $15. ISBN 9780692252253 K
Little Red Henry. Linda Urban, illus. by Madeline Valentine. Candlewick, $16.99. ISBN 9780763661762 PW
Little Robot. Ben Hatke. First Second, $16.99. ISBN 9781626720800 K
Lizard from the Park. Mark Pett. Simon & Schuster, $17.99. ISBN 9781442483217 K
Look! Jeff Mack. Philomel, $16.99. ISBN 9780399162053 PW
Lost Marble Notebook of Forgotten Girl & Random Boy, The. Marie Jaskulka. Sky Pony, $16.99. ISBN 9781632204264 K
Lost Track of Time, The. Paige Britt, illus. by Lee White. Scholastic Press, $17.99. ISBN 9780545538121 PW
Luck Uglies, The: ForkTongue Charmers. Paul Durham. Harper, $16.99. ISBN 9780062271532 BL
Mad About Monkeys. Owen Davey. Nobrow, $19.95. ISBN 9781909263574 K
Mad Scientist Academy: The Dinosaur Disaster. Matthew McElligott. Crown, $17.99. ISBN 9780553523744 K
Magonia. Maria Dahvana Headley. Harper, $17.99. ISBN 9780062320520 PW
Mahalia Jackson. Nina Nolan, illus. by John Holyfield. Amistad, $17.99. ISBN 9780060879440 BL
Maloneys' Magical Weatherbox, The. Nigel Quinlan. Roaring Brook, $16.99. ISBN 9781626720336 K
Mama's Nightingale: A Story of Immigration and Separation. Edwige Danticat, illus. by Leslie Staub. Dial, $17.99. ISBN 9780525428091 K
Mango, Abuela, and Me. Meg Medina, illus. by Angela Dominguez. Candlewick, $15.99. ISBN 9780763669003 PW
Maple & Willow Apart. Lori Nichols. Penguin/Paulsen, $16.99. ISBN 9780399167539 K
Marilyn's Monster. Michelle Knudsen, illus. by Matt Phelan. Candlewick, $15.99. ISBN 9780763660116 PW
Mark of the Thief. Jennifer A. Nielsen. Scholastic Press, $17.99. ISBN 9780545561549 K
Market Maze. Roxie Munro. Holiday House, $16.95. ISBN 9780823430925 K
Masterminds. Gordon Korman. HarperCollins/Balzer+Bray, $16.99. ISBN 9780062299963 BL
Max's Math. Kate Banks, illus. by Boris Kulikov. FSG/Foster, $17.99. ISBN 9780374348755 PW
McToad Mows Tiny Island. Tom Angleberger, illus. by John Hendrix. Abrams, $16.95. ISBN 9781419716508 PW
Mechanica. Betsy Cornwell. Clarion, $17.99. ISBN 9780547927718 K
Merit Birds, The. Kelley Powell. Dundurn, pb. $14.99. ISBN 9781459729315 BL
Messengers, The. Edward Hogan. Candlewick, $16.99. ISBN 9780763671129 SLJ
Minnow, The. Diana Sweeney. Text (Consortium, dist.), $9.95. ISBN 9781922182012 PW
Mister Doctor: Janusz Korczak and the Orphans of the Warsaw Ghetto. Irène Cohen-Janca, illus, by Maurizio Quarello. Annick Press, $24.95. ISBN 9781554517152 K
Modern Art Adventures: 36 Creative, Hands-On Projects Inspired by Artists from Monet to Banksy. Maja Pitamic and Jill Laidlaw. Chicago Review (IPG, dist.), pb. $19.95. ISBN 9781613731772 PW
Monkey Wars. Richard Kurti. Delacorte, $17.99. ISBN 9780385744416 PW
Monkey: Not Ready for Kindergarten. Marc Brown. Knopf, $12.99. ISBN 9780553496581 PW
Monty's Magnificent Mane. Gemma O'Neill. Templar, $15.99. ISBN 9780763675936 K
Moon Bear. Gill Lewis, illus. by Alessandro Gottardo. S&S/Atheneum, $16.99. ISBN 9781481400947 K
Mothman's Curse. Christine Hayes; illus. by Andrew James Hindle. Roaring Brook, $15.99. ISBN 9781626720275 K
Mr. Postmouse's Rounds. Marianne Dubuc and Yvette Ghione, illus. by Marianne Dubuc. Kids Can, $17.95. ISBN 9781771385725 K
Ms. Marvel Vol. 2: Generation Why. G. Willow Wilson, illus. by Jacob Wyatt and Adrian Alphona. Marvel Comics, pb $15.99. ISBN 9780785190226 SLJ
Ms. Rapscott's Girls. Elise Primavera. Dial, $16.99. ISBN 9780803738225 BL
Mummy Cat. Marcus Ewert, illus. by Lisa Brown. Clarion, $16.99. ISBN 9780544340824 BL
My Brother is a Superhero. David Solomons. Viking, $16.99. ISBN 9780451474773 SLJ
My Family Tree and Me. Dušan Petričić. Kids Can, $16.95. ISBN 9781771380492 HB
My Heart and Other Black Holes. Jasmine Warga. HarperCollins/Balzer+Bray, $17.99. ISBN 9780062324672 BL
My Name Is Truth: The Life of Sojourner Truth. Ann Turner, illus. by James Ransome. HarperCollins, $17.99. ISBN 9780060758981 SLJ
My Three Best Friends and Me, Zulay. Cari Best, illus. by Vanessa Brantley-Newton. Farrar, Straus & Giroux, $17.99. ISBN 9780374388195 K
My Two Blankets. Irena Kobald, illus. by Reya Blackwood. Houghton Mifflin Harcourt, $16.99. ISBN 978054443228 K
My Wilderness: An Alaskan Adventure. Claudia McGehee. Little Bigfoot, $16.99. ISBN 9781570619502 SLJ
Nathan Hale's Hazardous Tales: The Underground Abductor (An Abolitionist Tale). Nathan Hale. Abrams, $12.95. ISBN 9781419715365 SLJ
Nearer Moon, A. Melanie Crowder. S&S/Atheneum, $16.99. ISBN 9781481441483 K
Nellie Bly and Investigative Journalism for Kids: Mighty Muckrakers from the Golden Age to Today. Ellen Mahoney. Chicago Review (IPG, dist.), $16.95. ISBN 9781613749975 BL
Nerdy Birdy. Aaron Reynolds, illus. by Matt Davies. Roaring Brook/Porter, $16.99. ISBN 9781626721272 K
Never Always Sometimes. Adi Alsaid. Harlequin Teen, $17.99. ISBN 9780373211548 K
Never Ask a Dinosaur to Dinner. Gareth Edwards, illus. by Guy Parker-Rees. Scholastic, $17.99. ISBN 9780545812962 BCCB
New Shoes. Susan Lynn Meyer, illus. by Eric Velasquez. Holiday House, $16.95. ISBN 9780823425280 PW
No Such Person. Caroline B. Cooney. Delacorte, $17.99. ISBN 9780385742917 PW
Noah Webster: Many of Many Words. Catherine Reef. Clarion, $18.99. ISBN 9780544129832 SLJ
None of the Above. I.W. Gregorio. HarperCollins/Balzer + Bray, $17.99. ISBN 9780062335319 PW
Not After Everything. Michelle Levy. Dial, $17.99. ISBN 9780803741584 K
Octopuppy, The. Martin McKenna. Scholastic, $16.99. ISBN 9780545751407 BL
Octopuses! Strange and Wonderful. Laurence Pringle, illus. by Meryl Henderson. Boyds Mills, $16.95. ISBN 9781590789285 K
Omega City. Diana Peterfreund. HarperCollins/Balzer+Bray, $16.99. ISBN 9780062310859 BL
On the Shoulder of a Giant: An Inuit Folktale. Neil Christopher, illus. by Jim Nelson. Inhabit Media (IPG/Trafalgar Square, dist.), $16.95. ISBN 9781772270020 PW
One Plastic Bag: Isatou Caesey and the Recycling Women of the Gambia. Miranda Paul, illus. by Elizabeth Zunon. Millbrook, $19.99. ISBN 9781467716086 SLJ
One Word from Sophia. Jim Averbeck, illus. by Ismail Yasmeen. S&S/Atheneum, $17.99. ISBN 9781481405140 K
Only Ever Yours. Louise O'Neill. Quercus (Hachette, dist.), $16.99. ISBN 9781623654542 PW
Orangutanka. Margarita Engle, illus. by Renée Kurilla. Holt, $17.99. ISBN 9780805098396 SLJ
Orion and the Dark. Emma Yarlett. Candlewick/Templar, $16.99. ISBN 9780763675950 BL
Orphan Army, The (Nightsiders 01). Jonathan Maberry. Simon & Schuster, $16.99. ISBN 9781481415750 K
Otter in Space. Sam Garton. HarperTeen/Balzer+Bray, $16.99. ISBN 9780062247766 K
Our Endless Numbered Days. Claire Fuller. Tin House, pb $15.95. ISBN 9781941040010  SLJ
Out of the Woods: A True Story of an Unforgettable Event. Rebecca Bond. Farrar, Straus and Giroux, $17.99. ISBN 9780374380779 K
Outstanding in the Rain. Frank Viva. Little, Brown, $18 ISBN 9780316366274 BL
Papa's Backpack. James Christopher Carroll. Sleeping Bear, $15.99. ISBN 9781585366132 K
Paper Things. Jennifer Richard Jacobson. Candlewick, $16.99. ISBN 9780763663230 SLJ
Paperweight. Meg Haston. HarperTeen, $17.99. ISBN 9780062335746 PW
Peekaboo. Giuliano Ferri. Minedition (IPG, dist.), $11.99. ISBN 9789888240937 PW
Peep and Ducky Rainy Day. David Martin, illus. by David Walker. Candelwick, $14.99. ISBN 9780763668846 K
Pepper & Poe. Frann Preston-Gannon. Scholastic/Orchard, $16.99. ISBN 9780545683579 K
Pig and Pug. Lynne Berry, illus. by Gemma Correll. Simon & Schuster, $16.99. ISBN 9781481421317 K
Piper Green and the Fairy Tree. Ellen Potter, illus. by Qin Leng. Knopf, $14.99. ISBN 9780553499230 PW
Pirate's Bed, The. Nicola Winstanley. Tundra, $17.99. ISBN 9781770496163 SLJ
Poems in the Attic. Nikki Grimes. Lee & Low, $19.95. ISBN 9781620140277 K
Poet: The Remarkable Story of George Moses Horton. Don Tate. Peachtree, $16.95. ISBN 9781561458257 K
Polaris (Avalon 02). Mindee Arnett. HarperCollins/Balzer+Bray, $17.99. ISBN 9780062235626 SLJ
Prairie Fire. E.K. Johnston. Carolrhoda, $18.99. ISBN 9781467739092 K
Prickly Jenny. Sibylle Delacroix, trans. from the French by Karen Li. Owlkids (PGW, dist.), $16.95. ISBN 9781771471299 PW
Princeless: The Pirate Princess. Jeremy Whitley. Action Lab, $14.99. ISBN 9781632291028 SLJ
Princess Academy: The Forgotten Sisters. Shannon Hale. Bloomsbury, $17.99. ISBN 9781619634855 BL
Princess Pistachio. Marie-Louise Gay. Pajama Press, $10.95. ISBN 9781927485699 K
Princess Pistachio and the Pest. Marie-Louise Gay, trans. by Jacob Homel. Pajama Press, $10.95. ISBN 9781927485736 K
Prisoners of Breendonk, The: Personal Histories from a World War II Prison Camp. James M. Deem. Houghton Mifflin Harcourt, $18.99. ISBN 9780544096646 BL
Queen's Shadow, The: A Story About How Animals See. Cybèlé Young. Kids Can, $16.95. ISBN 9781894786607 K
Read Between the Lines. Jo Knowles. Candlewick, $16.99. ISBN 9780763663872 K
Ready Rabbit Gets Ready! Brenna Maloney. Viking, $16.99. ISBN 9780670015498 PW
Red Light, Green Light. Yumi Heo. Scholastic/Cartwheel, $6.99. ISBN 9780545744638 PW
Red: A Crayon's Story. Michael Hall. HarperCollins/Greenwillow, $17.99. ISBN 9780062252074 BL
Red. Jan de Kinder. Eerdmans, $16 ISBN 9780802854469 BL
Remembering Inez: The Last Campaign of Inez Milholland, Suffrage Martyr. Robert P.J. Cooney, Jr. American Graphic,. $14.95. ISBN 9780977009527
Rhymoceros. Janik Coat. Abrams Appleseed, $15.95. ISBN 9781419715143 PW
Rise and Fall of the Gallivanters. M.J. Beaufrand. Abrams/Amulet, $16.95. ISBN 9781419714955 SLJ
Rita's Rhino. Tony Ross. Lerner, $16.95. ISBN 9781467763158 BL
Rodeo Red. Maripat Perkins, illus. by Molly Idle. Peachtree, $16.95. ISBN 9781561458165 BL
Room for Bear. Ciara Gavin. Knopf, $16.99. ISBN 9780385754736 BCCB
Rufus the Writer. Elizabeth Bram, illus. by Chuck Groenink. Random House/Schwartz & Wade, $17.99. ISBN 9780385378536 SLJ
Saint Anything. Sarah Dessen. Viking, $19.99. ISBN 9780451474704 PW
Salsa: Un Poema Para Cocinar/A Cooking Poem. Jorge Argueta, illus. by Duncan Tonatiuh, trans. from the Spanish by Elisa Amado. Groundwood, $18.95. ISBN 9781554984428 SLJ
Salt & Stone. Victoria Scott. Scholastic, $17.99. ISBN 9780545537483 K
Sand Swimmers: The Secret Life of Australia's Desert Wilderness. Narelle Oliver. Candlewick, $16.99. ISBN 9780763667610 K
Scarlett Undercover. Jennifer Latham. Little, Brown, $18 ISBN 9780316283939 K
Scorpion Rules, The. Erin Bow. S&S/McElderry, $17.99. ISBN 9781481442718 PW
Secret Mission of William Tuck, The. Eric Pierpoint. Sourcebooks, pb $7.99. ISBN 9781402281747 K
Seven Dead Pirates. Linda Bailey. Tundra, $16.99. ISBN 9781770498150 K
Seventh Most Important Thing, The. Shelley Pearsall. Knopf, $16.99. ISBN 9780553497281 K
Shadow Behind the Stars, The. Rebecca Hahn. S&S/Atheneum, $17.99. ISBN 9781481435710 K
Shadow Cabinet, The (Shades of London 03). Maureen Johnson. Putnam, $17.99. ISBN 9780399256622 K
Shadow of the War Machine (Secret Order 03). Kristin Bailey. Simon Pulse, $17.99. ISBN 9781442468054 K
Shadow of the World. Tim Hall. Scholastic/Fickling, $18.99. ISBN 9780545816649 BL
Sign of the Cat, The. Lynne Jonnell. Holt, $16.99. ISBN 9780805096835 K
Sin Eater's Daughter, The. Melinda Salisbury. Scholastic Press, $17.99. ISBN  9780545810623 PW
Six, The. Mark Alpert. Sourcebooks Fire, $16.99. ISBN 9781492615293 BL
Six. M.M. Vaughan. S&S/McElderry, $16.99. ISBN 9781481420693 K
Skyscraping. Cordelia Jensen. Philomel, $17.99. ISBN 9780399167713 BL
Sleeper and the Spindle, The. Neil Gaiman, illus. by Chris Riddell. Harper, $19.99. ISBN 9780062398246 PW
Small Elephant's Bathtime. Tatyana Feeney. Knopf, $16.99. ISBN 9780553497212 K
Solitaire. Alice Oseman. HarperTeen, $17.99. ISBN 9780062335685 BCCB
Some Kind of Normal. Juliana Stone. Sourcebooks Fire, $16.99. ISBN 9781402291500 BL
Something Extraordinary. Ben Clanton. Simon & Schuster, $17.99. ISBN 9781481403580 K
Somewhere There Is Still a Sun: A Memoir of the Holocaust. Michael Gruenbaum, with Todd Hasak-Lowy. S&S/Aladdin, $17.99. ISBN 9781442484863 PW
Sona and the Wedding Game. Kashmira Sheth, illus. by Yoshiko Jaeggi. Peachtree, $16.95. ISBN 9781561457359 K
Song of Delphine, The. Kenneth Kraegel. Candlewick, $15.99. ISBN 9780763670016 BL
Sonya's Chickens. Phoebe Wahl. Tundra, $17.99. ISBN 9781770497894 K
Soulprint. Megan Miranda. Bloomsbury, $17.99. ISBN 9780802737748 PW
Special Delivery. Philip C. Stead, illus. by Matthew Cordell. Roaring Brook/Porter, $17.99. ISBN 9781596439313  K
Start of Me and You, The. Emery Lord. Bloomsbury, $17.99. ISBN 9781619633599 SLJ
Stella Brings the Family. Miriam B. Schiffer, illus. by Holly Clifton-Brown. Chronicle, $16.99. ISBN 9781452111902 PW
Steve Jobs: Insanely Great. Jessie Hartland. Random House/Schwartz & Wade, $22.95. ISBN 9780307982957 SLJ
Stick and Stone. Beth Ferry, illus. by Tom Lichtenfeld. Houghton Mifflin Harcourt, $16.99. ISBN 9780544032569 SLJ
Stolen Moon, The (Lost Planet #2). Rachel Searles. Feiwel and Friends, $15.99. ISBN 9781250038807 K
Stonebird. Mike Revell. Quercus, $16.99. ISBN 9781623654627 BL
Story Thieves. James Riley. S&S/Aladdin, $16.99. ISBN 9781481409193 K
Sun and Moon. Lindsey Yankey. Simply Read, $16.95. ISBN 9781927018606 BL
Super Fly: The World's Smallest Superhero! Todd H. Doodler. Bloomsbury, $15.99. ISBN 9781619633797  K
Symphony for the City of the Dead: Dmitri Shostakovich and the Siege of Leningrad. Candlewick, $25.99. ISBN 9780763668181 K
Taken, The (Foxcraft). Inbali Iserles. Scholastic, $16.99. ISBN 9780545690812 K
Tapper Twins Go to War (with Each Other), The. Geoff Rodkey. Little, Brown, $13.99. ISBN 9780316297790 PW
Temple Boys. Jamie Buxton. Roaring Brook, $17.99. ISBN 9781626720367 BL
Terrorist: Gavrilo Princip, the Assassin Who Ignited World War I. Henrik Rehr. Lerner/Graphic Universe, $11.99. trade paper ISBN 9781467772846 PW
There Will Be Lies. Nick Lake. Bloomsbury, $17.99. ISBN 9781619634404 SLJ
Thirteen Chairs. Dave Shelton. Scholastic/Fickling, $17.99. ISBN 9780545816656 SLJ
This Book Is Gay. James Dawson; illus. by Spike Gerrell. Sourcebooks Fire, hc $15.99. ISBN 9781492617822; pb $9.99. ISBN 9781492617839 BL
This is Sadie (Sadie Mac). Sara O'Leary, illus. by Julie Morstad. Tundra, $17.99. ISBN 9781770495326  SLJ
Three Day Summer. Tash Sarvenaz. Simon & Schuster, $17.99. ISBN 9781481439312 K
Tickle Monster. Edouard Manceau. Abrams Appleseed, $14.95. ISBN 9781419717314 K
Tiger Boy. Mitali Perkins, illus. by Jamie Hogan. Charlesbridge, $14.95. ISBN 9781580896603 SLJ
To Hold the Bridge. Garth Nix. Harper, $17.99. ISBN 9780062292520 BL
Troto and the Trucks. Uri Shulevitz. Farrar, Straus and Giroux, $16.99. ISBN 9780374300807 K
Trouble Is a Friend of Mine. Stephanie Tromly. Penguin/Dawson, $17.99. ISBN 9780525428404 PW
Trouble with Ants, The. Claudia Mills, illus. by Katie Kath. Knopf, $14.99. ISBN 9780385391610 PW
Tucky Jo and Little Heart. Patricia Polacco. S&S/Wiseman, $17.99. ISBN 9781481415842 K
Turtle and Me. Robie H. Harris, illus. by Tor Freeman. Bonnier/Little Bee, $16.99. ISBN 9781499800463 PW
Two Mice. Sergio Ruzzier. Clarion, $12.99. ISBN 9780544302099 K
Under a Pig Tree: A History of the Noble Fruit. Margie Palatini, illus. by Chuck Groenink. Abrams, $16.95. ISBN 9781419714887 BL
Undertow. Michael Buckley. Houghton Harcourt, $18.99. ISBN 9780544348257 SLJ
Unicorn on a Roll: Another Phoebe and Her Unicorn Adventure. Dana Simpson. Andrews McMeel, pb $9.99. ISBN 9781449470760  BCCB
Unlikely Adventures of Mabel Jones, The. Will Mabbitt, illus. by Ross Collins. Viking, $16.99. ISBN 9780451471963 PW
Unlikely Warrior: A Jewish Soldier in Hitler's Army. Georg Rauch, trans. from the German by Phyllis Rauch. Farrar, Straus and Giroux, $17.99. ISBN 9780374301422 PW
Untwine. Edwidge Danticat. Scholastic Press, $16.99. ISBN 9780545423038 PW
Vanishing Girls. Lauren Oliver. Harper, $18.99. ISBN 9780062224101 PW
Vincent Paints His House. Tedd Arnold. Holiday House, $16.95. ISBN  9780823432103 K
Vivian Apple at the End of the World. Katie Coyle. Harcourt, $17.99. ISBN 9780544340114 BL
Voice of Freedom: Fannie Lou Hamer: The Spirit of the Civil Rights Movement. Carole Boston Weatherford, illus. by Ekua Holmes. Candlewick, $17.99. ISBN 9780763665319 K
Wandering Whale Sharks. Susumu Shingu, trans. from the Japanese by Ann B. Cary and Yasaki Shingu. Owlkids, $18.95. ISBN 9781771471305 SLJ
Watch the Sky. Kirsten Hubbard. Disney/Hyperion, $16.99. ISBN 9781484708330 SLJ
We Are All Made of Molecules. Susin Nielsen. Random House/Lamb, $16.99. ISBN 9780553496864 K
We Dig Worms! Kevin McCloskey. Toon (Consortium, dist.), $12.95. ISBN 9781935179801 PW
We Forgot Brock! Carter Goodrich. Simon & Schuster, $17.99. ISBN 9781442480902 PW
Welcome Home, Bear: A Book of Animal Habitats. Il Sung Na. Knopf, $16.99. ISBN 9780385753753 K
Whale Trails, Before and Now. Lesa Cline-Ransome, illus. by G. Brian Karas. Holt, $17.99. ISBN 9780805096422 K
What James Said. Liz Rosenberg; illus. by Matthew Myers. Roaring Brook/Porter, $16.99. ISBN 9781596439085 K
What the Dinosaurs Did Last Night: A Very Messy Adventure. Refe Tuma and Susan Tuma. Little, Brown, $17. ISBN 9780316335621 K
What This Story Needs Is a Pig in a Wig. Emma J. Virján. Harper, $9.99. ISBN 9780062327246 PW
What You Left Behind. Jessica Verdi. Sourcebooks Fire, $16.99. ISBN 9781492614401 SLJ
Where Are My Books? Debbie Ridpath Ohi. Simon & Schuster, $17.99. ISBN 9781442467415 K
Whippoorwill. Joseph Monninger. Houghton Mifflin Harcourt, $17.99. ISBN 9780544531239 SLJ
Whisperer, The. Fiona McIntosh. Knopf, $16.99. ISBN 9780553498271 K
Whose Tools? Toni Buzzeo, illus. by Jim Datz. Abrams Appleseed, $9.95. ISBN 9781419714313 PW
Why Dogs Have Wet Noses. Kenneth Steven and Oyvind Torseter. Enchanted Lion, $17.95. ISBN 9781592701735 K
Wild About Shapes. Jérémie Fischer. Nobrow/Flying Eye (Consortium, dist.), $16.99. ISBN 9781909263383 PW
Wild About Us! Karen Beaumont, illus. by Janet Stevens. Houghton Mifflin Harcourt, $16.99. ISBN 9780152062941 BL
Wild Boy and the Black Terror. Rob Lloyd Jones. Candlewick, $16.99. ISBN 9780763662530 K
Wild Ideas: Let Nature Inspire Your Thinking. Elin Kelsey, illus. by Soyeon Kim. Owlkids, $18.95. ISBN 9781771470629 K
Winner's Crime, The (Winner's Trilogy 02). Marie Rutkoski. Farrar, Straus and Giroux, $17.99. ISBN 9780374384708 K
Wish Girl. Nikki Loftin. Razorbill, $16.99. ISBN 9781595146861 K
Witch Hunter, The. Virginia Boecker. Little, Brown, $18 ISBN 9780316327008 PW
Wolf at the Gate, A. Mark Van Steenwyk, illus. by Joel Hedstrom. Mennonite Worker Press, pb $14.99. ISBN 9780986233340 K
Wonder at the Edge of the World. Nicole Helget. Little, Brown, $17. ISBN 9780316245104 BL
Woodpecker Wham! April Pulley Sayre, illus. by Steve Jenkins. Holt, $17.99. ISBN 9780805088427 SLJ
Work of Art, A. Melody Maysonet. Merit Press, $17.99. ISBN 9781440582547 K
World in a Second, The. Isabel Minhós Martins, illus. by Bernardo Carvalho. Enchanted Lion, $18.95. ISBN 9781592701575 K
Worst Class Trip Ever, The. Dave Barry. Disney-Hyperion, $13.99. ISBN 9781484708491 PW
Worst in Show. William Bee, illus. by Kate Hindley. Candlewick, $15.99 ISBN 9780763673185 K
Written and Drawn by Henrietta: Toon Level 3. Liniers. Toon, $12.95. ISBN 9781935179900 K
Wrong Side of Right, The. Jean Marie Thorne. Dial, $17.99. ISBN 9780803740570 BL
Year We Sailed the Sun, The. Theresa Nelson. S&S/Atheneum/Jackson, $17.99. ISBN 9780689858277 BL
Yo Miss: A Graphic Look at High School. Lisa Wilde. Microcosm, $12.95. ISBN 9781621069874 SLJ
You Can Do It, Bert! Ole Könnecke, trans. from the German by Catherine Chidgey. Gecko Press USA (Lerner, dist.), $16.95. ISBN 9781927271032 PW
You Nest Here with Me. Jane Yolen and Heidi E.Y. Stemple, illus. by Melissa Sweet. Boyds Mills, $16.95. ISBN 9781590789230 BL
You're in Trouble (Jasper John Dooley). Caroline Adderson, illus. by Ben Clanton. Kids Can, $15.95. ISBN 9781554538089 K
Your Alien. Tammi Sauer, illus. by Goro Fujita. Sterling, $14.95. ISBN 9781454911296 PW