Earlier this week, we hosted Kate Messner at our local school and at the bookstore for her new book, All the Answers. To say that Kate puts on a great event is an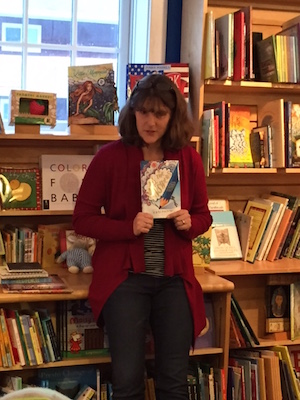 understatement. She is a force of organization to reckoned with, and seems to possess boundless energy, even at the end of a long day. One very shy girl joined the event while her mother shopped and by the time she had to leave, she was beaming and happily clutching a copy of the new book.
I went back through my emails to see when Kate started planning for her book tour and was astounded to see the first email went out last May!  She's been planning ever since, and making my life as a bookseller so much easier. She created an email that I mailed to my local schools in May and then the schools and Kate hammered out the details of the visit. One of the really great things about working with Kate is she really tries hard to get indies as much business as possible, by setting up local book sales through independent stores. She also created her own order form that the schools could copy and give to all students. This form was part of the letter. Really, the only thing we had to do was coordinate the book orders and advertise the store event.
Once we got about a month out from the visit, Kate was tweeting and posting on Facebook about the event. She even created a Facebook event that we could share. I mean really, she made it so easy for us. We had a good turnout for the event and Kate's calm was great. She started the event and people just started to lean forward in their seats. Kids quieted down and were rapt the entire time she was speaking. Kate used to be a teacher and it's clear she understands kids and how to get them engaged in a presentation. Listening to her speak about her writer's notebooks made all of us practically start twitching to jot things down. One of the things I love about author visits is how they can inspire kids to start writing. To hear her talk about the evolution of this book and how it all came from one thought that she jotted down in her notebook more than two years ago was a gift of a moment. Kate made writing a book sound so doable that all these kids left thinking about becoming writers.
The other thing that was wonderful about Kate was she book-talked three books by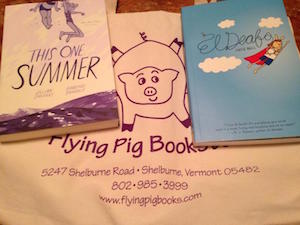 other authors  that she loved and was inspired by. That kind of generosity was not lost on me.She spoke with passion about Bigger than a Breadbox, The Red Pencil, and The Case for Loving. Kids were just as enthused by those books as they were by Kate's. And, she gave us enough notice about this that we had plenty of time to get in those books so we could sell them. She even had giveaways. I left the day energized by the success of the event and vowed that I would try to be half as organized as Kate for my next event. Finally, Kate tweeted about the bookstore when she got home, with a photo no less!