I was changing into my bathing suit last Friday morning in the locker room at the UMF Health and Fitness Center. It was 8:00 a.m. and there were five other grizzled middle-aged male regulars on similar missions, when the following conversation ensued.
"So Kenny, how many years have you had the bookstore now?"
"Twenty three."
"Man, that's a long stretch."
"It has been a long run."
"What do you attribute the store's survival to?"
"Going to the gym every day."
That answer was the source of a good group chuckle, but apart from being a bit of an overstatement it isn't entirely a joke. Truth to say I had decided that this week's post was going to be on the topic of how to survive the pressures of the holiday season, and I had come to the conclusion that every bookstore owner must have one big everyday activity outside the store that helps us make it across the finish line. For me that is a swimming workout.

The holiday season is, of course, by far the most strenuous time of the year for booksellers. So far, at DDG, we are having our best December ever by a large margin. As of last week my eyes have been starting to close a little earlier in the afternoon every day regardless of my caffeine level. It might seem counter-intuitive to put in an hour of vigorous exercise every morning before going into the store, but I think it is actually more important than ever.
First of all it clears one's thoughts and gives a real chance to think through what needs to be done at the store. Second, it "sets one up amazingly" as the saying is, so that one is in peak form for the period before exhaustion takes over in the afternoon. Third, it is tremendously good advertising for the store.  More than any other time of year, when people see me at the gym during December they always think about the store, ask how we are doing, and are reminded of the need to come down to the bookstore for holiday shopping. In the first hour of business in the morning I always see people roll in that I had just spoken with at the gym. Furthermore I take orders between sets in the pool, in the locker room and elsewhere. This last Saturday, for example I was on the stationary bike for a warmup when a local dentist marched over.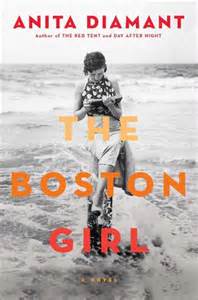 "Do you have the new book by the author who wrote
The Red Tent
?"
"Oh,
The Boston Girl
," by Anita Diamant, eh?"
"Yes! I heard  her on NPR. It sounded great."
"I'm sure I do have copies in stock."
"Can you hold one for me?"
"Well, there is still a mile and a half of water between now and when I get to the store. I might forget but I don't think I will. I'll give you a call to confirm that it's on hold. Give me a shout if you don't hear from me."
"Awesome, I will."
I did remember, and she came in and bought gifts for everyone on her list. Exercising through the holidays? It's the best advertising and the best medicine there is!