Most of the time when you are driving, things go as expected with minor changes or surprises here or there: the house at the top of the hill has a for sale sign, a tree has fallen. Every now and then, however, something truly startling happens. The same is true of going through a lengthy frontlist catalog on Edelweiss.
I was going through the Simon and Schuster Winter 2015 books when the frontlist equivalent of a moose standing in the middle of the road came into view. I had the shock of seeing that something profoundly local to Farmington, Maine had become the subject of a new picture book coming out from one of my favorite non-fiction picture book author-illustrators, Meghan McCarthy.
Meghan's previous works such as Pop: The Invention of Bubblegum, Daredevil: The Daring Life of Betty Skelton, and Aliens Are Coming: The True Account of the 1938 War of the Worlds Radio Broadcast, have all been showstoppers. It was thus with equal parts surprise and pleasure that I noted the January 2015 publication of Earmuffs for Everyone: How Chester Greenwood became Known as The Inventor of the Earmuff.
Earmuffs for Everyone explores not only the life and inventions of Chester Greenwood, but also the way in which some inventions, whose origins are in fact shared among several inventors, sometimes become popularly attributed to only one of them. This attribution is often due to the workings of creative public relations which come to resonate in the popular imagination. Thomas Edison's "invention" of electricity is a good example. Today the back story of how the attribution came to reside with Edison rather than with Nikola Tesla has become of increasing interest. This is true of earmuffs as well, and McCarthy's charming book recounts how what started out as a patent, and the successful production of a new variation in earmuffs by the young Greenwood ultimately become Chester's attribution as the sole inventor of the earmuff itself. That story is filled with Farmington history and lore, and is delightfully recounted by McCarthy.
Chester Greenwood Day, which falls on the first Saturday in December, is a state holiday in Maine and the biggest day of the year in Farmington. It features an annual parade, a Greenwood flag raising, and a host of other activities. S&S had been planning on launching the book on Chester Greenwood Day, and from that point on I began working with them, and with Meghan, to make it a success. There was a lot to do.
The Day started with the annual parade. It was snowing and throwing down some freezing rain but the town was undaunted. Meghan rode in the Chamber of Commerce Float.
Next came the flag-raising ceremony, which Meghan participated in along with Chester Greenwood himself, portrayed by Clyde Ross.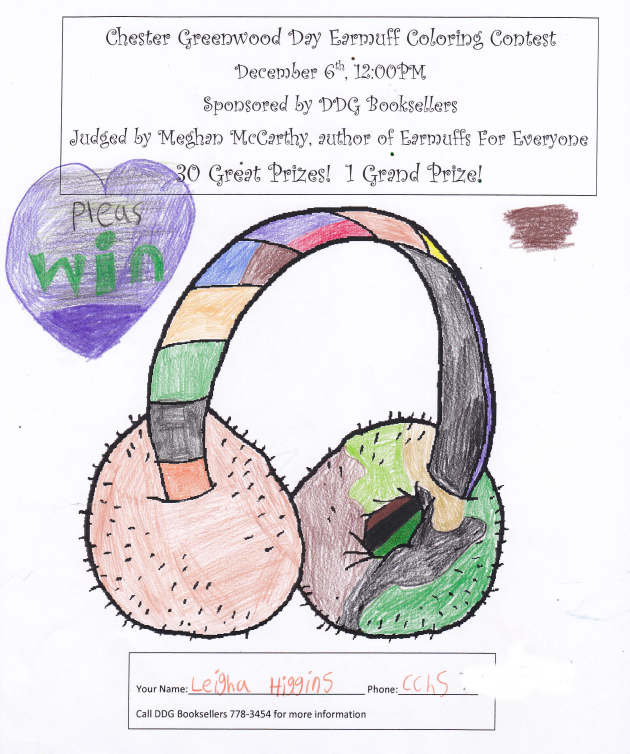 As the judge said of Leigha Higgins' winning entry, "Sometimes it pays to ask!"