My store is in a village filled with wonderful shops. All of the business owners got together, first on Facebook, then via email, then in person to try and figure out the best way to work together to bring people in our town and get them to stay here to shop. Many wonderful things have come from these gatherings.
First, and perhaps best, is we all got to know each other better. Some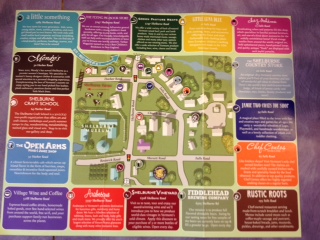 shopkeepers I count as good friends, others I don't know as well. All own stores or restaurants that I patronize, so it's been nice to work together to increase business for all of us. We were originally focused on doing something special for Small Business Saturday in November, but our attention quickly turned to creating a brochure we could all use to highlight our stores and restaurants. It's easy to think that just because we all know what treasures exist in our village, visitors do as well. This is just not the case. Parking issues make some folks stay where they've started and not venture forth. The goal with the brochure was to not only give customers a map of our village and surrounding shops up the road, but to encourage them to patronize all of them by offering a discount. Working together created something truly wonderful.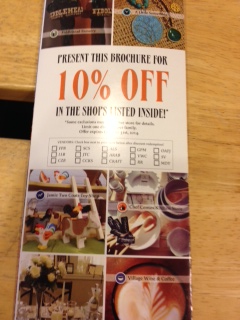 The brochure is eye-catching and professional, and it includes all the stores, save one (who didn't want to participate because they don't believe in discounting) that were happy to pass on a 10% savings to customers who used it. There's a check box on the back that lists all the participating stores that allows for store stamps or initial to indicate the discount has been used. Customers then take their brochure to other stores and shop and save. The beauty of this system is it gives one family or shopper just one brochure to keep until they're done shopping, so we're not giving out multiple brochures to one family.
But the real joy of this brochure is how it came out. It's a full-color tri-folded thing of beauty that would have been prohibitively expensive for one store to do on its own, but split 16 ways it only cost each store $50. So, by working together we created something that has driven business to all our stores and not broken anyone's marketing budget.