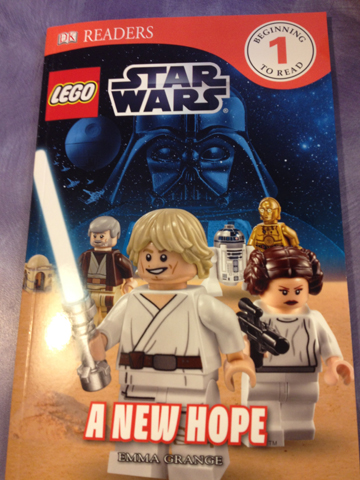 Leveled readers are, in some ways, a bit of a fly in the bookselling ointment. They sell extremely well, which is terrific, but they are also notoriously uneven when it comes to leveling. Teachers, parents, and even many kids are obsessed with the levels (for a variety of reasons, some unavoidable), but every staffer in a bookstore's children's department knows that levels are not consistent between publishing houses, and sometimes not even within the same house.
Recently, we received DK's Star Wars: A New Hope, labeled a "Level 1: Beginning to Read" book. I knew the book would be wildly popular with early readers, and was curious to see how the author, Emma Grange, would translate the Star Wars story into words and sentences appropriate for someone just beginning to read. I think of someone beginning to read as being ready for something along the lines of "See Spot run," or Hop on Pop, or Sam and the Firefly.
So Star Wars seemed to me to be quite a challenging job to turn into a beginning reader, given the many unfamiliar names and fantasy concepts that would need to be explained to an audience too young to have seen the movies. And the truth is, I doubt it is truly possible to retell this Star Wars adventure in a way that most children just beginning to read could manage on their own.
The book has lines like, "The rebels are a group of people who want to free the galaxy from the Empire," and "A brave rebel named Princess Leia is determined to defeat the Empire," and "R2D2 and another droid named C-3PO flee in an escape pod to the planet Tatooine," and "Luke and Han rescue Princess Leia, but then they fall into a waste disposal unit."
I think Ms. Grange did an excellent job of distilling the story into a short, easier-to-read form, and I know that kids reading Level 1 books will be deeeeelighted to have the opportunity to chat about Star Wars with their elder siblings. And I know that parents will be happy to help their new readers work through the more complicated words and concepts (the illustrations help there, as well). And yet, does that make the book a Level 1? There are Level 3 books simpler than this one.
With schools and publishers using standards from any of five or so different leveled reading programs, there is bound to be plenty of fluctuation. What this inconsistency in levels means for booksellers is that we need to be very familiar with all of the series we carry, so that we can better match young readers with books at just the right level of challenge.
And that is a challenge and a half for those of us on the sales floor.