Amazon made news again yesterday when it unveiled its the Fire phone (read the announcement here). That Amazon has entered the smartphone arena seems fitting for Jeff Bezos's ego, but I doubt it will make a dent in the iPhone or Android market. But this Fire phone has some scary technology that continues to cement the closed loop of Amazon users: "…a further means of locking consumers into the Amazon ecosystem" by allowing people to snap a photo, or a jacket blurb, or even part of the text on the page and then be taken right that product's page on Amazon's website where they can download the book in the store. Once again, Bezos and his merry band of players are trying to take it right to the heart of the indies, although, really, as my coworker Darrilyn aptly said: "Don't you think people who get this phone don't set foot in a bookstore, or any store anymore?"
Turning bookstores so aggressively into showrooms for Amazon is just another attempt for Bezos to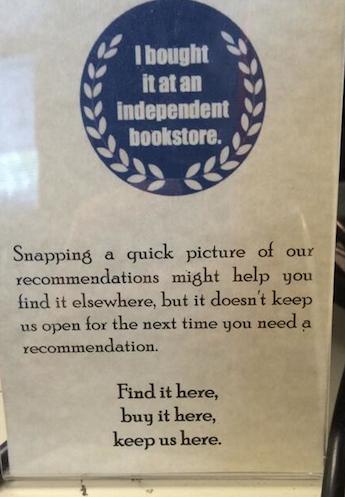 try to dominate the bookselling market. The Fire phone announcement came at an interesting time, though. The dispute with Hachette is finally getting much more mainstream press and customers are asking us about it. And there's nothing like a little education from the local indie to make book lovers enraged at the nerve of Amazon to make it so easy to browse a real bookstore all the while ordering books to read on their phone screen and then share on bigger screens when they get home and link up the phone with their Kindle.
Here's the thing, though. Store owners have had enough. Even before the Fire phone announcement, several friends shared photos with me about signs seen at registers in stores. The first has been making the rounds on Twitter. This very simply says what happens when you take a picture of a book and then buy it somewhere else: Bookstores can close.
Even across the pond, in England, bookstores are visibly angry and fighting back. My staffer, David, is touring the country with his family and emailed this picture yesterday morning.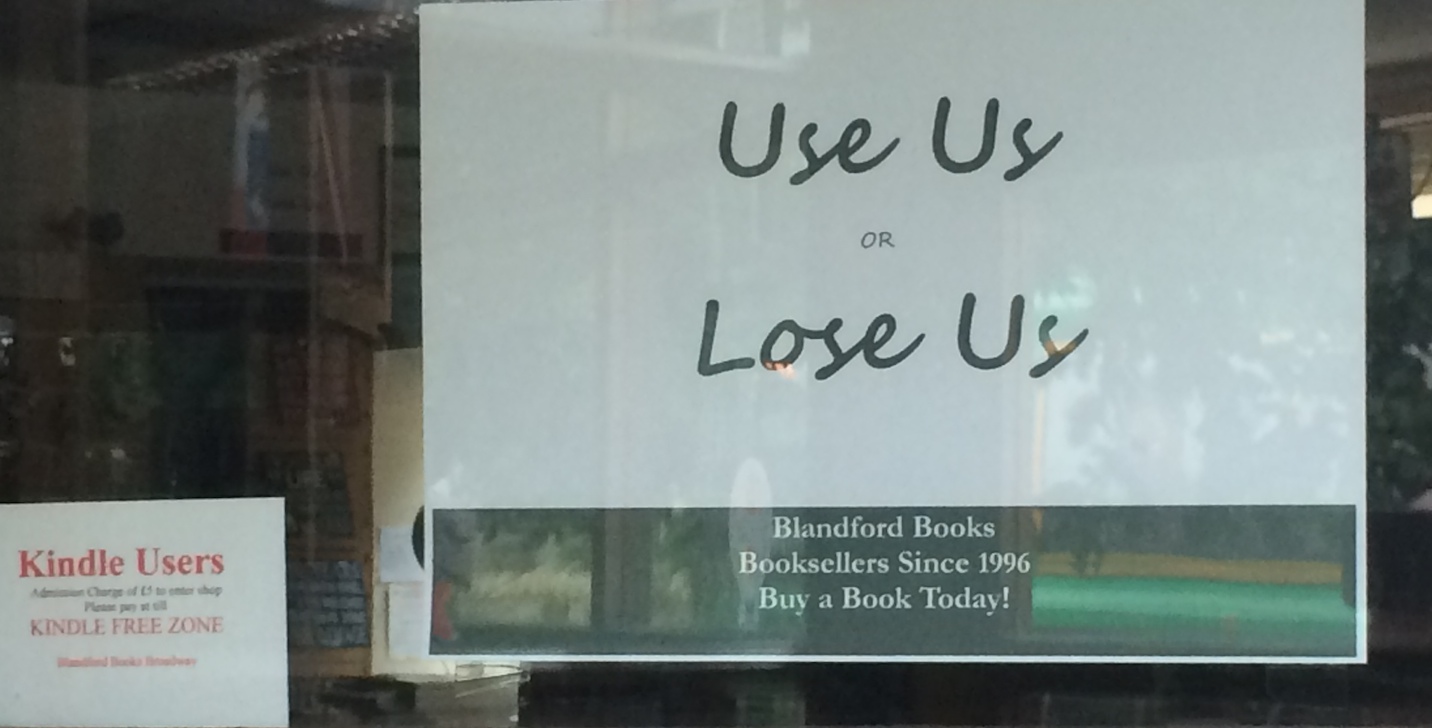 What I love about this is the sign actually is requesting that people who come into the store with a Kindle to pay 5 pounds at the till when they enter the shop. Declaring the store a Kindle-free zone is a ballsy move. I'd love to talk to the store owner about feedback for the sign. My guess is it's bringing people right up to the window and chuckling a bit, and then realizing that the store needs people to actually buy books, not just browse and order elsewhere. Starting a conversation is the best way to make a point and this sign succeeds.
Store owners: what are you doing in your store with signage to combat Amazon and educate customers?