The advent of new technology has been a boon for the bookstore as well as a liability. Smartphones make it easy to communicate with staffers when I've forgotten something that needs doing. They allow me to jot down notes when I'm away from the store and more importantly, they help customers remember book titles. The dark side of the phone is they can take photos of books that customers will order elsewhere.
Being able to communicate with staffers in a way that doesn't involve the phone works really well for me. Sometimes, I have a quick, non-urgent item I just need to share that doesn't merit a phone call; I know if I wait till I'm back at the store it will be lost from my memory. Staffers will text me similar things. Often, when I'm not at work, I'm not really able to speak on the phone, so texting allows us to stay in touch. Yesterday, for example I was taking a four-mile walk at Shelburne Farms where the cell phone reception is bumpy at best, but texts come through just fine. In three texts, Sandy and I  solved the problem of the eight book Police Exam special order efficiently with smiley faces, no less.
Customers use their phones as a way to remember what books they want to order. Often, there are copious pages of notes with book titles or jottings of when and where they heard about a book. Being able to dictate often results in notes like this: Fresh Air, Monday, Prison book. That is more than enough to go to find a book, and since the notes are automatically dated, it's so much simpler to find the titles. Sometimes, people bring us photos of books they've seen elsewhere. That's enormously helpful, although I always feel bad if they've taken a picture at another indie. I never feel bad if it's from a chain store or Costco. Any device that helps customer retain book information is a win-win for everyone.
The down side of a smartphone at the bookstore is when people take pictures of books they want to order on Amazon. Or, more stingily, books they're ordering on Amazon while in my store. Some people are brazen about it, clearly having no compunction about using our store as their Amazon showroom. Others are at least a little bit sheepish about it and try to be more discreet. It's hard to not react when it's clear someone is photographing book covers in the store or scanning QR codes. I don't say anything, but I do try to notice what books seem to be getting the most cell phone activity. I do wonder, sometimes about generating my own QR code labels and putting them on books so customers would be led right back to my website.
Lastly, the beauty of cell phones at the store is getting photos from staffers about cute things at the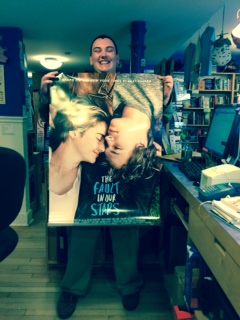 store. Usually, it's a puppy or a really cute baby holding a book. But Tuesday, our youngest staffers were working together and Laura texted that there was $2.91 postage due on a poster tube. She wanted me to know that she paid the postage from petty cash. I said it was all right and then I got this photo texted to me. Not only did that poster cost us $3, it's enormous. And it's a promo for the movie. But it was funny and all because everything about it could be shared, and that's a good way to use a phone.