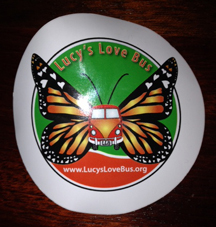 One of our favorite customers is Lucy, a school bus driver and grandmother. She's one of those wonderful people we LOVE to see walk in the door, because she is bound to make us laugh. She is a straight shooter, great with kids, all heart with a wry, no-nonsense demeanor. She's also a thoughtful book-giving grandma, and has been a loyal bookstore customer and small-business supporter for as long as we can remember. And she's kind of an angel, too, although she would hate for us to say that. She is the kind of person who doesn't want any attention for herself, but does such terrific things you want to send up skywriting and balloons.
Lucy is really talented with crafts, and spends her spare time making small journal/scrapbooks and gorgeous hand-knitted ornaments, the sales of which benefit kids. She gives all of the proceeds to a cause she founded several years ago called Lucy's Love Bus. Lucy's Love Bus is, in her words, "a charity that provides treatment and therapies not covered by insurance to children battling cancer. To date, Lucy's Love Bus has provided this care to more than thirty children here in Vermont."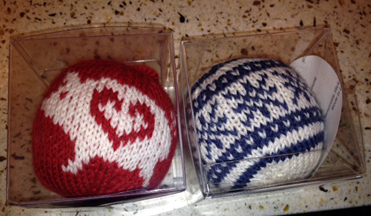 Think of that! One person, doing a seemingly small thing consistently, can make significant changes in people's lives. It is deeply humbling, what Lucy does. In addition to working at least two jobs, she is also raising her granddaughter. She makes the little journals and ornaments in her "spare time." Each knitted ornament takes 5 to 7 hours to make. Each one! And Lucy has made dozens of them in 15 or so different styles (many of them designed by Lucy). I cannot think how she gets this done. It's impressive. This year, we are selling some of the ornaments for Lucy's Love Bus. (All $25 per ornament goes to the charity; we don't take a cut, of course.
Please note that this post is not a sales pitch. We will sell out of the ornaments locally and fast. We simply want to celebrate what this neighbor, this customer and friend, is giving to her community.
On Saturday morning, Lucy came in with one of her grandchildren, Hannah. They were heading to the supermarket, where they spent hours selling the ornaments and chatting with neighbors out doing their holiday shopping. First, though, they wanted to let us choose the ornaments we wanted to sell at the bookstore. We picked out an initial 10 ornaments and they headed out. At the end of the day, back they came, tired but cheerful, to drop off an additional supply. I loved that Lucy's granddaughter, age 10, was already such a willing helper; they are a magical pair. I was very close to my grandmother, too, and whenever I see them together, I am happy.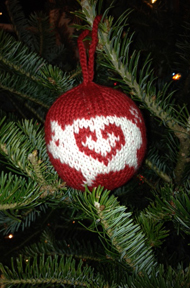 There's a poem by Jack Gilbert I've always loved, "The Abnormal Is Not Courage." It makes me think of Lucy:
I say courage is not the abnormal.
Not the marvelous act. Not Macbeth with fine speeches.
The worthless can manage in public, or for the moment.
[…]
Not the marvelous act, but the evident conclusion of being.
[…]
Not the exception. The beauty
That is of many days. Steady and clear.
It is the normal excellence, of long accomplishment.
So here's to Lucy and her steady, clear, normal excellence of long accomplishment. She is one of the people who make us feel so lucky to be part of our town. Long live Lucy and her Love Bus.