This time of year the bookstore is generally incredibly busy. We do get stolen moments to relax, however. Sometimes these moments involve a cup of coffee and a snack, and sometimes, they allow us to play. The other day, I caught Elizabeth choosing the "play" option.
Several young boys had taken it upon themselves to put together both of our 2×3 foam firetruck bath puzzles. They put one away and then I came upon the other puzzle, completed, on the floor. I  put the puzzle away and somehow discovered two extra pieces on the floor. I mixed up the containers and knew there was no way to know which tub had the extra pieces. I was too busy to deal with it as the store was suddenly busy, so I brought both puzzles back and put them in the office. Elizabeth asked why they were there and I told her about the extra pieces. We both went back to work.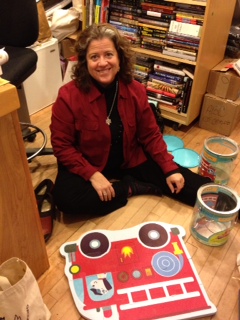 Several hours later, during a lull, I found Elizabeth on the floor of the office, doing puzzles. Elizabeth had decided that the only way to solve the extra pieces mystery was to put both puzzles together (what you can't see is the other puzzle underneath the first one). See how happy she looks? There is real fun in putting together puzzles. And to be able to solve the extra pieces mystery seemed to be a fun challenge.
When she put the last piece in the last puzzle many minutes later, she exclaimed, "These are harder than they look." It's always good to know more about the games we sell, so putting the puzzles together was more than just a fun break, it was good customer service.
As we head full-on into the crazy retail days of December, these little breaks are vital to refresh a bookseller's energy and remind us that sometimes work should just be fun.