There are some fabulous books we have a hard time selling because their covers are either dated or just don't appeal to customers.
One of my favorite books as a child was a delightful novel about a shy and fearful little girl, Betsy, who has to leave her loving but extremely overprotective aunts (one of them takes ill and must recover sans child) to stay with the dreaded, unknown Putney relatives on a Vermont farm. The plain-spoken, hard-working, wholesome aunt, uncle, and fun cousins Betsy meets help her blossom into an adventurous and playful kid. Understood Betsy has the timeless charm of a slightly younger Anne of Green Gables. Kids still love this book! And we would love a cover that would help us sell it to them by the boatload.

We've sold 141 copies of
Understood Betsy
over the years – in five different editions from various publishers -and could have sold so many more if a paperback with a great cover existed. Henry Holt did a lovely hardcover version (image at left), and we sold 45 of that $18.95 edition before it went OP. Imagine how many we could have sold in paperback with that cover. One of the versions of
Understood Betsy
that's been around longest is a perfectly serviceable paperback from Hardscrabble Books (cover image above right). Honestly, though, the only reason we've been able to sell 73 copies of this one is that we're handselling it not to kids but to their parents, who are more willing to overlook a less-than-stellar cover. The Hardscrabble cover isn't terrible; it's just a little fussy. Kids don't get a true sense of the story from that cover, and turn away from the book.
Another classic I'd love to see with new cover art is E. Nesbit's
The Enchanted Castle
. This was also a childhood favorite of mine. I read it several times, continuing to relive the adventures of children who discover a tunnel in a hedge and find a mysterious castle — with a sleeping princess their own age! — on the other side. There were images that delighted (velvet-lined drawers or trays full of sparkling jewelry) and encounters that haunted wonderfully (marble statues come to life by moonlight). All in all, it was a satisfying magical romp in the vein of the Edward Eager books (Eager was inspired by Nesbit), and I would love to hand it to children.
The problem is, this is the cover I've had to work with since opening the bookstore in 1996:
Show me an eight-, nine-, or ten-year-old excited by remote orange castles. (Don't hate, Puffin; you do a bang-up amazing job with so many covers! This one just isn't my cup of tea.) I just can't sell this cover, except to the rare grownup who comes in specifically for the story and will accept any edition available.
At the NEIBA trade show, I did see a cover from Wordsworth Classics that at least looked younger and brighter: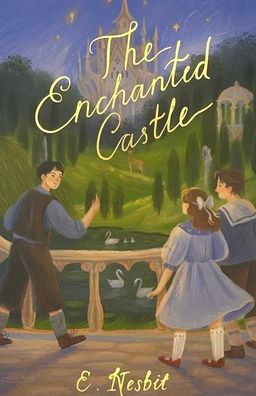 I do like this cover, but wish it had some people on it, or some action hinted at. Because this book is now in the public domain, there are several versions out there from various publishers, but all of the covers show only a bare castle.There's no STORY in those covers, and most of the images don't invite one to explore within. Where are the children? Where is the sense of adventure and fun, sparkle and twilight and moonlight spookiness? The story is so full of intriguing magical events  and items that a great cover shouldn't be hard to design.
Those are two of my top re-design wishes. Booksellers, teachers, and librarians, what books do you love but find to be a hard "handsell" to children because of their covers?