I spent the weekend visiting my brother's family in Chicago. As I'm wont to do, I spent some time at a local independent bookstore. I love doing this when I travel. There is something really fun for me in seeing other stores. I walk into a store and marvel at other ways stores are set up, how they merchandise sidelines, and the depth of inventory.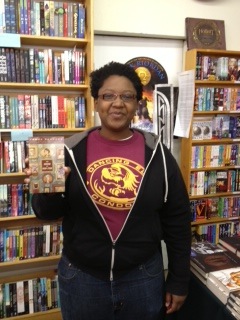 I was lucky to spend my time at a store I've always wanted to go: Women and Children First. My sister-in-law, Sara, and niece and my four-month old nephew and I showed up at 10:45, not knowing that they opened at 11am. We grabbed a coffee and then we were the first people in the store. And then something wonderful happened that every bookstore owner loves to see: within five minutes of opening the store was brimming, literally completely full of customers.
As if the inviting, full store weren't enough, I met a wonderful bookseller, Selina, who is the reason indies are still thriving. Sara is working on a YA novel with a dystopian theme. I wanted to show her some books that buck the current dystopian trend. She immediately grabbed one of her favorite books, The Order of Odd-Fish, and started to book talk it. She spoke eloquently and with passion. I wholeheartedly bought the book just based on her joy about being able to talk about it, knowing it was the exact right book for my sister-in-law.
Selina clearly loves books and was a delight to talk to. She, and other staffers like her (everyone at Women and Children First was great), are what make indies different from shopping online or chain stores. As I was leaving we were talking about the big events the store has. They were gearing up for Diane Ravitch this week. They were expecting 500 at the event. The last thing I heard was that Diane had to cancel because she ill. I watched as the very well-oiled machine was about to kick into high gear to do what needs to get done when a huge event gets cancelled less than a week before its scheduled date.
I left the store happy to have been there and to have talked to Selina, and also secretly happy that I was on vacation and could just revel in being able to go to lunch where we all read our new books.