The answer is, of course there is a market for midlist (that is, not bestselling but solid) titles — but is that market growing or shrinking? I've been in this field a long time, and I can't tell. It feels a little like the economy: the top few percent of books receive a wildly disproportionate percentage of sales (and reviews, and publicity). There's been a consolidation of outlets for books — from perhaps 4,000 independent bookstores in the U.S. a couple of decades ago to less than half that now, as well as the loss of Borders handing even more sales, presumably, to Internet traffic controlled largely by one vendor — and a shrinking of book review avenues in print sources, as well. In terms of publicity, it seems to me that more publishing dollars are going to fewer big books, while smaller books are left to fend for themselves more than they were a decade ago.
On the other side of the balance sheet is the explosion of social media and the attendant promotional avenues, which allow authors (and publishers and booksellers) to reach greater numbers of readers directly.
It's hard to know how all of these factors counterbalance one another.
I think about this question often. It comes up when I encounter books I love, books that are easy to handsell to customers but which, for whatever reason, never quite convert into what I think of as "household name" books. For instance, John Himmelman's utterly adorable Katie Loves the Kittens.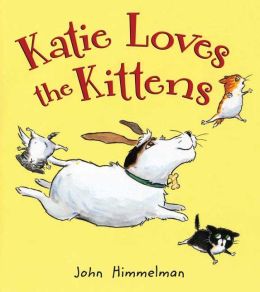 This book charms the socks off everyone I show it to. It's about a dog who positively vibrates with joyful enthusiasm when her people bring home three little kittens to join the family — but whose exuberance goes awry, scaring the kitties and giving the humans the wrong impression that she dislikes them — again and again.

The story is perfect for young kids. It's got all the right elements: coziness, humor, heart, a little suspense and worry before the perfect resolution. It's a winner of a book, and it's the kind of picture book I dread going out of print because its sales may be good but not
New York Times
bestseller good. (
Katie and the Kittens
is a Junior Library Guild selection, so it may have blockbuster sales in that regard. I certainly hope so!)
How has the midlist book market changed in the past 10 or so years? What do those of you in the know — publishers, editors, longtime midlist authors — think is the state of the midlist book at the moment?