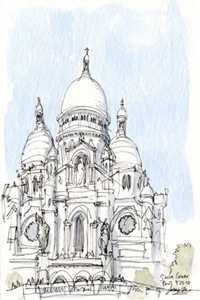 What with BEA interrupting our routines last week and me playing post-honeymoon catch up, I am finding far too little time to write up posts about either trip. I have, in fact, been so busy that until last night I had no idea what an amazing job my husband (illustrator/graphic novelist Gareth Hinds) has been doing of recapping our honeymoon on his blog!
One quick note: I met a lot of ShelfTalker readers at BEA who knew that I'm married to a guy named Gareth but weren't aware (until they met him) that he illustrates books. That's the fault of my feeling it would be downright obnoxious for me to link to Gareth's website or use his full name every time I mention him in a husband context. It would be like putting air quotes around his name every time I said it in conversation, or following every mention of his name with "You know — my husband? Gareth HINDS? Candlewick has published his graphic novel adaptions of Beowulf, The Merchant of Venice, King Lear, and The Odyssey, which is coming in October, is truly wonderful, will appeal to readers of all ages, and will be welcomed with open arms by every teacher who has ever had to introduce his/her students to Homer? Yeah. That's him!" I'm afraid that, in general, that just isn't my style! Now that I've done it once, though, you should all be up to speed.
In any case, while you wait for me to tell you more about our European adventures (the book-related bits, at least) and/or BookExpo trip, take a look at Gareth's blog, which at this point covers the entirety of our week in Paris and will soon also include recaps of our week in London. All of the drawings/paintings you find there were done by him, and the photos (with just a few exceptions) were taken by me.
If you start reading from the blog's main page be sure to click on the "continue reading" link to see a post in its entirety. To read the Paris posts in chronological order, you can follow these direct links:
Do you have favorite Paris spots that we missed in our travels? If so I'd love to know what they are, so I can add them to the roster for next time (whenever that might be)!