I was helping a family from Montreal find fantasy books for their three children, when longtime Flying Pig friend Suzanne F walked up to the counter. I hadn't seen her come in, and she was moving oddly, hurrying but careful. Her arms were curled around her lower stomach, supporting a bulging sweatshirt. She looked ten months pregnant with big lumps. Before I could say "What the wha–?", Suzanne carefully maneuvered herself to the counter and unfurled the bottom of her sweatshirt so that three puppies tumbled out onto the counter. (Okay, they didn't actually tumble. All three were on their feet.) Quick little girls, all of them; we had a job keeping them on the counter.
Knowing that Josie and I were missing our dog, Theo, Suzanne had decided we needed what we at the bookstore call a puppy-by, which is basically a drive-by visit involving puppies. We love a puppy-by! This was the first outing away from their mother for these four-week-old little female pups. For a small bitch, she had a big litter: nine pups!
We decamped outside so the puppies could play on the grass. The family from Montreal came, too, and two of the kids plunked down and sat with their legs outstretched, feet touching to make a playpen for the baby dogs.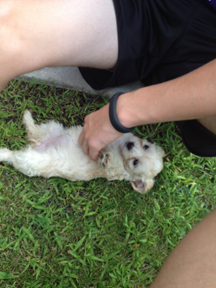 Is there anything more joyful than playing with puppies? I think not. The puppies stopped traffic, they were so cute, and people eating outside at the restaurant next door came over to the siderail for a closer look when we walked by, taking the pups back to Suzanne's car.
This is the kind of surprise that makes living and working in a small town so delightful: the thoughtful gestures of people who become part of our lives through the bookstore.
It looks as though the good karma Suzanne earned by bringing in the puppies for a visit is already starting to pay off. All nine puppies in the litter are up for adoption (the mom was a rescue), and before Suzanne left with the furballs, she already had two or three families interested. The Montreal family even added Suzanne's contact info to their phone, so we're crossing our fingers that they'll call.