Yesterday, I flew back home from New York City. Every time I fly, I try to pay attention to what people are reading. I'm sorry to report, that no one seems to be reading physical books. Kids and parents alike are glued to their mobile devices. While kids seem to be enjoying themselves, the parents look a little frazzled. I guess it's hard to play Candy Crush and keep your eye on toddlers.
But when I flew down to New York on Jet Blue I noticed something very interesting. There was a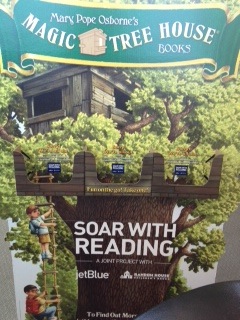 cardboard dump that featured a Magic Tree House Pass to Adventure. These little passports are an ingenious partnership with JetBlue and Random House. They encourage the kids to read all the Magic Tree House books and fill in their passport with the abundant stickers found in the booklet. There are connect the dots, geography games, logic games and some coloring pages. It's a fun little activity book. That comes in a very colorful dump.
Yes, this smacks of blatant commercialism and at first I was a tiny bit horrified at pitching this to kids. But then I started thinking about it. Kids get a booklet that's fun all by itself. There's no pressure to buy a book, but what kid isn't going to want to start reading about Jack and Annie to learn more. And kids who've read the books feel no pressure to buy anything. The thing that charmed me about this display because so many kids said, "I have those books!" This might be the best part of this — there is something about recognizing things from their home life that calmed down the many kids who saw this at the airport.
I was only at two airports, and there were very few passports left in the display. I asked a JetBlue employee about these and he said, "The kids just love these. They run right toward it when they see it." This speaks to the power of branding for kids and I mean it in a good way. Nothing makes a kid happier than seeing something familiar. I did witness a small hissy fit averted because the family was able to get a passport. I watch the two sisters sit calmly go through the booklet talking about all the books they've read. They calmed down, they stopped looking at electronics, and they had pretty good conversations about the books. The parents looked thrilled when they peeked at them over their phones.