Yesterday we hosted the PBS Kids Go! Writers at our store. Every year our local PBS station runs a writing contest for elementary school kids in Vermont. Each of the children had written and illustrated their own story and submitted them to PBS earlier in the year. Seven writers from first through third grade came to the store to read their stories aloud. They came with their families to celebrate their writing.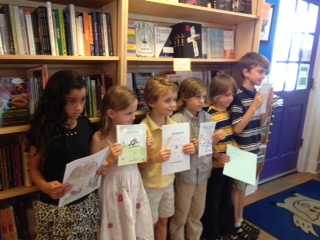 Part of the celebration that's always fun for me is to see the different approaches kids have when they read aloud. Nerves were a factor for all but one child. Grayson (all the kids' names have been changed), a very outgoing third-grader, read like he's been doing this his whole life. His story, about a cowboy and a sombrero, was complex and full of dialogue. His voice was strong and clear and he even added a few steps like a pony at the end to show how the cowboy left town.
The first boy, Adam, read as fast as he could with his head down. At the end of his reading he picked his head up and whipped through his book showing us the pictures he had drawn. Then he practically catapulted back to his seat. Then a girl, Kiki, who had gotten her story bound in a small hard cover, got up to read. Her mom came with her and Kiki got the biggest case of stage fright that rendered her practically mute. We all gently nudged her, but she would have none of it and sat back down. Kiki tried again, and again she hid behind her mother. I suspect she might have gotten spooked by Dad's massive video camera. I know it would have thrown me.
What struck me about these young writers was how good their stories were. There was one about a flying pencil with activity issues read by a quiet boy with a slight lisp. The ninja story written by Matt was a little hard to follow, but the drawings were amazing but not seen until the end. These kids were all under nine and to read in front of strangers, in their Sunday best clothes, can be really daunting.
And the reading ended with Kiki standing to the side of her mother in front of the crowd with her book fully obscuring her face while she read her story. But her case of stage fright ended with a wry smile when she read her author note and then waited several long seconds before saying, "The End."