One of the things I like best about owning a bookstore is getting galleys in the mail. I never know what lovely discoveries await in the boxes. Sometimes, galleys come with things. Once books were wrapped in feathers (not my favorite galley mailing, as they seem to have disintegrated during shipping). Sometimes galleys come with chocolate, always a staff favorite. Usually though, the mailings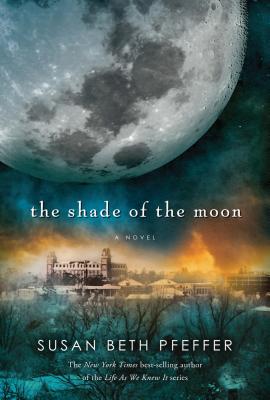 are not useful, until the galley for Susan Beth Pfeffer's The Shade of the Moon came last week from HMH.

I have to confess that the arrival of this galley actually caused me to do a little Snoopy dance. I just love this series, it started with one of my favorite books, Life As We Knew It. The concept is so simple: what would happen if the moon were struck by a meteor with such force it knocked it off its orbit? Lots of things happen. Things that make the reader want to stock a survival kit in the basement and ensure they have lots of firewood for the weather-related almost-nuclear winter that ensues.  All the books in the series are just as compelling as the first, and if the first 100 pages of the new book are any indication, this is going to be another winning entry.
The galley came in a small box with the book and a survival kit. At first I thought, really, a kit? And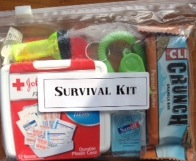 then I opened it. How practical is all of this stuff? I live alone in the country, and this is all very useful. The Clif bar is always helpful when I forget to get food, or eat breakfast. The whistle, well, that can scare bears, right? Matches are always helpful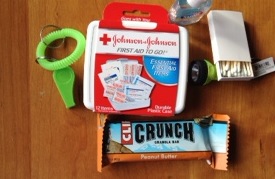 when the power goes out. The first aid kit is fabulous and chock full of things to help me when I do something silly, like burn myself with the matches during the blackout. Then there's hand sanitizer which is also useful when there's no power and there's no water.
And the best part about this kit is the book, which I cannot put down.