Well, you CAN get this online, strictly speaking, since you're reading ShelfTalker, but let me tell you, the real live moment was sublime. There I was, having just parked at the Flying Pig, when I got out of my car and spied the following across the lot: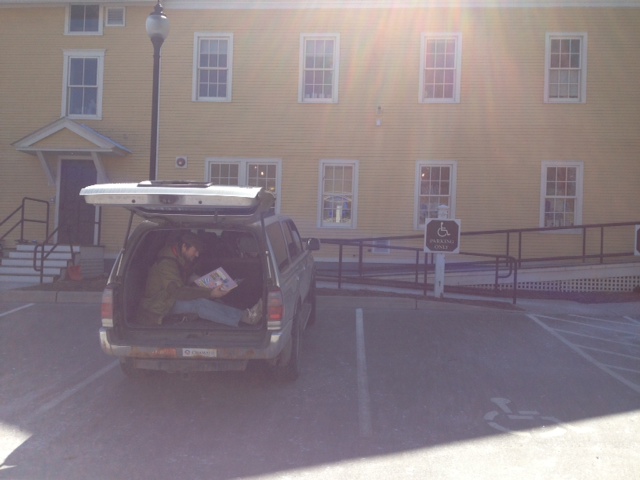 "Hey, Elizabeth!" called the grown man reading a picture book in the far end of his hatchback. "We just got this at your store and are waiting for the rest of the gang." As I got closer, I recognized one of our lovely regular customer dads, M, hunkered down with his toddler reading Cars and Trucks and Things That Go. He explained that they had lost their former copy of this favorite family book in a basement flood and had been yearning for it. While his wife and older son were doing a little more shopping at the store, M and his littlest one came back outside to cozy up with the book.
Small moments like this make me SO happy to be a neighborhood book store. I love that people grab stolen moments — even while running errands — to read with their little ones. I love that we can help replace losses from flood and fire. And I love that on any given day, someone might call out, "Hey, Elizabeth!" in a parking lot to share their love of a good book.
(Photos posted with permission of M, his toddler, and their dog.)