Children's bookstores are in a unique place for sidelines. Because most children come to the store in the company of an adult we have a captive audience. While most children are delightful, many parents like to browse the store without their kids following them around. Time is limited for this kind of browsing, so we make the section fun and easy to browse while still keeping an eye on the little ones.
The first attraction of adult sidelines are the greeting cards. I realized last week how much people love the New Yorker cards. We had just restocked the cards and people started stocking up like they'd never be back in again. Having good card lines can really help a bookstore's bottom line. People often don't think anything of buying six to eight cards at a time and with a better discount than books, the profit margin is excellent. And it's easy to display lots of cards in a small space, thereby increasing the odds you'll have a card that customer will love. The other really great thing about cards is they keep people in the store longer. I love nothing more than listening to people laughing over the New Yorker cards. The cartoons are captivating and friends swap cards back and forth sharing the joke.
We are lucky to have found this next sideline. They're felted nesting bird houses from Dzi. I saw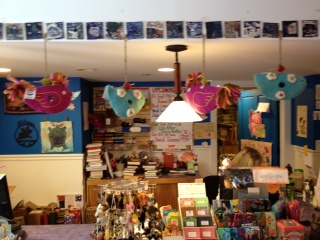 these at the New York Gift Show over the summer and we took a chance on them. They're made in Nepal by artisans earning a livable wage. So it's a win-win for everyone: a unique gift that does good work. People loved these the minute we put them out with a delight that was infectious. As one person would buy someone else would ask what it was and then the purchaser's enthusiasm created another sale. Folks bought six of these for the holidays to give as gifts to their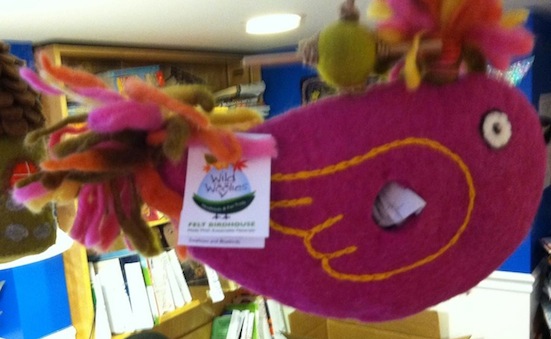 bird-loving friends. Parents bought them to hang in their kid's room, artists put them in their studios. They are so lively and bright that they immediately brighten up the store and by hanging them by the register people have to walk the length of the store to see them up close.
The last great adult sideline that's really fun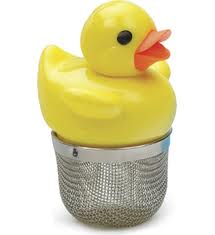 to carry is the Tea Duckie. It's for tea lovers with a sense of fun. It's a tea infuser that's a rubber duck who floats in the cup. It's simple, adorable fun. Since many readers seem to be tea drinkers, it's a natural pairing for a bookstore to stock. These little guys are very reasonably priced and they made wonderful stocking stuffers as well as hostess gifts. And really, they're just cute.
Sidelines need attention. They have to arranged in a way that's visually appealing. The display needs to change frequently to keep things looking fresh and new. The allure of good sidelines are they bring people into the whole store and if you're the store that introduces them to something they've never seen before, you've made a repeat customer who will expect that every visit. That's the challenge of sidelines, and the fun.