I noticed yesterday while I was walking the very crowded show floor that the size of the totebags being given out are just enormous. I am not a fan of large totes. Especially when the totes in question are half the size of the person carrying the bag. It seems to me that by 11 am the first day only the most ardent, galley grabbing show goers could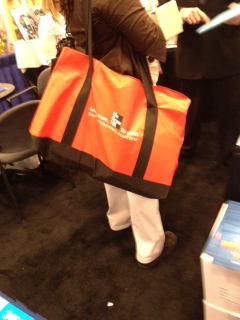 fill their bags. And most of the bags I've seen were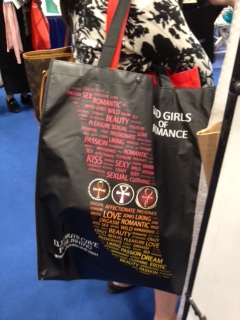 full, some ridiculously so.
I think the rule of thumb for tote giveaways is they shouldn't also be large enough to double as a weekend bag.
I always marvel at the stamina of folks who can carry an overloaded tote bag all day at the trade show. I don't pick up anything anymore, unless it's unique. A tote with posters reveals a first timer to the show. Everyone knows posters become shredded paper by the end of the day.
So, on my first day of walking the floor I was struck by the bags, the sheer number of people, and the lack of books in many of the big publisher's booths. As disappointed as I was by the lack of books, I was awfully impressed by how good the light boxes with covers looked.