Readers outside the publishing world may not know that Tuesday is almost always the official release day for most traditionally published books. It's the perfect day to release new books, because booksellers have one last chance (Monday) to order from our overnight distributors any great new releases that have slipped past our radar up to that point. It also allows any lagging shipments one extra day in the new week to catch up.
Since today's book release news will be entirely focused on James Comey's A Higher Loyalty, I'd like to take this opportunity to trumpet the children's books born today that may not hit news channels quite as notoriously.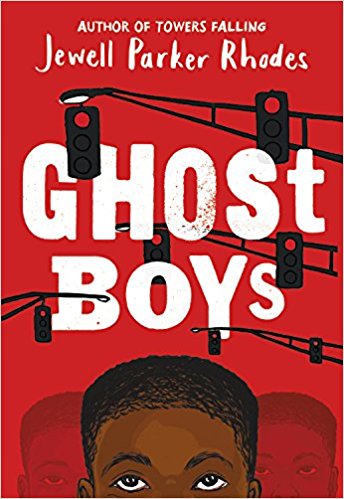 Ghost Boys by Jewell Parker Rhodes (Little, Brown) is a powerful middle-grade novel that begins just after the shooting of a 12-year-old Black child by a white officer. The ghost of the boy, Jerome, observes the aftermath of his death—a disgracefully familiar tragedy—and encounters the ghost of Emmett Till, who eventually shares his own harrowing story with Jerome. It may sounds like a hard book to sell, at least to adults; many parents will think the topic is too intense for 11- and 12-year-olds. But kids hear about these events all too often in the news, and many, many kids live these events, and here is a sensitive, piercing, powerful portrait of a family bravely facing the worst of our nation—a pattern of casually treated violence against our own brown children—a centuries-old pattern that must finally be broken. It's amazing that Jewell Parker Rhodes treads this difficult ground so successfully with simplicity, warmth, honesty, and even hope and humor along with the heartbreak.


I haven't had a chance to read artist Alison Oliver's authorial debut picture book, Moon (Clarion), but I am truly over the moon about its cover art. The Publishers Weekly review says, "Moon has purple skin, long black hair, and a daunting list of responsibilities–soccer practice, trumpet lessons, etc. She wants more ("To run. To yell. To be wild"), and a nighttime visit from a wolf answers her yearning. The wolf leads Moon to its pack, and they show her "the wolfy ways. […] Plenty of stories assure readers that nature is worth exploring; this one suggests that it has the power to change them." I can't wait to read it today!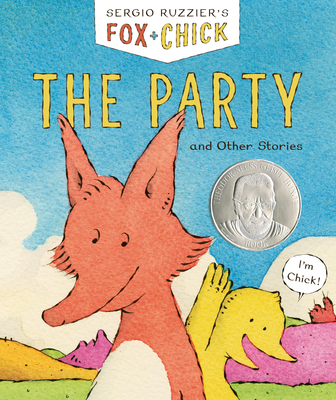 Early reader series seem to lend themselves to friendship duos. Frog and Toad, George and Martha, Mr. Putter & Tabby, Henry and Mudge, Bink & Gollie, Elephant & Piggie, Rabbit & Robot, Ling & Ting, Zelda and Ivy, Ballet Cat and whichever friend she is helping out in that book, and so on, continue to captivate young readers with their friendship antics. Sergio Ruzzier's Fox & Chick: The Party & Other Stories (Chronicle) is the newest entry in this grand tradition, featuring a long-suffering fox, his sometimes problematic but still-loved best friend, and their misadventures, told via a playful early-reader-graphic-novel style, colorful and fun. (Kids who love this should also check out Sarah Dillard's Extraordinary Warren Saves the Day.)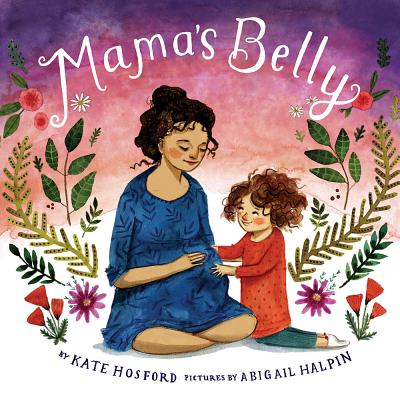 It seems we can never have enough books about anticipating a new sibling, especially stories that are happy and reassuring. Many of our favorite new-sibling books are the funny ones that help older siblings deal with their conflicting feelings about the new addition, like Julius, the Baby of the World by Kevin Henkes, You're the Boss, Baby Duck by Amy Hest, The Other Dog by Madeleine L'Engle, Emily Jenkins' That New Animal, Martha Alexander's When the New Baby Comes, I'm Moving Out, and so on. So it's wonderful to be able to add Mama's Belly to our new sibling shelf. It's a lovely book by Kate Hosford and Abigail Halpin that's filled with an almost-big-sister's questions about what it will be like to have a little sister, and her mother's gentle, patient, loving answers.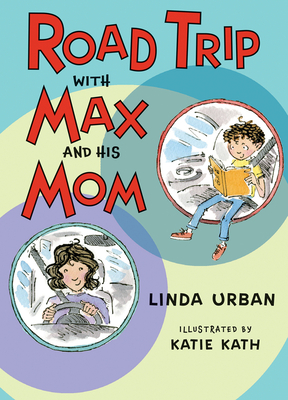 Some MG writers have a perfect affinity for elementary school students, able to speak their language and inhabit their worlds so naturally it feels effortless. They create friendly, cozy worlds that navigate the world of childhood concerns with compassion and humor. Linda Urban, friend and fellow Vermonter, is such an author. Her new book is Road Trip with Max and His Mom, illustrated by Katie Kath (HMH), a follow-up to the first in the chapter book series, Weekends with Max and His Dad. In this installment, a road trip to Michigan with his mom to celebrate his great-great-aunt's 100th birthday at an amusement park—an exciting adventure—also means that Max won't get to be with his dad for the weekend. Fortunately, Max can approach the trip like one of the explorers he most admires, Ernest Shackleton, and turn his own adventures and misadventures into a grand adventure they all survive.
I wish I could tell you a little about each of the fun and fine books coming out today, but it's 1:00 am and I am punchy. Here is a round-up of April 17 book babies. (I hope you click through, because there are some gorgeous books in this list!)
The Golden Thread: A Song for Pete Seeger by Colin Meloy and Nikki McClure (HarperCollins/Balzer + Bray)
The Dangerous Journey: A Tale of Moomin Valley by Tove Jansson (Drawn & Quarterly)
One Day a Dot: The Story of You, the Universe, and Everything by Ian Lendler, Shelli Paroline and Braden Lamb (First Second)
Howl Like a Wolf!: Learn to Think, Move, and Act Like 15 Amazing Animals by Kathleen Yale and Kaley McKean (Storey)
Hidden in Nature: Search, Find, and Count! by Agnese Baruzzi (Sterling)
Alphabet Boats by Samantha R. Vamos and Ryan O'Rourke (Charlesbridge)
Wedgie & Gizmo vs. the Toof (Wedgie & Gizmo #2) by Suzanne Selfors and Barbara Fisinger (HarperCollins/Katherine Tegen)
The Battle of Junk Mountain by Abbey Lauren (Running Press)
Every Shiny Thing by Cordelia Jensen and Laurie Morrison (Abrams/Amulet)
Explore the Salish Sea: A Nature Guide for Kids by Joseph Gaydos and Audrey D. Benedict (Little Bigfoot)
Right Now by Jessica Olien (HarperCollins/Balzer + Bray)
Deep Water by Watt Key (Farrar, Straus and Giroux)
Thisby Thestoop and the Black Mountain by Zac Gorman and Sam Bosma (HarperCollins)
A Friendly Town That's Almost Always by the Ocean! (Secrets of Topsea #1) by Kir Fox, M. Shelley Coats, and Rachael Swanson (Disney-Hyperion)
Jolly Foul Play (Wells & Wong Mystery) by Robin Stevens (Simon & Schuster)
Curveball (Jeter Publishing) by Derek Jeter and Paul Mantell (S&S/Paula Wiseman)
If Wendell Had a Walrus by Lori Mortensen and Matt Phelan (Henry Holt)
Someone Farted by Bruce Eric Kaplan (Simon & Schuster)
Science Comics: Sharks: Nature's Perfect Hunter (Science Comics) by Joe Flood (First Second)
The Fish and the Cat by Marianne Dubuc (Princeton Architectural Press)
My First Book of Lacrosse: A Rookie Book (Sports Illustrated Kids Rookie Books) by the Editors of Sports Illustrated Kids (Sports Illustrated Kids)
My Worst Book Ever by Allan Ahlberg (Thames & Hudson)
The Girl with More Than One Heart by Laura Geringer Bass (Abrams/Amulet)
Don't Ask a Dinosaur by Deborah Bruss, Matt Forrest Esenwine, and Louie Chin (POW!)
Tim's Goodbye by Steven Salerno (Farrar, Straus and Giroux/Margaret Ferguson)
Angry Birds Comics: Furious Fowl (Angry Birds) by Paul Tobin (IDW)
Roar: A Dinosaur Tour by Michael Paul (Crown)
Running Through Sprinklers by Michelle Kim (Atheneum)
The Case of the Perilous Palace (Wollstonecraft Detective Agency, Book 4) by Jordan Stratford and Kelly Murphy (Knopf)
Let's Investigate with Nate: Dinosaurs (Let's Investigate with Nate #3) by Nate Ball and Wes Hargis (HarperCollins)
Over at the Construction Site by Bill Wise and Claire Lordon (Sterling)
Atomic Frenchie: Sit. Stay. Rule. by Tom Sniegoski and Tom McWeeney (Insight Comics)
Outlaws of Time: The Last of the Lost Boys (Outlaws of Time #3) by N.D. Wilson (HarperCollins/Katherine Tegen)
Shadow Call by Michael Miller and Adrianne Strickland (Delacorte)
I Want Your Smile, Crocodile by Denette Fretz and Jackie Urbanovic (Zonderkidz)
Beauregard in a Box by Jessica Lee Hutchings and Srimalie Bassani (Flowerpot Press)
Build It! Trains: Make Supercool Models with Your Favorite Lego Parts (Brick Books) by Jennifer Kemmeter (Graphic Arts Books)
Honey Moon Shiver by Joyce Magnin (Rabbit Publishers)
Baeoh and the Bully (Team Taekwondo #2) by Master Taekwon Lee, Jeffrey Nodelman, and Ethen Beavers (Rodale Kids)
Star Wars: A New Hope – The 40th Anniversary by Jess Harrold and Greg Land (Marvel Comics)
Build It! Dinosaurs: Make Supercool Models with Your Favorite Lego Parts (Brick Books) by Jennifer Kemmeter (Graphic Arts Books)
Build It! Sea Life: Make Supercool Models with Your Favorite Lego(r) Parts (Brick Books) (Brick Books) by Jennifer Kemmeter (Graphic Arts Books)
The Ring of Honor (Secrets of the Seven) by Sarah L Thomson (Bloomsbury UK)
All About China: Stories, Songs, Crafts and Games for Kids by Allison Branscombe and Lin Wang (Tuttle)
All About Korea: Stories, Songs, Crafts and Games for Kids by Ann Martin Bowler and Soosoonam Barg (Tuttle)
Star Struck (Ladybirds #4) by Jenny McLachlan (Feiwel amd Friends)
Zak and His Little Lies by J. Samia Mair and Omar Burgess (Islamic Foundation)
My Vacation Scrapbook (Lonely Planet Kids) (Lonely Planet Kids)
The Pirate Ghost (Hardy Boys Clue Book #7) by Franklin W Dixon (Aladdin)
I Can Eat with Chopsticks: A Tale of the Chopstick Brothers and How They Became a Pair – A Story in English and Chinese by Lin Xin (Reader's Digest)
My Vacation Drawing Book (Lonely Planet Kids)
Guess How Much I Love Indiana (Guess How Much I Love) by Johannah Paiva and Mark Kummer (Flowerpot Press)
A Prince and His Porcelain Cup: A Tale of the Famous Chicken Cup – Retold in English and Chinese by Li Jian (Reader's Digest)
Giant Mazes: Search, Find, and Count! by Agnese Baruzzi (Sterling)
Sea Story (Brambly Hedge) by Jill Barklem (HarperCollins)
***
HAPPY BOOK BIRTHDAY, everyone!