Elizabeth Bluemle has been my best friend for 20 years. We've owned the store for 17 of those 20 and yesterday we threw her a party. Here's what you might not know, when she's not busy working at the store, doing our graphics, teaching writing classes, she's working on her own writing. Dogs on the Bed is her second book of three books, and it just came out in paperback.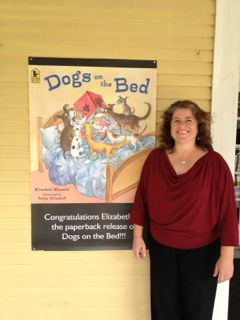 The book is a rhyming romp through one evening of the family dogs deciding that the only way they can sleep is if the humans forsake their beds. The meter is infectious and the examples, oh so true. The art is humorous and anyone with a dog will recognize the doggie pouts as they are denied the bed. As a dog lover (and someone whose dogs were the impetus for the book) the book just makes me laugh.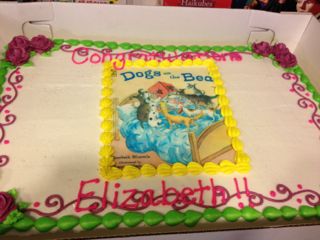 Friends and family streamed in and got a  piece of cake and perhaps a dog treat while Elizabeth signed books. This was a preview of what's going to happen in March when her fourth book, Tap Tap Boom Boom, comes out in hardcover.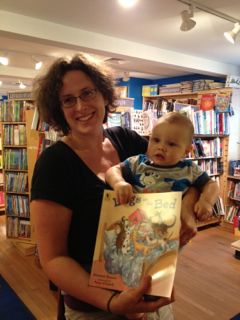 One of the great things about our location is its proximity to authors. We were thrilled to see Dayna Lorentz pop by with her son, Josh. Dayna will be doing an event with us later this month for her newest book, No Easy Way Out. Though a little young for cake, Josh thoroughly enjoyed the book. It was a great day. And even our dog Ink got a tiny piece of cake.