The leaves changing color isn't the only joy of autumn.  There is also the stunning array of new books coming out. This week was a banner week for kids' books. We unboxed so many books we couldn't shelve before Tuesday, that we had our whole back counter full to bursting with September 4th release dates.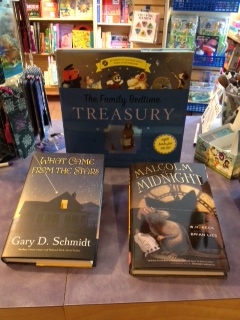 Houghton Mifflin-Harcourt had some yummy books that I was desperate to shelve. The first book that I adore is The Family Bedtime Treasury: Tales for Sleepy Times and Sweet Dreams. Normally  I'm not a fan of picture book treasuries because the art is reduced and often the text is abridged. Not so with this collection – it contains eight stories complete with musical or poetic accompaniment on CD that comes with the book. The books chosen are among my favorites ,ranging from The Quiet Book, Tell Me Something Happy Before I Go to Sleep, and Bedtime Bunnies. A book like this is perfect for grandparents to have in the house. This way, they'll always have eight great sleepytime stories to read to visiting grandkids.
Of course the middle-grade fiction is great as well. It's always a good season when Gary Schmidt has a new novel out. This time he combines high fantasy with realistic fiction with What Came From the Stars, as our protagonist grieves for his recently deceased mother. This book should appeal to Schmidt fans as well as garner him some new fans who love fantasy.
There's also Malcolm at Midnight by first-time author W.H. Beck, illustrated by Brian Lies. When Brian came to the store he talked about this book and it sounded great. I'll confess, I haven't read this one yet, but any book about a classroom rat, an iguana who wears glasses, and a case of mistaken identity has just moved to the top of my bedside stack.
HarperCollins had an equally impressive stack of books that came out on Tuesday. It's not every day that Sharon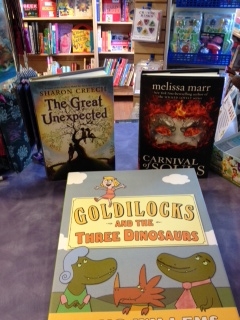 Creech, Mo Willems, and Melissa Marr come out with new books. I saw these three in the shelving pile and thought, Ooh, something for everyone.
Sharon Creech has once again delivered a gem of a novel. It's easy to forget how good she is until I read her and then I'm blown away. Her writing is simple and eloquent, and this story about how we're all connected is just beautiful. Creech makes multiple story lines work with a touch of Irish fairy magic, ghost stories, and tales of murder.
Melissa Marr introduces readers to a new series with her latest, Carnival of Souls. It's always fun for me to have a new book by her to give to teenage girls and boys as well. This book has a little of everything: daimons, fighting, a very tight caste system, and a great lead character, Mallory, who has been raised by a witch. Marr, like Creech, has a talent for blending multiple story lines seamlessly.
The last book from Harper is from Mo Willems. He has a very funny retelling of the classic tale Goldilocks, this time it's Goldilocks and the Three Dinosaurs. The book is full of humor, and almost every page has a laugh-out-loud visual and just some flat-out funny passages. My favorite page is when one of the dinosaurs is laughing in Norwegian (why?). I love the randomness of that, and I think kids will crack up at it. In this story the hapless Goldilocks ignores all warning signs until she wises up and runs out the back door. She knows she's supposed to be in the folktale and when she realizes that this version has dinosaurs and not bears, she hightails it out the back door.
These books are just a smattering of the yumminess that's been coming this fall. This season looks to be chock-full of great books that I can't wait to sell.