It's been a busy week at our store, and the fur and feathers are flying (literally.) On Monday I celebrated a birthday – one of the "speed limit" numbers (think county highway, not school zone) and in our store tradition, donned the first of several dozen birthday hats that I will wear all month. The collection has grown over the years, and now includes an autographed Colts hat, one from our friends at the Naptown Roller Girls, and an impressive group of tiaras (with and without feathers) which were handed down from young customers when they "graduated" princess stage and moved on to earbuds as a permanent fashion accessory. As adults, I think we often soft pedal birthdays, perhaps from modesty (no, really, don't make a fuss…) and perhaps from a bit of foreboding about aging. Children have no such emotional restrictions, and birthdays are anticipated, announced, and celebrated. It's common for us to ask the birthday child at a party whether today is "their REAL birthday, or just a 2nd, or 3rd one" as they might celebrate the actual day of their birth with their family, another day at school as "person of the day,"  bring treats later in the week to dance or scouts, host a party (here, we hope!) that weekend, and then see their grandparents from out of town during the month. How great is that? We might all celebrate our lives with such ceremony and occasion, not to mention cupcakes. We ask our staff to pick their favorite book each year on their special day, and we display it with their picture, a party hat, and a big poster-sized card for customers to sign. My favorite note this year, printed carefully in green marker, reads "hApYdiRtHbAY hoP YoU gEt BOoKs". Yes, me too.
On Sunday we host a larger, furrier event, welcoming Indiana Bulldog Rescue to our store for their "BUNNIES AND BULLDOGS" spring event. We host this group twice a year, once in the fall near Halloween, and once in the spring between Valentines and Easter. (Valentine's is my favorite, as the volunteers construct a Bulldog Kissing Booth as a fundraiser, which nets some terrific staff pics for shelf talkers.) The group is one of four or five animal rescues that we partner with, and invite to either host an adoption event or simply a public awareness day in the store. Families with children and empty nest grandparents are the golden target market for most adoption groups, and our customer base has come to expect a bit of "rumpus" in the party room. (SHOUT OUT TO WILD RUMPUS AS PW STORE OF THE YEAR! CONGRATULATIONS!)
We set aside 3 or 4 hours on a Sunday afternoon, and volunteers set up an information table and bring adoptable dogs to visit. We keep the animals separate from the main part of the store, both to respect those with allergies and those who do not wish to interact with critters, and make sure there is plenty of signage both inside and outside about the event. We are fortunate to have an event/party room at the rear of our store, and tile floors everywhere, but we have also hosted groups on the sidewalk out front under a pop-up canopy tent. (The recounting of the infamous "reindeer incident" shall be saved for another day. We're still in therapy.)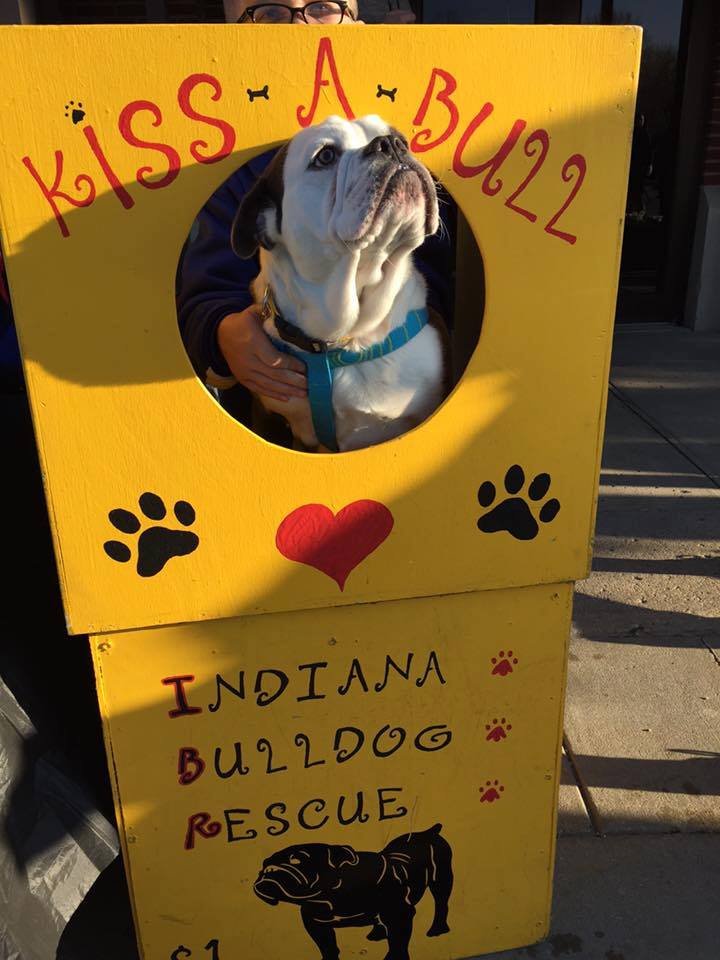 There are so many benefits to partnerships like this one, including the fact that our younger staff members actually bargain for shifts on the days we host the dogs – on a Sunday afternoon during prom season! – and willingly get out the Shop-Vac and bleach after it's over. We meet new customers who are drawn by the publicity and social media posts of the rescue group, many of whom travel from throughout the state to see a particular dog they are interested in adopting. Our own regular customers are introduced to another community resource, and the dogs have a grand day. They are petted, kissed and photographed, and savvier groups will bring a small selection of chew toys and bones that can be purchased as "gifts" for the fosters. We have watched pet adoptions begin and finalize, new volunteers emerge, and lots of children overcome anxiety about animals through the patient introduction by an understanding adult dog handler.
Although I am especially partial to bulldogs, we have also hosted greyhounds, reptiles, rabbits, and birds, all with great success (and only a small amount of random poop). Some of our younger customers have partnered with rescue groups for service and volunteer projects, and used the store as a collection point for blankets, pet food drives, and made posters at the store for annual adoption days at the local humane society. Serving as a connection point for our families and animal groups is another way that our bookstore creates community, and is cause for much celebration, with our without birthday candles.