I ask this question just about every day. Customers come in seeking books for five to seven-year olds and we often ask "are they reading?" to clarify what section of the store to find books. It is not meant as judgment. I am very quick to let folks know that I really didn't get the hang of reading until well into my eighth year, so there's no shame in a seven-year-old who isn't reading yet.
But there always is. I'm not really sure when it happened that it was expected that every six-year-old should already know how to read. The rush to be on grade-level, even if that grade is kindergarten, is rampant. More often than not the answer to the "is she reading?" is met with a very quick, "She precocious. She's just finished the Harry Potter series." Really? At six? Hmmm. I bet every bookseller hears this at least a hundred times a year.
Once I was helping a woman get a book for her son's friend's birthday. He was five. I was told he was a very precocious child. I asked if he was reading yet and she said, "Well, not yet." And I countered with, "Well, then, he's not that precocious." I waited for her to get angry with my quip. Instead, she laughed and regrouped on the book idea, settling instead for a lovely Bill Peet book. If you're not familiar with Bill Peet, go get some of his books.
From Wump World, The Whingdingdilly, Big Bad Bruce to The Caboose Who Got Loose and so many more great titles, his books are playfully illustrated long stories. There is nothing more fun tha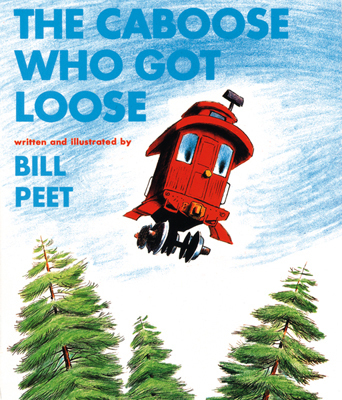 n introducing a family to Bill Peet. His picture books are text-heavy, which is a good thing to get for the older child who isn't reading yet, but feels too old for picture books. Oh, how I hate that moment when kids eschew picture books because they keep hearing that picture books are for babies. Handing a family a 48-page picture book is a gift. Peet's books are long and that only makes them skew older. Let's face it, not many three-year-olds can sit still that long.
But the reading question is one all booksellers grapple with every day. We have to ask about a child's reading level. We are not doing it to judge, we are doing it find the perfect book. Honestly, I think we should steer away from reading levels, but we can't. If a first grader is reading at first grade level why do some think that's bad? The kid is in first grade! Let them read at that level and enjoy all the books written for first graders. There is nothing, absolutely nothing wrong with that.
And I love it when people respond to the "Is he reading?" by answering, "No, he's a regular five-year-old." That response kind of puts in perspective, doesn't it?