I leave tomorrow for Dallas where I'll attend my first American Christian Fiction Writers Conference.  Christian fiction continues to grow in popularity and I'm looking forward to meeting the writers, publishers, agents and editors who are a part of this organization.  Leave a comment if you're attending and I'll try to catch up with you there.  Meanwhile, take a look at what the WW Ladies have been reading this week.
.
The Curse by Sherrilyn Kenyon and Dianna Love
Read by Anne
Evalle Kincaid's life is complicated.  She's an Alterant, half Belador and half unknown (which scares the heck out of some of the Beladors), her partner, Storm, has gone missing and now evil Svart Trolls start showing up.  She's working with VIPER to protect humans, but there are those who would like to see her locked away.  Meanwhile, she struggles to learn about her heritage.  With only 2 days to figure things out, Evalle has to ask for help from a black ops human who is no friend to her kind.  Time is running out and the battle is raging in Atlanta.
/
This is the 3rd book in the Beladors urban fantasy series.  Evalle is a strong woman who has to overcome enormous odds to stay alive and having a life of her own seem almost unattainable.  I couldn't help but root for her.  The romantic triangle between Evalle, Storm and Tristan keeps me guessing and I know who I want to be together.  I love a book that keeps me guesses and makes me crave the next book even before I finish the last.  Exciting heart-pounding action combine with an emotional rollercoaster…count me in!
//
Thieftaker by D.B. Jackson
Read by joysann
Boston in 1765 was a politically troublesome time, and, after a destructive riot destroyed homes, a young woman is found mysteriously dead, without a mark on her. Her father hires thieftaker Ethan Kaille to recover the girl's stolen brooch, believing that Ethan's discreet special talents as a magic conjurer will lead to her murderer. Ethan finds himself facing a convoluted mystery, making increasingly dangerous enemies as he goes along.
Colonial Boston makes a fascinating backdrop for an historical mystery. I found the descriptions of the streets and people of the growing new city riveting . Knowing the fears and prejudices toward perceived magic users in that time period, D. B. Jackson's book keeps a keen edge on the dangers his protagonist faces. Rough and dark and hard as the times, Thieftaker makes for a remarkably good magical mystery.
//
Rev It Up by Julie Ann Walker
Read by Kym
Four years ago, Jake "The Snake" Sommers broke Michelle Carter's heart when he shoved her away and into the arms of another man. Now a young widow and mother, she's determined he won't get the chance to hurt her again. Jake is equally determined to win back the only woman he's ever loved. When Michelle and her young son are threatened by an enemy of her brother's, she's forced to accept Jake's protection, and he has no qualms about taking advantage of the opportunity to get close to her.
Rev It Up is the third in Walker's "Black Knights Inc." series, and though I'm not a motorcycle aficionado, the series seems to be just the kind I enjoy. The book works well as a stand-alone, but Warren refers back to previous story lines and sets up future books just enough to make you want to read them. My advice? Jump on and take 'em for a ride!
//
The Other Countess by Eve Edwards
(Young Adult)
Read by Sophie, 17

The Lady Eleanor Rodriguez, Countess of San Jaime and affectionately known simply as Ellie, is a young girl of sixteen whose Spanish mother gave Ellie her high-ranking title before passing away and whose father, Sir Arthur, is an alchemist, hell-bent on figuring out how to turn iron into solid gold, despite failure upon failure.  William Lacey, Earl of Dorset, has, at age eighteen, been the Earl for four years, since he lost his father at age fourteen and, as his first official act, threw out the alchemist on whom his father spent the entire family fortune and the alchemist's brat of a daughter.  Four years after this unfortunate event, both families still have no money when Ellie meets Will at Her Majesty's court and realizes that he has no recollection of who she is—instead, he sees a beautiful young lady and asks if he may wear her colors while jousting, a sure sign that he finds her far more enchanting than he did four years ago. But when Will finds out who she really is, he is outraged first by the fact that she didn't tell him and then because he realizes that even though the beautiful and rich Lady Jane as agreed to marry him, he wants nothing more than to promise himself to Ellie and Ellie alone, to marry her and figure out another way to save his estate—an overwhelming truth that could put his everything he knows in jeopardy.
Eve Edwards writes with so much emotion and detail that I often had to shake myself to keep from feeling as though I had literally been dropped right into the middle of Will and Ellie's story.  The characters, too, were so intricate and dynamic that I loved every one—except the ones I loved to hate, of course!  In short, I loved The Other Countess, and would readily recommend it to anyone who enjoys historical romance and other similar genres.
.
Death by Diamonds by Annette Blair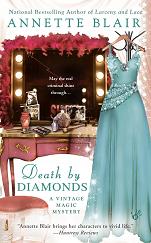 Read by Joan
Maddie Cutler has opened her vintage clothing shop in Mystic Falls and things are going well until Dominique Delong, Broadway star and Maddie's good friend, sends her a package containing a beautiful dress covered in rhinestones. The note enclosed tells Maddie that if she has the dress then Dom is dead. Dominique knows Maddie's secret, that some vintage clothing speaks to her and gives her glimpses into what happened to the wearer, and Dominque wants Maddie to solve her murder.
This is the third book in the Vintage Magic Mystery series and it's a fun read that keeps moving. I have thoroughly enjoyed all of these books about Maddie and her special talent, and I'm excited about reading the following two books in the series so far, Skirting the Grave, and Cloaked in Malice.
//
All Spell Breaks Loose by Lisa Shearin
Read by joysann
Raine Benares possesses and/or is possessed by the powerful, magical, sort-of-sentient soul-stealing stone called the Saghred, and they are not getting along. In fact, the Saghred would like to change its partnership to a powerful goblin sorcerer who plans to take over the world, annihilating the elves, but Raine has to die first, which she has no plans to do. So Raine and her faithful and beloved friends, and an enemy or two, face a horrendous battle for possession of the stone that can end only one of two ways.
I've loved the Raine Benares series from the first book, with Lisa's endearing characters, humorous word play, and lots and lots of magic. All Spell Breaks Loose is action-packed and spell-binding, and thoroughly enjoyable.
.
.
Ingenue By Jillian Larkin  (Young Adult)
Read by Sophie, 17
Lorraine Dyer has finally become successful—working for the mob, that is, and trying to lure in her ex-best friend, Gloria Carmody, and Gloria's boyfriend, Jerome Johnson, whose relationship is on the rocks and who are running from the mob after Gloria killed one of their men to save Jerome's life.  Vera, Jerome's little sister, and Evan, one of Jerome's old friends, are trying desperately to find Gloria and Jerome to warn them about the hit man (woman?) who Vera just witnessed killing Gloria's ex-fiancée, Sebastian Grey, and whose list has Jerome's name on it.  Clara Knowles got a new job, but the partying it requires of her might ruin her relationship with Marcus Eastman, not to mention her resolve to never return to the taxing lifestyle of a flapper.  But when all of these people find themselves in spots they'd tried so hard not to be in, people get hurt, lives are put in jeopardy, and another party gets involved, one who no one expected nor welcomed.
This riveting sequel to Jillian Larkin's Vixen is even more dramatic, juicy, and enthralling than its predecessor.  Every character has a scandal, every heart has a weakness, and every head has an ambition—though some less civil than others.  With a plethora of twists and turns, ups and downs, and tons of surprises, you will not be able to put Ingenue down!
.
Bottom Line:  Today is Talk Like a Pirate Day….Aarrr!!