Yesterday, the Romance Writers of America announced that I'd be this year's recipient of the Vivian Stephens Industry Award.  I'll be presented the award in Anaheim at the annual RWA Conference in July.  This is an exciting and thrilling experience.  I'm honored beyond words and I'd like to thank everyone for their kinds words of congratulations on Facebook and Twitter yesterday.  Now enjoy what the WW Ladies have been reading.
//
Emily's Captain by Shari Anton (E-Book)
Read by joysann
Captain Jared Randall Hunter has been sent behind Confederate lines to bring a Union colonel's daughter to safety ahead of the Yankee march through Georgia. Abandoned through a broken engagement, Emily is preparing to leave the house in town for the home manor when, disguised as a rebel soldier, Jared finagles a way to escort her. Their prolonged company and the danger of capture by either army give Emily and her captain time to discover the best in each other, engendering trust and love between them.
Despite conforming to the mores of her time as best as she's able, Emily's independence and strength are assets that charmed both the hero and me. She's a no nonsense woman who doesn't hesitate to do what she must. Between her and the thoroughly captivating hero, this historical fiction makes the most of the two engaging characters on their dangerous journey. Sometimes charming, sometimes thrilling, sometimes suspenseful, Emily's Captain makes a fascinatingly romantic read.
//
The Demon in Me by Michelle Rowen
Read by Joan
Eden Riley has some psychic ability she uses on a psychic hotline, assisting the police find a killer, and eventually to use in her own detective agency. But a demon named Darrack has taken up residence in her, and, while she tries various methods of evicting him, she also aids him in finding the witch who cursed him to his predicament centuries ago. Eventually they find her, but murder ensues, leaving Eden holding a stone that will make her a black witch and still with her demon inside.
This is the start of the fun, romantic and very busy Living in Eden trilogy. I've enjoyed Eden's chaotic dilemmas, the challenges she faces, the sexy men and the many characters that color her life. The following two books are out, and I'll be finding them quickly to finish this entertaining story.
//
Playing Dirty by Susan Andersen   
Read by Heidi
Cade Gallari is enemy #1 in Ava Spencer's eyes. He was the one who took her to bed in high school and told everyone he took pity on her because she was "fat". Now 10 years later, Cade is back doing a documentary on the mansion that Ava inherited with her friends Poppy and Jane, from Agnes Wolcott (Miss A). He wants Ava to give him permission to use the mansion as well as hire her as the concierge for the film. The last thing that Ava wants is to be around Cade, but business is business. She denies that seeing Cade again turns her past demons to the forefront, but she isn't about to let Cade get the best of her again.
I loved the way that the author mixed in the tug and pull of Cade and Ava, but also wove in a practical side to the reason they were together. Plus introducing interesting side characters with so many quirky things about them, I could see them clearly in my mind. I love when you have so much description that you see everything so well, it's like running a movie in your head. This book really left me wanting to read the other stories of the Sisterhood characters. Another set of books for my TBR pile!
.

Proof of Life by Laura Scott
Read by Sheila
At first, the campus murder seems like business as usual, but it quickly gets personal for CSI investigator Shanna Dawson and security officer Quinn Murphy. The victim is Quinn's half-brother. The case is linked to the disappearance of Shanna's sister 14 years earlier. When Quinn discovers Shanna has a scary stalker, he refuses to leave her side, insisting they work together. As Shanna and Quinn investigate the related cases, they lean on their faith and each other.
I was first drawn to the stunning cover, then quickly pulled in to the story. It's a page-turner! The combination of CSI investigator and security officer made it doubly exciting. When Quinn grew protective of Shanna, I melted. Can't resist a guy like that.
.
Trusting Evil by M.A. Leo 
Read by Michelle
Carly Rockett and her business partner and former boyfriend Mike Holtzer own a casting company for extras in movies.  Their newest assignment is for a movie with Arnold Schwarzenegger being filmed at the Statesville Prison who's most famous murderer, Richard Speck, is in residence.  In the summer of 1966, Carly met an intriguing German sailor, Richard Speck, who went on to slaughter eight student nurses near her home in South Chicago.  At the time, Carly and her two best friends were obsessed with the Beatles and believed one of them was destined to marry one.  They thought that their sailor knew the Beatles personally and would deliver their love letters.  The scars left by Speck have surfaced for Carly when she sees how he lives in prison, how he has freedom, lovers and loves his life.  Now her life is on course to make him pay and for the prison to be accountable to punish those who deserve it.  Her obsession and use of alcohol will propel her to her own personal Hell.
This was a riveting read full of history, strength and struggle.  Mary Leo who personally grew up just blocks from the townhouse where the nurses were killed, writes with a sense of ease and confidence about the times and facts.  A  true storyteller with a great grasp on detail and use of imagination that got me inside Carly's mind and pain.  As Carly's life unfolds I found myself emphasizing with the real life scars of Speck's victims' families and how life must have been for them.
.
Reunited Hearts by Ruth Logan Herne 
Read by Heidi
Trent Michaels receives the shock of his life, when he returns home from his military career to find out he has a son he never knew anything about. Trent is torn between being the father that his son deserves, and forgiving the woman who turned his life upside down… Alyssa Langley. Alyssa had good reasons for why she felt she couldn't tell Trent about his son, but she has more secrets to keep. Trent may need to find more spiritual support than he ever thought possible, to find love and forgiveness.
The way that Alyssa struggles with her own guilt, her obligations and her denial of her faith, makes her one of the most fascinating women characters I have read about in a long time. It made this story seem so real, especially in this day and age of reality television. My heart truly breaks for Trent and his realization that he is a father in an instant. I think the most heart warming is how all the characters have a big dose of reality mixed with their prayers. It made for such a wonderful read.
.
Fair Game by Patricia Briggs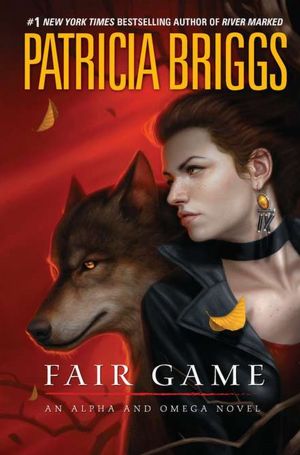 Read by joysann
As Enforcer for the werewolves, Charles goes with Anna to Boston to help with the FBI investigation into serial killings that include werewolves as well as humans. When another kidnapping occurs, Anna and Charles determine that the Fae are being targeted as well. With evidence that the killer may also be some kind of preternatural, all of the talents and magics of the Alpha and Omega are needed as they race to find the new victim before it's too late.
I am no longer amazed by the books Patricia Briggs writes because they are always fascinating, thrilling, and completely captivating. Fair Game, an Alpha and Omega novel that takes place in the Mercy Thompson world, is all that and more. Exciting, fast-paced, magical and surprising, I was unable to put it down till I finished it, and have already picked it up to read parts of it again. It looks to be a long, tantalizing wait until the next book in either series comes out to continue the story.
/
Bottom Line:  Now need to quickly lose 20 pounds and find a new dress for RWA.