I just heard on the news about all the women having babies induced today just so they would be born 12/12/12.  When I was pregnant, towards the end I just wanted to be over, but I'm not sure I would let a date influence my decision.  Of course, a lot of people are superstitious.  Whatever makes you feel better, I guess.  Less time to read with a new baby, but try to squeeze in a couple of pages and here's some suggestions for you from the WW Ladies.
//
Fury's Kiss by Karen Chance
Read by joysann
Part of what makes dhampir Dorina Basarab so dangerous is loss of control, and the memory loss that goes with it. When her blocked memory is all that can reveal what deadly things happened on an investigative mission, Dorina allows a master vampire with telepathic abilities to explore her mind, exposing more of her past than she wants to know. Ultimately, it all relates to an impending war that involves wizard humans, supernaturals and denizens of Faery.
As complicated as that seems, we faithful Dorina fans know how exciting the involved story might get. There are several characters to know and enjoy, like Louis-Cesare and Mircea, and the crossover from Karen Chance's Cassie Palmer series makes it all the more fun. Fury's Kiss is exciting, often suspenseful, often humorous, and always captivating.
//
A Howl for a Highlander by Terry Spear
Read by Joan
Duncan MacNeill, a werewolf from Scotland, has been sent by his oldest brother, the laird of Argent Castle and the pack and clan leader, to Grand Cayman Island to find the thief who stole the clan/pack's investment funds. Nothing will keep Duncan from completing his task until he catches the scent of a female wolf. He feels it his duty to let her know he is in the area and offer his protection should she need it. Shelly Campbell, an American werewolf, is on the island to study plants, hoping to find a plant that would stop the shift or bring it on if a person needed to change. After arriving and having spent her own money to rent an expensive beach home, she finds that the university's money has been stolen by the same thief that stole the MacNeill's money, leaving the two working together.
This is the tenth book in Terry Spear's Heart of the Wolf series. Not having read the other books dealing with the MacNeill clan, I found that the book stands on its own. Fun, exciting and romantic, I also enjoyed that the setting was in the Caymans, somewhere you would not expect werewolves to be found, beautiful beaches and tropical breezes. Wish I were there!
//
My Lady Mage by Alexis Morgan
Read by Alice, 14

Against the evil uncle who is her guardian, mage heir to Agathia Castle calls up the Warriors of the Mist to help save her kingdom. An even darker evil exists throughout the kingdom challenging the supernatural powers of Merewen and her champions.
My Lady Mage is the first in a new series, Warriors of the Mist. It is an easy read with passion, love, intrigue, magic and evil. I can't wait for the sequel.
//
His Unsuitable Viscountess by Michelle Styles
Read by Andrea
Eleanor Blackwell has been running her grandfather swords business since she was 15 years old. She is an excellent businesswomen, and with that she gave up her dreams of marrying and having a family. Yet, when Benjamin Grayson, Viscount Whittonstall suggest a marriage of convenience she starts to rethink what she wants, But being a Viscountess means changing everything about herself, her manners, her dress and her hair! How far will Eleanor go? And will two such unlikely couples work together, especially with an overbearing mother in law?!
His Unsuitable Viscountess, is a passionate love story that displays that everyone gets a second chance at love. An incredible romance that proves opposites really do attract!
.
Collared (A Gin & Tonic Mystery) by L.A. Kornetsky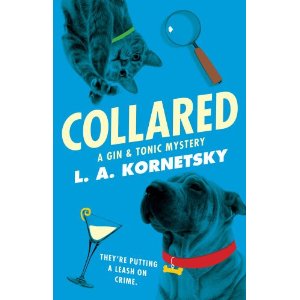 Read by joysann
Bartender Teddy Tonica overhears Ginny Mallard take on the task of finding a missing business man, and thinks that it's probably a bigger job than she's anticipating as a professional service provider who generally runs errands for busy clients or plans parties. He offers to lend her a hand, and though neither is a PI, they find themselves following leads that get progressively shadier, and even dangerous. Ginny's shar pei, Georgie, and Teddy's occasional feline companion, Mistress Penny, have the heavy jobs of keeping track of their humans and worrying about how to protect them.
Collared is the first book in a new mystery series that pet lovers will enjoy. Written with humor, this first taste of the sluething business is bound to get Ginny and Tonica more involved in both mysteries and each other. The dialog can be clever and entertaining, and I enjoyed their interaction. I'll be watching for the next adventure by L. A Kornetsky (aka Laura Anne Gilman).
//
Bottom Line:  Well, today is 12/12/12 and if today is your 12th birthday, Happy Golden Birthday!