Last night my son, Andrew, took me to see a preview of World War Z.  Even though we got there an hour early, it turns out that many more tickets were given out than there were seats, so we didn't get in.  I was disappointed, but we went to see Man of Steel instead.  The movie was good, but I probably wouldn't see it again.  The actors were terrific and I loved Henry Cavill, Amy Adam and Russell Crowe, but it was a little dark for me.  I missed the humor that Marvel sticks in their movies which is probably why I've seen The Avengers, Thor, Iron Man and Captain America numerous times.  Andrew saw Man of Steel twice and enjoyed it.  He said they have to explain a lot in the first of a series, so I should give it time.  I'll most likely see the next one just because I love to see movies with Andrew.  Now, on to the WW Blurbs!
///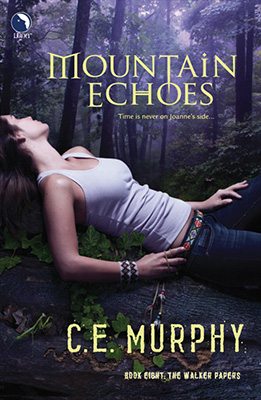 Mountain Echoes by C E Murphy
Read by joysann
Joanne Walker returns to the Appalachian mountains she left as a teen when she gets word that her father has disappeared. She finds that more than disappearing, magic has taken him to another place in time, corrupting the timeline. Finding strength in old friends and her new lover, Joanne uses her shamanic powers derived from both her Cherokee and Irish heritages to stop a powerful evil from invading the world.
Mountain Echoes is the 8th book in The Walker Papers, and a little blurb like this doesn't do the book or the series justice. This is one of my favorite series, and I think jumping into it without the urban fantasy's foundation won't give you the thrills and excitement I find in it. I've loved watching Joanne develop her shamanic powers and trusting relationships, and suggest getting hooked through the first book, Urban Shaman.
//
Rush by Eve Silver
Read by Olivia, 13
60 seconds. That's how much longer I had a normal life until I started getting dizzy and sick. "Don't move." That voice I've heard before. Struggling to open my eyes, I see a boy in sunglasses. He says his name is Jackson and he is our team leader. Cute. Wait, what? A team. What am I doing? I am Normal. Not anymore. You were never normal. It's time to play. The game is based on life or death. Kill Drau. They are not our kind and they want to take over the world.  Don't let your health con go to red or else you go back the way you came. Welcome to the game Miki.
Holy cow. The title tells all. By far one of the most adventures novels I've read yet. With the mystery in Jackson, Miki and Jackson the book was so different from the normal books I read. I highly recommend it if you like sci-fi, romance and if you like a rush of mind blowing excitement, this book is for you. Thanks Eve Silver for the book.
.
Baby Don't Go by Susan Andersen
Read by Joan
Daisy Parker is a security specialist with her own agency and is good at her job. When her two o'clock appointment shows up she is not prepared to see the Nick Coltrane, whose wealthy and socialite father had been married to her mother for a short time. The last time she saw Nick was at his sister's wedding where he left her in a hotel room like a one night stand even though he said he loved her. Now a professional photographer that inadvertently captured some scandalous photos, Nick needs someone to be his bodyguard to protect him from a dangerous someone intent on recovering them, and Nick wants Daisy. However, neither are prepared for having to spend every hour with each other until this mess he is in gets straightened out.
Baby Don't Go was very enjoyable as it was light and entertaining. There are several very interesting characters at Daisy's agency that help to protect her and Nick. This book was published in 1999, but is timeless.
.
The Nurse He Shouldn't Notice by Susan Carlisle
Read by Heidi
As the plane lands in West Africa, Maggie Everett knows that the doctor who has come to help is only temporary, and doesn't have the lifelong commitment to the people like she does. Dr. Court Armstrong steps off the plane, knowing he's running away from him past, but he is committed to bring the health care assistance that the people of Ghana need. When Court and Maggie meet, the sparks fly and not just because an emergency arises. Court wants to keep a distance from Maggie, but with the tight quarters and working side by side to help the patients, it seems Court's wish will become impossible.
The passion that Maggie has for the career she has chosen, in a land that is tough and challenging, screams from the pages of this book. I really thought that the sparks between the main characters matched the passion that they have for their jobs. That made the book not only fun to read, but made my imagination work harder to "see" the story!! I love when that happens!!
//
Eleanor & Park by Rainbow Rowell
Listened to by joysann
Set in 1980′s Omaha, a couple of high school misfits slowly become friends, which even more slowly becomes something more. Eleanor is a tough-seeming grunge-dressing sullen girl new in school, facing hostility for no reason other than that she's different than the kids who've been there forever. It takes a more confident Park, who knows what being different feels like, to help Eleanor become more acceptable, even to herself.
Listening to this YA book was just wonderful, probably making the story even more moving than it already is. Read by Rebecca Lowman and Sunil Malhotra, the characters come to life very vividly, and one quickly comes to care for them. It's very touching story, beautifully written, and easy to lose you heart to.
//
Lessons From a Scandalous Bride by Sophie Jordan
Read by Ashley
Miss Cleopatra Hadley went from rags to riches in an instant when she learns the identity of her father. So now she needs a convenient marriage with no complications, especially not love! But then he walks in and her world shifts. He, is Lord Logan McKinney an impoverished Scots nobleman, who tempts her like no man ever has.
Lessons from a Scandalous Bride, lives up to its title! It's very scandalous, sensual, exciting , and fiercely passionate! This book is everything I love in romance novels.
.
Bottom Line:  Sometimes it's not what the movie is about, but who you see it with.