It's finally here.  I'm off to San Diego Comic Con early this morning.  Those friends of mine who know what it is are jealous.  Those friends who have no clue what Comic Con is think I'm just going to a big costume party with nerds.  Well, they're both right.  The big readers this week were joysann and Olivia, who's only 12, but loves to read.  Check out their books.
//
Spring Fever by Mary Kay Andrews
Listened to by joysann
Annajane Hudgens reflects on the five years since she divorced Mason Bayless as she watches him waiting for a new bride at the altar. The wedding gets interrupted and postponed, though, and circumstances throw Annajane and Mason in close proximity again. As they discover old secrets and work to save Mason's family business, they realize their feelings of love for each other aren't quite as dead as they thought, and the opportunity raises a second chance for them.
Spring Fever was a satisfying book to listen to, with the charm and romance and the expected happily-ever-after, which was perfect for a light summer entertainment. It had its funny, sweet, touching moments, and the characters were likable – the good guys anyway. Along with the good story, the narrator, Kathleen McInerney,  laid on some pretty believable southern charm, making Spring Fever a very pleasant listen.
//
Deadly Little Secret by Laurie Faria Stolarz
Read by Olivia, 12
Sixteen year old Camelia's life has been normal up until the new guy shows up.  Ben has been accused of his ex-girlfriend's accidental murder. Something is mysterious about Ben that Camelia wants to get to the bottom of.  All of a sudden she starts getting threatening phone calls and notes that flip her world upside down.
I found myself captivated by this book.  The intensity made me bite my lips.  I dare anyone to read only one book in this series.
..
Ride With Me by Ruthie Knox
Read by joysann
Using the name Alex, Lexie Marshall arranges to meet another Trans-America Trail cyclist at the start of the trip (4,241.5 mi.) without mentioning she is a woman. Unsociable Tom Geiger isn't happy with the discovery, but since he's committed to ride with her, he determines to pass her off to the first riders that seem trustworthy. But this takes longer than he hopes, for as they ride the roadways' ups and downs and get more acquainted, he becomes less willing to trust her welfare to anyone but himself.
This cross-country adventure was an engaging romance, what with bubbly optimistic Lexie up against darkly reluctant Tom. It was interesting to get a peek into a specialized and admirable recreation that I've never had the opportunity to experience. Ride With Me is romantic, sexy and humorus, and very enjoyable.
//
Catching Jordan by Miranda Kenneally
Read by Olivia, 12
Female football player, Jordan Woods, is quarterback of her high school football team.  Everything is going good.  She's trying for a scholarship to Alabama and going to state with all of the guys supporting her until the new guy, Ty Green, shows up.  He is really HOT and he was the starting quarterback for his old team.  Jordan thought she could hold everything together but she thought wrong.  One minute she is throwing the ball in for a touchdown and the next, everything changes.
I adored this book!  It is now one of my favorite books.  I could really connect with Jordan, not with football, but with being around guys all day.  I used to play baseball with the boys.  Honestly, this was such a thrilling and engaging book.  I want more!
,
Steamed by Katie MacAlister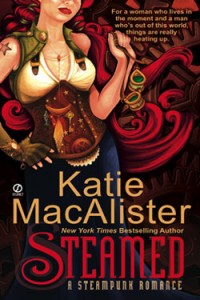 Listened to by joysann
Forgetting that an accident in his experimental lab knocked him out for awhile, Jack Fletcher wakes to see the people around him are wearing the best steampunk costumes he'd ever seen in all his club hopping. Gorgeous corseted Captain Octavia Pye is quick to convince him that she and her airship are very real, and that he, for the present, will have to accompany her and her crew on her mission before they can try to find how to send him back from where he came. Through the dangerous hair-raising adventures they share, Jack and Octavia discover they are more than compatible companions.
This was a terrifically fun book to listen to. Fast, funny, romantic and sexy, Katie MacAlister included all the elements her stories are known for. The two narrators, Jonathan Davis and Bianca Amato, take turns telling the story as hero and heroine, and they are excellent. I know this came out a couple years ago, but I wish there were more of these characters in the works, because I found Steamed highly entertaining.
Bottom Line:  Maybe if I'm lucky I'll catch one of these authors at Comic Con.