Hope everyone enjoyed their 4th of July and managed to stay cool.  It's hotter than Hades here and "cooler near the lake" doesn't seem to apply lately.  Here's some books to enjoy while sitting by the pool or relaxing in an air conditioned coffee shop.
//
Heart of Steel by Meljean Brook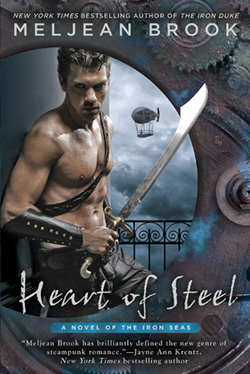 Read by joysann
While The Adventures of Archimedes Fox are a highly popular fictional series in the post-Horde years, the real Archimedes Fox finds himself enthralled, not by technological enslavement, but by the swashbuckling charms of the airship captain known as Lady Corsair. They join forces to seek the lost treasures of Leonardo DaVinci's inventions through devastated, zombie-infested Europe to dangerous Horde-occupied Morocco, all the while their hearts are challenging each to surrender to the other.
The second Novel of the Iron Seas continues exploring the exciting steam-punk world Meljean introduced in The Iron Duke. Creatively conceived, the pseudo-technically advanced world is entertaining to explore, as is the romance between the two colorful rogue protagonists. It was easy to like the strong, adventurous Yasmeen, and Archimedes is as charming a hero as one could want.
//
Dyad Love by Ann Hinnenkamp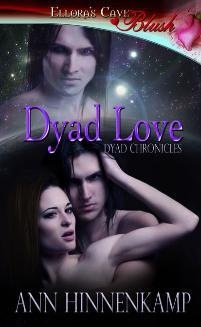 Read by Tammy
Emma has fallen in love with Damien, a Dyad, a species of beings hidden among the human population. There are only 1,000 Dyads alive on Earth at any one time, and they are not only beautiful, but possess special powers. Because of these powers, there are humans who are hunting the Dyads. Emma is torn between her love for Damien and her desire to keep him and his race safe from the hunters.
This 3rd book in the Dyad Chronicles contains romance, mystery, and action. I couldn't turn the page fast enough to see what course of action one of the character's would choose next. My favorite line the author used to describe Damien was "sin on a stick." It was enjoyable to visualize him. This was a fantastic book to read.
//
Cat in a Sapphire Slipper by Carole Nelson Douglas
Read by Joan
Midnight Louie lives in Las Vegas with his purrfect roommate Miss Temple Barr, a public relations freelancer with a nose for trouble. Temple's maternal aunt is marrying one of Vegas' famous, if not mafia, Fontana brothers, and his brothers and friends are throwing a bachelor party, ending up at the Chicken Ranch, a brothel just outside Vegas. Included in the excursion are Temple's current interest, ex-priest Matt Devine, and, somehow, Midnight Louie. Throw in a dead body and Midnight Louie's investigation, and it's a fun read.
Midnight Louie is one of my favorite Animal detectives, after all, being a black cat with a white chest he has a built-in tux. As the head cat of Midnight, Inc., Midnight Louie inserts himself and his friends into the thick of a murder again and again, with newer adventures in the series on the shelves, and a new one coming out soon. I liked how Ms Douglas included the Chicken Ranch as the scene of the bachelor party and was able to get Midnight Louie involved all the way from Vegas.
.
Cherry on Top by Susan Donovan
Read by Heidi
Cherise Newberry and her BFF Candy left North Carolina for Tampa, in hopes of making it big. And they did. Now they have lost it all, and not sure what to do next. Cheri gets a call from her grandfather to come home and run the family newspaper. With her tail between her legs, and her secret not known, she returns out of obligation. What she didn't realize was that JJ DeCourcy was going to be the "go-to" man of the newspaper. JJ may still be gorgeous, but he broke Cheri's heart with her sister. Trying to keep her distance, she works on the biggest story her small town has ever seen, she can't avoid being so close to JJ and coming to terms with her past.
I loved this story and the many layers to the characters. I probably related to Cheri and her friend Candy the best… especially when you make huge mistakes and have to return home. But I adored the mystery twist to this romantic story, including JJ's never ending love. The whole story brought a satisfying sigh of happiness at the end of the book.
//
The Witness by Nora Roberts
Listened to by joysann
Abigail Lowery is a mystery to the locals in the small Ozark community to which she recently moved, polite but unsociable, keeping to herself on her highly-secured rural property with her huge guard dog, and carrying a gun. Amiable, handsome Police Chief Brooks Gleason charms his way through the boundaries of her isolation, and finds an unusual, brilliant but lonely woman hiding big, frightening secrets. When it's time for Abigail to confront the monsters of her past, Brooks is there to help her face the very real dangers of betrayal and a vicious criminal element.
Through her last few books, I'm finding that the already incredible Nora Roberts just keeps getting better and better. I was enthralled with The Witness, listening to its 16-some hours in less than a day and half. The story mixed brutal and chilling with romantic and charming in such a satisfying way that, with a fine reading by narrator Julia Whelan, I found listening a true pleasure.
.
Bottom Line:  "What dreadful hot weather we have! It keeps me in a continual state of inelegance"~ Jane Austen