Friday I leave for the Central Ohio Fiction Writers (COFW) Conference.  This will be a new conference for me and I'm excited to see that the amazing Brenda Novak will be the keynote speaker.  I'm scheduled for a Saturday afternoon Q&A.  These sessions scare me because if no one has any questions, it can seem like a very long session.  Just in case, I'll be prepared to talk about what the WW Ladies have been reading.
/
Alterant by Sherrilyn Kenyon and Dianna Love
Read by joysann
Evalle Kincaid is trying to locate three of her fellow Alterants to make a case before the Tribunal that they are a legitimate species, not just people who morph into mindless killer beasts that should be killed on sight even before they change. But they're in hiding, and even with the help of the exciting new man in her life, a shifter named Storm, she's not going meet the deadline set by the gods.
In their complex urban fantasy, these two dynamic authors have pulled out all stops in creating imaginative, original creatures and characters whom I find most intriguing. The story line is intricate, puzzling and suspenseful, and the action is nonstop. With Alterant as the second book in the Belador series, I'm looking forward with anticipation to the exciting adventures ahead.
/
Don't Mess With Texas by Christie Craig
Read by Sophie
Nikki Hunt, pretty, blonde, divorced, and lacking in her sense of self-worth, defines the term "starving artist," and Dallas O'Connor is the strong, handsome, also divorced ex-cop, now PI who recently got out of prison, where he'd spent time with his buddies and coworkers Tyler and Austin for a crime they didn't commit.  So when Nikki finds her ex-husband's dead body in her trunk, Dallas is able to look past the fact that she is the perfect suspect and believe her when she says she's innocent.  Proving her innocent becomes the top thing on his to-do list, but she herself is a close second—a fact that scares Dallas to no end.  Dallas and Nikki hit many rough spots, or as Nikki's hilarious Nana calls them, potholes along the way, but the humor alone isn't going to get them through the night alive…
This book was a joy from the start!  Sexy, fun, and obviously well-planned, Don't Mess With Texas was impossible for me to put down.  Craig's skill is exemplified by this book, and I've already got a waiting list of friends who are excited to read it!
.
The Glassblower of Murano by Marina Fiorato
Read by Paula
Venice, and the glassmaking inextricably associated with it, is in Nora Manin's blood; Venice was where her existence was conceived, and where her destiny lay. Following the heart-wrenching dissolution of her marriage, Nora impulsively, perhaps instinctively, dispensed with the trappings of her former life in London, and set course for her future in Venice, hoping to connect with, and perhaps unlock, the mysteries of her past. Guided by only by a glass heart crafted by her ancient ancestor and a desire to find herself, Nora embarks on journey that will not only connect her with her rich and remarkable family history, but will propel her toward a future that dreams are made of.
v
Having recently visited Venice, and the island of Murano, where exquisite art glass is crafted today as it has been for centuries, the images evoked in this lush story were striking and fresh for me. Marina Fiorato has superbly captured the beauty and lush history of this ancient center of art and culture, while weaving a story with layers of history, intrigue, and romance that is as absorbing and magical as Venice itself.
.
A Lot Like Love by Julie James
Read by Shelby
The FBI wants to Xander Eckhart in the act of laundering money for the mob and their only opportunity will be this Valentine's Day at his exclusive wine tasting.  So they enlist the help of Jordan Rhodes, a billionaire heiress, to get into the party with Nick McCall as her date/undercover FBI agent.  When Xander sends a Private Investigator to tail the new "couple," the two are forced to continue their "relationship."  Eventually it becomes a real relationship, but something more sinister lurks…
I absolutely adored this book!  The suspense, the secrets, and the ever present danger make you not want to let it out of your sight.  The classic relationship of dislike leading to more with a delicious twist attached.  This is a definite keeper, mark my words!
.

Deep Trouble by Mary Connealy
Read by Heidi
Shannon Dysart is on a mission to clear her father's name, by going to the Wild West from Saint Louis, to find the city of gold. Shannon gets in over her head, when her companions turn on her and leave her for dead. Gabriel Lasley is the cowboy hero who has western smarts and faith to follow. Their adventure turns tricky with every step, and they hope to survive it all and get to the golden end.
The historical western brought out the best adventure to my brain with awesome visual descriptions and the desire to find the treasure. I always find it a pleasure to read a book that has women characters that are independent, faith-focused and driven. I really got my wild western fix with this book.
.
The Perfect Kiss by Melody Thomas
Read by Ashley
Christel stole the perfect kiss from the man of her dreams, too bad that  English society's rules made courtship and marriage impossible. She was the bastard daughter of an Earl and he was the Earl of Carrick, so Christel watches as he marries her favorite cousin. Nine years later the Earl is widowed and with a young daughter. Christel comes back to be the governess for the girl but neither has forgotten that secret kiss, and they still burn for desire for each other but secrets from each other's past threaten to ruin their second chance at love.
v
The Perfect Kiss is the perfect love story, full of secrets and treasures, and love and lost. This book was a delightful read that kept me entertained from the first page to the last page!
,

The Protector by Marliss Melton
Read by Loretta
To retaliate against General McClellan for his actions in Afghanistan, terrorists target his daughter, Eryn for death.  Eryn is a school teacher in Washinton, DC. unaware that the FBI has put her out for bait to catch the jihadists and narrowly escapes the first attack.  General McClellan has asked  Ike Calhoun, a retired Navy Seal, to protect her.
I found The Protector by be beautifully written, exciting and captivating, keeping me glued to the pages until the unforseen and unforgettable ending.  Ike's abiilities and daring-do deeds will astound you as he maneuvers Erin's and his safety, keeping you gasping at the twists and turns on each page.  Amid all the chaos,- love also grows here!
.
Before I go to Sleep by S. J. Watson
Read by Michelle
Christine Lucas wakes up every morning to a stranger in her bed and no recollection of the last 20 years of her life.  Every morning her husband Ben has to show her the pictures of her life.  Christine trying to piece together what has happened to her begins to keep a secret journal that begins with the words "Don't trust Ben."  As her life unravels she unearths the frightening events that led to her amnesia.
This is a great read!  Trying to imagine a life without knowing your own past just left me with goosebumps and a feeling of dread.
.
Kitty's Greatest Hits: A Collection by Carrie Vaughn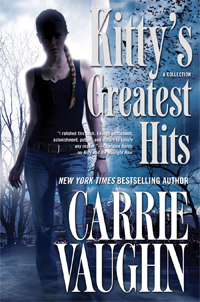 Read by joysann 
Kitty retains control and gains wisdom in Winnowing the Herd. Through blood and tears, young Cormac learns the family business of hunting creatures of the night in Looking After Family.  In Conquistador de la Noche one of Coronado's soldiers find darkness instead of Cities of Gold. And a cryptozoologist encounters serious danger in The Temptation of Robin Green.
Kitty Norville is the popular radio host of The Midnight Hour, a talk show dedicated to all things that go bump in the night, and her adventures have taken readers through a whole series of exciting books. Kitty got into this talk-show business because she is a werewolf, and where else can a supernatural turn for advice? I love these books, and the 14 stories in Kitty's Greatest Hits enrich and give dimension to the fascinating characters Carrie Vaughn created.
v
Bottom Line:  Maybe I'll make a list of questions to ask the COFW…just to keep them on their toes.