I'm still in Florida, but leaving today for San Diego to do a workshop with the local RWA chapter. Can't wait to meet them all. In the mean time, I've had to use the internet in the library, so Joysann is posting the blurbs for me. Thanks so much Joysann! I'll be back on schedule next week when I get home to Wisconsin and before I leave for the Ohio Conference.
/
Quinn by Iris Johansen
Read by Loretta
A child, Bonnie, is abducted. Her mother, Eve, is desperately trying to find her and prays there is hope that she is still alive. Officer Joe Quinn enters the scene to help solve this ugly crime and falls in love with Eve in the process.
Quinn is a completely intriguing and terribly sad story about the abduction of a child. The narrative envelopes you, but part way through I realized this book is the second of a trilogy and wished that I had read the book entitled "Eve" to help me untangle the evil cast of characters. I definitely must go back to read the first book, "Eve" and am certainly awaiting the third novel of this trilogy entitled "Bonnie", so I can complete this heart-rending, bizarre and engrossing story by Iris Johansen.
Claim of Innocence by Laura Caldwell
E-book read by Heidi
Izzy MacNeil returns to attorney duties, thanks to her friend Maggie Bristol who needs her assistance, defending Valerie Solara who is accused of murdering her best friend. While working on the trial, her ex-fiancée Sam drops a bomb in her lap, which makes her question her relationship with her current boyfriend. Izzy's life goes into overdrive while secrets keep getting uncovered around every corner.
Oh Izzy, how I have missed you!! I had a fantastic ride into the Chicago legal system, all with a fantastic red-headed lawyer at the helm. Love, passion, turmoil and murder: a lethal combination and I am one happy girl to have taken the ride.
Viscount Breckenridge to the Rescue by Stephanie Laurens
Read by Sharon
Heather Cynster can't stand the boring life of the ton—she wants a hero, but gets more than she bargained for when she attends a racy soiree. She is rescued from scandal, but in turn kidnapped for a reason not readily determined. Viscount Breckenridge, the bain of her existence, saves her from scandal but by doing so inadvertently allows her to be kidnapped. Now he must rescue her, but she is unwilling to be rescued until they find out why any of the Cynster sisters would satisfy the kidnapper.
Stephanie Laurens stories keep you absorbed in the story wondering what the twists and turns are going to be even though you are pretty sure of the eventual outcome. Viscount Breckenridge to the Rescue doesn't fail the reader. Suspense, danger and a stubbornly brave and strong heroine add to the appeal of this book.
The Perfect Kiss by Melody Thomas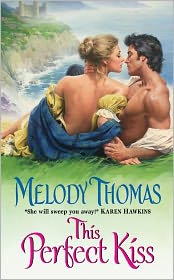 Read by Ashley
Christel stole the perfect kiss from the man of her dreams, too bad that English society's rules made courtship and marriage impossible. She was the bastard daughter of an Earl and he was the Earl of Carrick, so Christel watches as he marries her favorite cousin. Nine years later the Earl is widowed and with a young daughter. Christel comes back to be the governess for the girl but neither has forgotten that secret kiss, and they still burn for desire for each other but secrets from each other's past threaten to ruin their second chance at love.
The Perfect Kiss is the perfect love story, full of secrets and treasures, and love and lost. This book was a delightful read that kept me entertained from the first page to the last page.
Demon Song by Cat Adams
Read by Sophie
Celia Graves, a part Siren, part vampire woman tainted by a demon that makes her living as a bodyguard and loves all manners of gadgets and doohickeys that might prove useful in her career. She's attacked by an ex-co-worker and tossed into a series of supernatural events including fighting demons and vampires, searching for powerful seashells (not to mention the only two people on the Earth that can make them work), and doing everything she can to help close a demonic rift—a split in the fabric of our world that opens a pathway for all sorts of monsters and demons to escape. Along the way, complications such as lovers, ex-lovers, 12 year old clients, traumatized friends, and magical wine keep Celia on her toes to the point of exhaustion. All she can hope is that she'll be able to solve all of these problems and save the world at the same time—but no big deal, right?
Cat Adams has modified the world we live in today to accommodate all sorts of supernatural fantasies that will keep the reader enthralled until the very end. Demon Song includes snippets of everything one would hope for a book to contain—love, hate, suspense, drama, you name it! Be prepared to spend large amounts of time reading—you won't want to put Demon Song down!
Wedding Magic by Patricia Coughlin
Read by Shelby
Sophie Bennet has always been behind the scenes, the one that gets overlooked, but she is thrown into the limelight to plan a wedding at the gorgeous mansion Ange de la Mer. Sophie has her work cut out for her planning a wedding, with both a handsome, broody writer, who happens to own Ange de la Mer, to deal with and a ghost bride hell bent on making sure the wedding, and Sophie, leave "her" house for good. Sophie and Owen must overcome many obstacles in life, love, and a ghost in order to make a bride's day perfect whilst trying to deal with the growing chemistry between the two of them.
This book was a story of old and new love, one which has lasted throughout time with bitter memories and one trying to overcome memories to grow. It's a riveting story of how love affects life and can survive above all. A story that kept me entranced and begging for the end, to know what happens, and at the same time never wanting it to end!
/
Hunt the Moon by Karen Chance
Clairvoyant Cassie Palmer just knows her upcoming coronation as Pythia isn't going to go smoothly, though it doesn't take her special talent to tell her so. Both the vampires and the mages want control of her, and the disputes and squabbles are constant. But efforts to eliminate her have gone so far that her greatest enemies try to prevent her even being born, which takes her and vampire lover Mircea on a wild chase through space and time.
This is a really fun and imaginative series and I'm always excited when a new book is released. The determined heroine and the sexy, powerful heroes make for a story that's thrilling and enthralling. And best of all, or worst, Karen Chance has left fans like me in absolute limbo breathlessly waiting for the next terrific adventure.
Bottom Line:
Seriously thinking of permanently moving to Florida as winter draws near in Wisconsin.