Well, I'm now in Florida. No, not a vacation. I'm here with two of my brothers and we're working on the family home. Painting, patching, throwing out lots of stuff. I've even washed drapes and hung them on the clothesline.  I haven't done that in years.  It has been about 90 degrees every day, but I love the heat.  We've also had the opportunity to visit my 87 year old uncle and boy, does he have the stories to tell.  I take it back…it is a vacation.  Now on to the WW Ladies reads of the week.
Writing Jane Austen
by
Elizabeth Aston
Brilliance Audio
Authors, imagine that your agent comes to find a heretofore undiscovered first chapter of a handwritten Jane Austen manuscript, hands it to you, and says, "Here, finish this, and no one can know she didn't write it." That's just what happens to award-winning author Georgina Jackson, only she doesn't write light, bright Regency romance, but grim, darker Bronte-style fiction of a later period, has never read an Austen book, and is annoyed by the Austen fans of the world. As the story unfolds, Gina has to delve into a romantic world she never experienced, and finds she likes it there.
This was a fast moving audio book, and the story is greatly entertaining. While the romance in Gina's own life is a little tepid, her newly discovered romance with Jane Austen is wholly believable, and I was intrigued with how she'd deal with her problem. My problem, now, is that I want to read the fantastic sounding novel that Georgina produces, but that's only in my imagination.
Field of Danger
by
Ramona Richards
April Presley just witnessed a murder. Now her life is in danger. Daniel Rivers believes April knows who the killer is and wants answers to his father's murder. He hopes to get them before the killer gets to April.
This race against time book left me breathless as the killer comes after April. I wondered where the killer would pop up next. I couldn't read this book fast enough.
Shamrock Alley by Ronald Damien Malfi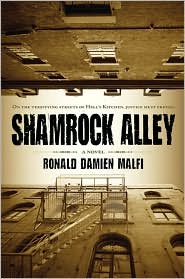 Read by Michelle
John Mavio aka John Esposito is an undercover Secret Service Agent who infiltrates an Irish gang suspected by counterfeiting.  John and his partner Bill Kersh get more than they bargained for as they team up with the FBI and the NYPD to dig deeper into the terror that Mickey O'Shay and Jimmy Kahn have unleashed on Hell's Kitchen.
Ronald Damien Malfi's father was an undercover Secret Service Agent who did infiltrate an Irish gang in Hell's Kitchen.  As the story unfolds and the true depth of a psychotic killer emerges, it's disturbing to know that this novel is based on a true story.  Mr. Malfi had my attention from page one.  I shivered, I cringed and I kept hope that good would prevail over evil.
.
.
Naked Edge by Pamela Clare
Read by Heidi
Gabriel Rossiter has become a cold hearted man who can only be with a woman once or twice, and that's it. No one is going to fill the whole in his heart. That is, until he rescues Katherine James in a landslide. Kat creates feelings inside Gabe that he hoped to keep away. It seems that dangerous circumstances keeps Kat in his life and they can both become targets in deadly game.
Between the cat and mouse games and steam between Kat and Gabe, this book took me around the world and back again. Excellent read for spring and summer.
Bottom Line: I need to find more things to wash down here, it feels great to be outside doing physical labor again.