Today the WW Ladies show off their diverse tastes with tales from sci-fi to contemporary and YA to Christmas.  Any who ever says, "There's nothing good to read" is certainly not looking in the right places.
/
Rebels and Lovers by Linnea Sinclair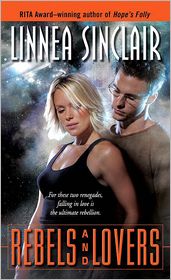 Read by joysann
Devin Guthrie has contentedly conformed to familial expectations both in interplanetary high society and as the financial expert in the family business, mega-wealthy Guthrie Galactic, but when his 19 year old nephew becomes a target for kidnapping or assassination, he's quick enough to take to the rough space stations to rescue him. In his efforts, he is reunited with bold and beautiful Captain Makaiden Griggs, an unrequited fascination he developed when she piloted the Guthrie private spaceships. As it becomes a chase of wit, danger and survival, the professional and class inhibitions of the past relax and the two find themselves involved in more than political intrigue and rebellion against the Empire.
When you present me with a well-conceived, well-written space opera, you can plan on my total inattention to anything else until I've finished it, and Linnea Sinclair has done it again. Though part of the Dock Five Universe, it stands alone pretty well, but will make you itch to find out what you've missed if you haven't caught the others (or to back and read them again!). Fast, exciting, intriguing, and wonderfully romantic, Rebels and Lovers took me, with great delight, out of this world.
/
aftertaste by Meredith Mileti
Read by Loretta
Mira, and her husband are gourmet cooks who own a popular restaurant in New York.  When their baby, Chloe is born, Mira is enthralled -  her husband is not.  Instead he finds a new love, an employee in their restaurant.  Mira discovers them together, loses her cool, attacks the woman and the court sentences her to take an anger management course, which she subsequently flunks.
We have all heard the saying "she has too much on her plate already" and know it does not refer to food. How Mira faces her "full plate" with uncommon grit, dignity and love, is why I rooted for her from Page l of this outstanding novel.  A heartwarming story unfolds as she discovers what is really important in life and makes this book DELICIOUS READING!.
,
Falling Under by Gwen Hayes
Read by Sophie
Weird things are happening in Theia Alderson's life—like the night the burning man fell from the sky, or the fact that the handsome boy in her dreams now suddenly is very real, and attending her school!  Theia is not sure how she's supposed to feel about Haden Black, and Haden's mixed signals are not helping—in her dreams, though everything else is extremely creepy, Haden is affectionate and kind and can't keep his eyes off of her, but at school Haden avoids Theia, and uses his charm to entice cheerleaders (or, as Theia's friend, Donny calls the popular kids, sneetches).  Despite this, Theia can't seem to keep Haden off her mind, even when she finds out that he has a (and kind of is) a very dark, other-worldly secret—one that could cost Theia her soul, her friends, and her loving, if overprotective father.  And when Theia's heart gets her in trouble, it's going to take Haden's confused love, her friends' determinations, an exorcism or two, and a couple of psychics (the legit kind!) to get her out.
Falling Under was a thrill from the first sentence to the very last period!  With a slew of fun, well-rounded characters and details so intricate I could picture where each chapter was taking place and everything that was going on, it would have held my attention for hours on end, if only it was longer.  I applaud Gwen Hayes for this terrific work of fantasy which contains not one "vampire that glitters in the sunshine."

.
Room by Emma Donoghue
Read by Michelle
Jack is the narrator of this story and he tells it from the eyes of a five year old boy whose whole life has been lived in one room.  His playmate is "Ma."  Seven years earlier she was kidnapped by Old Nick and during her incarceration she was repeatedly subjected to his sexual advances that led to her conceiving Jack.  Jack believes that what is real is what is in the Room with him.  Now that he is old enough "Ma" tells him the truth and elicit his help in planning the "Great Escape."  As their plan unfolds they are thrown into a brand new and bigger world that causes some overwhelming changes.
What an unnerving and riveting tale about love that transcends some of the worst imaginable human experiences.  The strength of a mother's love is an amazing thing, looking at the real life story of Jacyee Dugard we know that that love is possible.
.
1225 Christmas Tree Lane
(Cedar Cove Series) by
Debbie Macomber
The last installment of the Cedar Cove Series focuses on Beth Morehouse and her family. Beth started a Christmas Tree Farm after her divorce from her husband and at this time of year, she is busier than ever! Beth started a new relationship with Ted Reynolds, the local vet, and that will come in handy with 10 abandoned puppies on her doorstep! Not to mention her college-age daughters have come home with plans up their sleeves to reunite their parents. Beth was looking forward to quiet family Christmas, but those wishes may change, especially in a romantic town like Cedar Cove.
Those who are fans of Debbie's Cedar Cove Series will be very pleased to see how well she wove the story of Beth and her family around the rest of the town in this last book. It's nice to see when an author thinks of the fans and wants to make sure all questions of different couples have a final answer. I think that is what I enjoyed the most of this book, not only one happy ending, but many happy endings all wrapped up in one gift!!
.
Dark Descendant by Jenna Black
Private Investigator Nikki Glass doesn't believe in woo-woo stuff, but when she is suddenly thrust among a tough, scary, indestructible group of weirdos she thought were a cult, she learns she is descended from Artemis, the Greek Goddess of the Hunt, which explains her special talent at finding people. She discovers that she and they are immortal, and each has woo-woo talents she can't deny. When an even scarier group of immortals threaten her family to force her to hunt for people they want to destroy, Nikki quickly ceases to doubt the existence of the descendants of the gods, and works with her own newly discovered talents to confront evil.
There were twists and surprises in every part of this story, and I liked how unpredictable and imaginative it is. Between the suspense, exciting action, and the fascinating characters, I was unable to put this book down. Now I find myself enthusiastic about another compelling series by Jenna Black; I can hardly wait for the next book coming out in April.
Bottom Line:  Thanks for the great response to an All Book Christmas and feel free to leave more suggestions here.