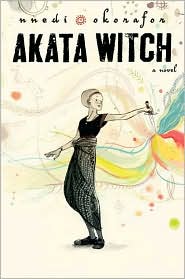 Having just put Nnedi Okorafor's adult novel Who Fears Death on my 2010 best SF/fantasy/horror list, I was delighted when she sent me an advance copy of her forthcoming YA title, Akata Witch (Viking, April 2011). Set in approximately present-day Nigeria, the story follows four teenagers as they learn to control their magical powers and face down an evil sorcerer who's trying to summon up a long-banished spirit of destruction.
Sunny Nwazue spent the first several years of her life in the United States before her Igbo parents moved back to Nigeria. Now she speaks fluent Igbo, but she's still sneered at as an akata, a dirty foreigner. To make matters worse, she's an albino, so kids tease her about being white. (To Okorafor's credit, there are no namby-pamby "even if she were white that would be okay" lessons to be found here.) Sunny's viewpoint lets Okorafor describe sights that will be unfamiliar to American readers without ever exoticizing them:
[The Abuja Market] was the first African market she had visited, a few months after her family had returned to Nigeria when they'd stayed with her aunt. Talk about culture shock! The American supermarkets were always neat, the prices rigid, everything so sterile. The Abuja Market in particular was ripe, unpredictable, and loud. She'd been overwhelmed by what the market sold, and how the vendors sold it. Now it was just a market.
Keep an eye out for our review.